2021 World Chess Championship: Game #5
2021 World Chess Championship
Dubai, UAE (November 24th-December 16th)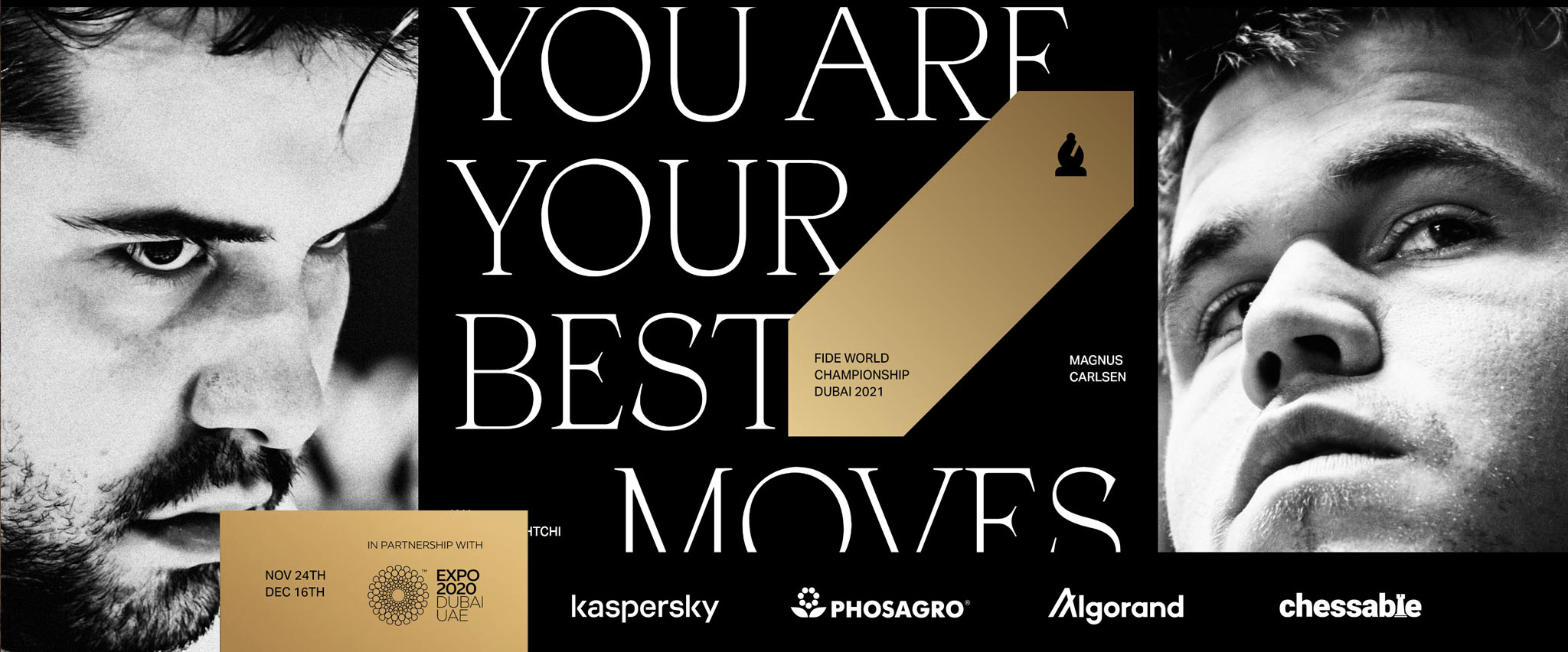 Game 5
Match Score: 2½-2½
Official Site:
https://fideworldchampionship.com/
2021 World Chess Championship: Game 5
Wednesday, 1 December 2021
A fifth draw… the jokes and memes start to roll in
When Dutch Grandmaster Anish Giri went on a run of draws in elite chess, some people started to call him an artist because artists "like to draw." It was another Dutch Grandmaster Peter Leko before him. After five years the draw joke is becoming more prevalent in world chess championship play. Yesterday, fans hurled jokes at the World Championship match between Magnus Carlsen and Ian Nepomniachtchi for their fifth consecutive draw.
Magnus Carlsen after a 5th draw to start the match: "I think there is some magical cut-off point where draws instead of just being normal become a problem, but I don't think we've crossed the Rubicon yet!"

Game 5 report: https://t.co/3TTYxg1qxT #CarlsenNepo #c24live pic.twitter.com/76S1b1MPLl

— chess24.com (@chess24com) December 2, 2021
These games are not without content as Nepo proved that his team has prepared him well. In another Anti-Marshall system, Carlsen played d5 anyway. Throughout the game, commentators were critical of Carlsen's play including his bishop on d6, and a jumbled mess of pieces. White maintained a solid edge throughout, but black hunkered down waiting.
The mood of Magnus Carlsen in Game 5.
Photo by Niki Riga/FIDE
Nepo was playing his moves very quickly while fans noted how uncomfortable Carlsen appeared in his body posture. The Russian had a vice grip on the position, but some question his 20.Red1 instead of the more energetic 20.c4. The idea is simple… push the pawn to constrict black even further. Black would be obligated to play 20…c5 in order to present the onslaught. Sagar Shah of ChessBase India weighs in…
In the above position Ian played Red1 after which Magnus responded with Be6, Black had very nearly equalized the game. Red1?! was just too soft. Ian should have played c4. The idea is clear. You want to play c5. And the most natural move to stop it, ..Be6 is met with Ba4 attacking the queen and c5 coming up anyway. It seems very difficult to understand how Magnus Carlsen would have continued in the position after 20.c4. Playing …c5 definitely looks like a concession, especially because the bishop can pop out on a4, move to c6 and then stand on d5 like a powerhouse. But it might well be that 20…c5 is the least of evils for Black in the position. Another option after 20.c4 is to play Bb4. But after Reb1, once again the threat is to trap the bishop with c5. So if Black himself goes …c5, the ideas are similar with Ba4! and then getting the bishop to c6 and eventually to d5. After some deep digging, it feels to me that Magnus might have chosen 20…Qe6 after 20.c4. Now 21.c5 is not possible, but White can go Ba4, threatening c5 and if Black goes c5 himself then Bc6 to d5 is once again very strong. All in all this idea of c4-c5, and if Black goes …c5 then Ba4-c6-d5 gives White a very tangible plus.
OK… so that was a mouthful, but it turns out that it may have been the key moment for a lasting advantage. Nepo was very despondent in the press conference while Carlsen admitted that he had dodged a bullet. He stated that he was a bit worse, but after 20.Red1 he thought "the worst was over." He also stated that he lacked activity throughout. Game six will be played after the second rest day.
Video by FIDE
Video by GM Daniel King
Video by chess.com