NM Rene Phillips devastated by Hurricane Ida
Unfortunately, National Master Rene Phillips of New Orleans knows a thing or two about hurricanes. His memories are still fresh from the 2005 onslaught known as "Hurricane Katrina," a disaster that resulted in scores of damage to the iconic city and destroying everything he owned.
Katrina, a Category 3 hurricane, unleashed a wrath of death and destruction onto New Orleans. The world watched harrowing scenes of people screaming for help on rooftops. Below them stood 15-20 feet of water. This time the Hurricane struck in "La Place" or "The Place."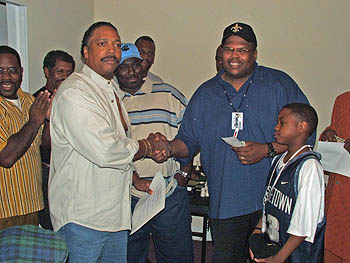 Rene Phillips and son getting support from Philadelphia chess community after Hurricane Katrina in 2005. Exactly 16 years later, another devastating hurricane would rock the Phillips family.
In this case, two is not a charm, and old nightmares have resurfaced as "Hurricane Ida" swept through the Gulf of Mexico and slammed into Louisiana and Mississippi wreaking the same havoc. Phillips had moved his family from New Orleans in 2014 to La Place, Louisiana, a town of 29,000. It sits on higher ground and not the soup bowl that New Orleans became when water rushed in. However, nature is never predictable and as always, shows its powerful defiance.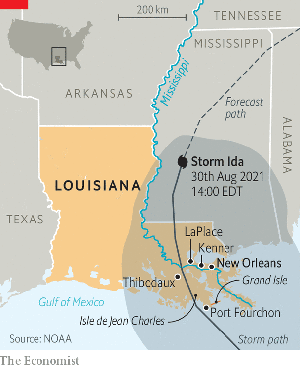 On Sunday, August 29th, the hurricane (Category 4) unleashed and sustained wind speeds exceeding 150 miles per hour (mph) over a period of several hours. The force tossed and smashed cars, tore the roofs off of homes, and launched all types of dangerous debris on top of structures. As a result, thousands of homes are without power. Phillips states that there are no stores open, no ATMs functioning, and no access to adequate healthcare in the area. The Phillips family, which includes his elderly mother and elderly mother-in-law, survives on bottled water, stored food, and a generator.
They were unable to evacuate in time because the mayor and governor kept the area open despite warnings. By Friday, Rene had held his classes as the hurricane was bearing down on the coast. Unfortunately, the hurricane changed course from the predicted path, and La Place took a direct hit. To make matters worse, FEMA's response had stated that those who decided to ride the storm out would not be eligible for certain assistance.
Video by Rene Phillips
As scary as the above video is, that was only the approach of the hurricane and not the full force. "It became more fierce and we ran to the bathroom closet," said Phillips. In the aftermath of tremendous wind damage in La Place, Phillips described the harrowing scene that appears like a bomb went off in the small town. To make the situation more difficult, he requires special health needs for his relatives.
We survived and are managing with my elderly mother and mother-in-law. We have plans to relocate where we have access to hospital care but are delayed until they are able to travel. We are planning to get to family members in Georgia.
Phillips is known to the chess community through his training sessions on "The Chess Gym." He has dedicated service to the chess community through his platform, but he has hit yet another tremendous setback. For Katrina, there was an outpouring of support, particularly from Philadelphia, where Phillips sought shelter. Chess players interested in helping or encouraging Rene Phillips and his family can reach out at rphili3@yahoo.com… or donate at any one of the services. He thanks you!
PayPal: "TheChessGym" or 504-415-0756
Zelle: "Rene Phillips" or 504-415-0756
Venmo: "Rene Phillips" or 504-415-0756
Cash App: $TheChessGym458