Brewington Hardaway 4th at NAYCC, wins blitz
Brewington Hardaway at 2019 World Open
Photo by Daaim Shabazz
National Master
Brewington Hardaway
recently competed in the under-12 group at the 2021 North American Youth Chess Championships (NAYCC) in Chicago placing 4th. Coming in with a USCF rating of 2301 he was the top-seed and had a string of strong results in New York tournaments. After winning his first four games and drawing his next two, he was trying to keep pace with
Tanitoluwa Adewumi
who had won his first six games.
After a draw with Adewumi, he got back on track with a win to arrive at 6.5/8. The tournament was still undecided with Jonathan Han also at 6.5. Adewumi's last-round win clinched 1st place and he ended on a sizzling 8/9. Unfortunately, Hardaway's unbeaten streak came to an end in his last-round loss to Cooper Ho and he finished 4th-7th. Ho and Han finished with 7/9. While the loss in the last round prevented him from taking clear second, he won the blitz under-12 with 10/10.
Hardaway is top-five among 12-year olds with Abhimanyu Mishra, the world's youngest Grandmaster in history, at the top. This can serve as a source of motivation for him to achieve similar success.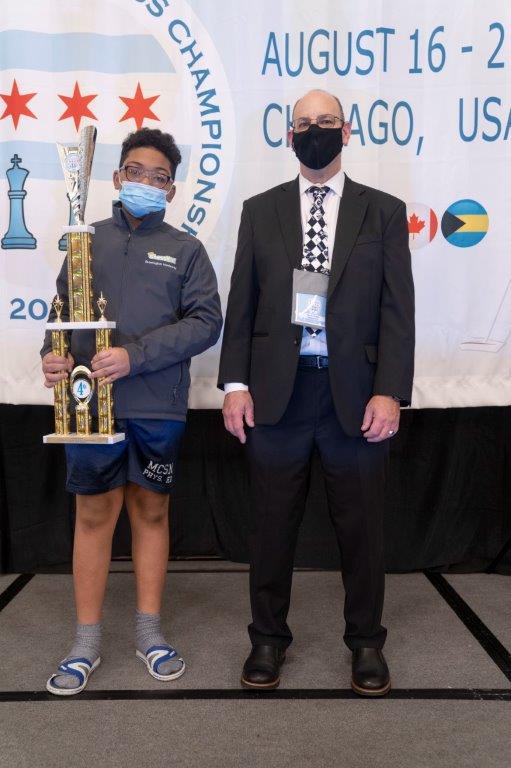 Brewington Hardaway wins 4th place at North American Youth Chess Championships (NAYCC) in Chicago. David Heiser of host Renaissance Knight Chess presents trophy. Photo by Renaissance Knights Chess.
Results (under-12 open): http://www.uschess.org/msa/XtblMain.php?202108212362.7
Results (under-12 blitz): http://www.uschess.org/msa/XtblMain.php?202108161692.3