2021 FIDE World Cup: Round #3
Round 3, Game 1
Sunday, 18 July 2021
Shakhriyar Mamedyarov goes down… Carissa Yip scores big win!

GM Bassem Amin (Egypt)
Photo by IM Eric Rosen
There were some FIDE World Cup viewers who were clamoring for Bassem Amin's game. While it may go unnoticed to most, Amin is an iconic figure in African and Egyptian chess. The only player from the continent having surpassed the 2700 mark, he is in the top 100 in the world. However, his games are hardly shown in the broadcasts. Perhaps as he advances more attention will be given to his games. His battle with Etienne Bacrot started off without fireworks, but fizzled into an equal ending. Tomorrow he will try to press with the white pieces.
Africa is watching. Namibian International Master Dante Beukes is reporting for Africa Chess Media. He stated this about Amin… "Bassem Amin is arguably the greatest African chess player of all time. He continues to raise the bar higher and higher for Africans. The 5-time African champion became the first player to reach the second round of the World Cup in 2015 and now he has done one better and reached the third round!" Photo by Anastasia Korolkova
One would think that as we advanced in the tournament, there would be more drawn games, but 19 of the 32 matches started with decisive games. Fifteen-year old Rameshbabu Praggnanandhaa beat Michal Krasenkow and Shakhriyar Mamedyarov was upset by 21-year old Armenian Haik Martirosyan as we continue the theme of the "youth movement."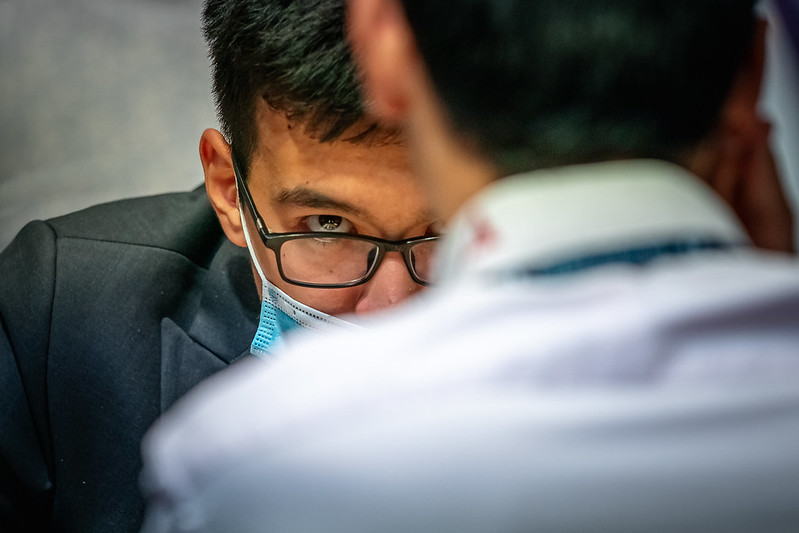 GM Nodirbek Abdusattorov (Uzbekistan)
Photo by IM Eric Rosen
Speaking of the youth movement, it has been noted that Uzbekistan will be a definite force in the future with a young core Javokhir Sindarov (15), Nodirbek Abdusattorov (16), Shamsiddin Vokhidov (19), and Jahongir Vakhidov (26). Only Vokhidov has been eliminated. Uzbekistan certainly received motivation from the legacy of FIDE champion, Rustam Kasindzhanov and trainer, Rashid Ziatdinov. The future is bright.
Vakhidov totally crushed his Russian opponent Pavel Ponkratov when resignation could've happened 20 moves earlier.
There was an instructive name featuring yet another young Indian star, Nihal Sarin. He was playing the dangerous Dmitri Andreikin and got a lesson in how to play positional chess after starting with 1.b3 b6 2.e4 Bb7 3.Nc3. The rarely seen Owens Defense produced a very interesting result. In the final position, you will see the classic good/bad bishop battle.
The story of the round may be Carissa Yip's performance. In her seven games thus far she has won six games! She continued her good form beating the rating favorite Nana Dzagnidze in a highly complicated game. Take a look.
Carissa Yip (USA)
Photo by IM Eric Rosen
Alexandra Kosteniuk is playing a game against Pia Cramling. It is always interesting to see the clash against the generations. Sweden's Cramling has been on the professional scene for decades and is still playing at a high level. In their game the Kosteniuk was able to saddle Cramling with a cramped position and this advantage the entire game. In the final position, Cramling had no moves. Regardless of the outcome of the match, Cramling continues to inspire.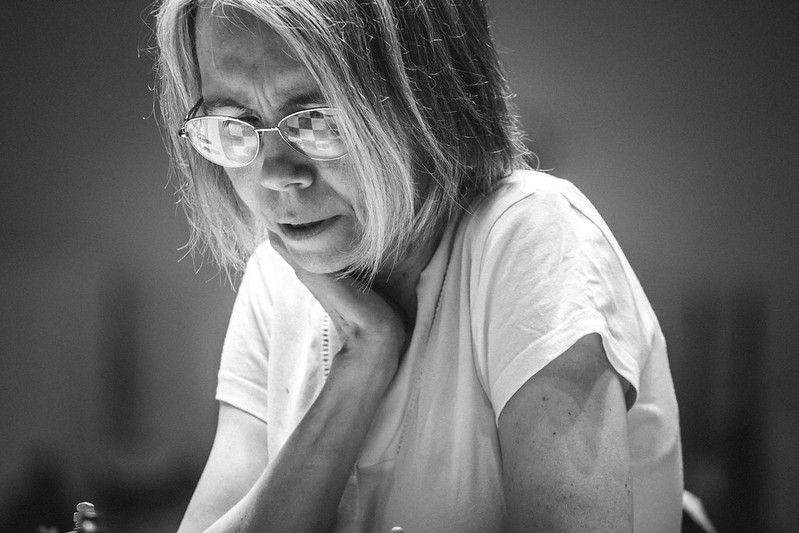 GM Pia Cramling (Sweden)
Photo by Anastasia Korolkova
Games (Open)
https://www.thechessdrum.net/games/wcup(open)3-1.pgn
Games (Women)
https://www.thechessdrum.net/games/wcup(women)3-1.pgn

Video by FIDE Chess

Video by ChessBase India
Critical Links: official site, YouTube, Twitter #FIDEWorldCup2021, Results