Round 3, Game 1
Sunday, 18 July 2021

Shakhriyar Mamedyarov goes down… Carissa Yip scores big win!
GM Bassem Amin (Egypt)
Photo by IM Eric Rosen
There were some FIDE World Cup viewers who were clamoring for Bassem Amin's game. While it may go unnoticed to most, Amin is an iconic figure in African and Egyptian chess. The only player from the continent having surpassed the 2700 mark, he is in the top 100 in the world. However, his games are hardly shown in the broadcasts. Perhaps as he advances more attention will be given to his games. His battle with Etienne Bacrot started off without fireworks, but fizzled into an equal ending. Tomorrow he will try to press with the white pieces.
Africa is watching. Namibian International Master Dante Beukes is reporting for Africa Chess Media. He stated this about Amin… "Bassem Amin is arguably the greatest African chess player of all time. He continues to raise the bar higher and higher for Africans. The 5-time African champion became the first player to reach the second round of the World Cup in 2015 and now he has done one better and reached the third round!" Photo by Anastasia Korolkova
One would think that as we advanced in the tournament, there would be more drawn games, but 19 of the 32 matches started with decisive games. Fifteen-year old Rameshbabu Praggnanandhaa beat Michal Krasenkow and Shakhriyar Mamedyarov was upset by 21-year old Armenian Haik Martirosyan as we continue the theme of the "youth movement."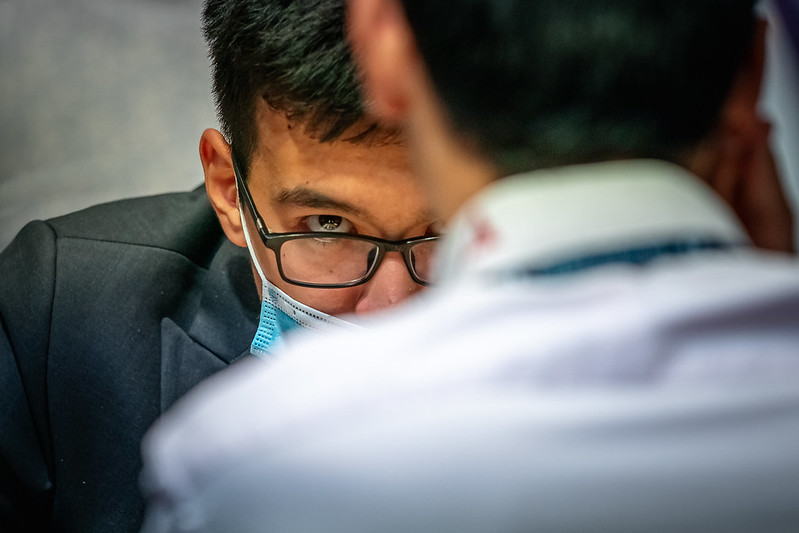 GM Nodirbek Abdusattorov (Uzbekistan)
Photo by IM Eric Rosen
Speaking of the youth movement, it has been noted that Uzbekistan will be a definite force in the future with a young core Javokhir Sindarov (15), Nodirbek Abdusattorov (16), Shamsiddin Vokhidov (19), and Jahongir Vakhidov (26). Only Vokhidov has been eliminated. Uzbekistan certainly received motivation from the legacy of FIDE champion, Rustam Kasindzhanov and trainer, Rashid Ziatdinov. The future is bright.
Vakhidov totally crushed his Russian opponent Pavel Ponkratov when resignation could've happened 20 moves earlier.
There was an instructive name featuring yet another young Indian star, Nihal Sarin. He was playing the dangerous Dmitri Andreikin and got a lesson in how to play positional chess after starting with 1.b3 b6 2.e4 Bb7 3.Nc3. The rarely seen Owens Defense produced a very interesting result. In the final position, you will see the classic good/bad bishop battle.
The story of the round may be Carissa Yip's performance. In her seven games thus far she has won six games! She continued her good form beating the rating favorite Nana Dzagnidze in a highly complicated game. Take a look.
Carissa Yip (USA)
Photo by IM Eric Rosen
Alexandra Kosteniuk is playing a game against Pia Cramling. It is always interesting to see the clash against the generations. Sweden's Cramling has been on the professional scene for decades and is still playing at a high level. In their game the Kosteniuk was able to saddle Cramling with a cramped position and this advantage the entire game. In the final position, Cramling had no moves. Regardless of the outcome of the match, Cramling continues to inspire.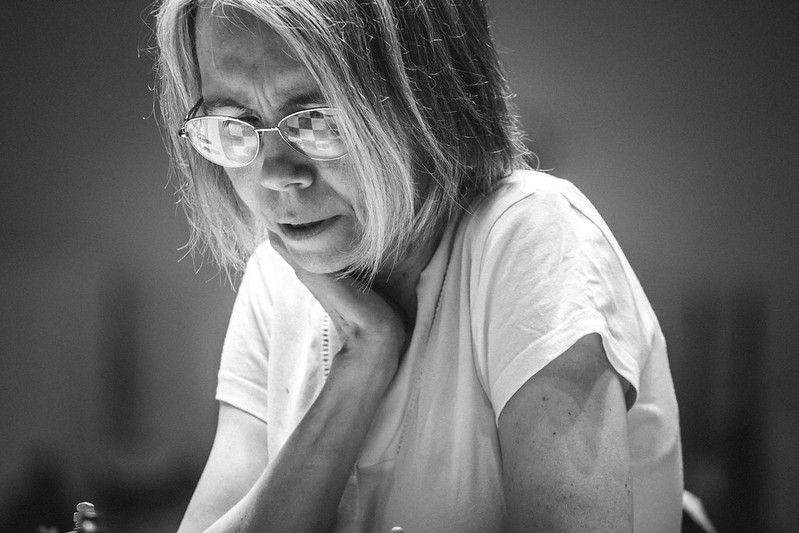 GM Pia Cramling (Sweden)
Photo by Anastasia Korolkova
Games (Open)
Games (Women)
Video by FIDE Chess
Video by ChessBase India
Critical Links: official site, YouTube, Twitter #FIDEWorldCup2021, Results
3 Responses to "2021 FIDE World Cup: Round #3"
Good report!

Round 3, Game 2
Monday, 19 July 2021

Caruana ousted from World Cup… 13 tiebreaks on tap!
Goryachkina, Lagno, Muzychuk move on… four tiebreak tomorrow

Fabiano Caruana saw his chances slipping away.
Photo by IM Eric Rosen

The story of the round was the elimination of Fabiano Caruana, one of the pre-tournament favorites for the World Cup. He fell at the hands of Rinat Jumabayev, Kazakhstan's top player. This was a Carlsbad Queen's Gambit that involved an exchange sacrifice (27.g5!? Bxf1) for a kingside attack. While the engines preferred black's position, it is hard for a human to main composure when pieces are bearing down on the king.

It seemed as if the Kazakh player would fold, but he sacrificed his queen to ward off the attack. However, the American player blundered with 41.Qc4?? and had to give up a piece to avoid a mating net. Black's two rooks and a knight were too much for Caruana's queen and two connected pass pawns. The rooks coordinated to quickly gobble the pawns and Caruana resigned before being forced to give up the queen.

Video by FIDE Chess

With one of the "big guns" eliminated, the path to advance just got a bit less precarious. However, the "young guns" are still causing ripples in the field. Michal Krasenkow, who at 57 years old, is one of the older contestants was gripped in a battle with one of the youngest talents in Rameshbabu Praggnanandhaa. This game was covered by ChessBase India and host Sagar Shah could not contain his excitement at eh dizzying complications.

This game exploded after the Indian prodigy sacrificed a rook with check (!) for what appeared to be a match-clinching draw. There were several inaccuracies by Krasenkow and it appeared he may even lose. Praggnanandhaa played 23…Bb7? which threw away his advantage. However, a draw would suffice. The game really showed the tension in the game as Krasenkow made more mistakes and after 30…Bg4 (-5.76), but Praggnanandhaa could not finish the job. After 33…Nf4?? 34.Re4! was now losing! Unbelievable game!

Another exciting bout was between the two Indian national players, Vidit Santosh and Adhiban Baskaran. Vidit only needed a draw to close the match.

There were a lot of decisive results in the women's competition resulting in only four tiebreaks. Carissa Yip only needed a draw to advance against the experienced Nana Dzagnidze. As we are seeing with the younger players, they don't have stability in intense moments.

Dzagnidze avoided Yip's prep by playing 5…h6?! It was a tremendous risk, but it paid off because Yip became overanxious with 9.f5?! f5 10.Nf3 Nbd7 11.g4?! Yip clearly was not familiar with these structures and soon became overextended and center collapsed. Although a pawn up, her king was exposed with the heavy pieces on the board. In trying to protect the king, she lost her material advantage and soon came under a vicious attack. So she will play one of the four tiebreak matches.

Yip-Dzagnidze
Shuvalova-Garifullina
Ushenina-Muzychuk,M
Khotenashvili-Assaubayeva

Another young player who may have flown under the radar is IM Bibisara Assaubayeva. She upset her compatriot Zhansaya Abdumalik and is seeking to advance. A child prodigy with several youth titles, she became infamously known as the target of cheating allegations that were later refuted and accuser suspended. One thing that is clear is this 17-year old girl has a tremendous future.

IM Bibisara Assaubayeva (Kazakhstan)
Photos by Anastasia Korolkova

Games (Open)

Games (Women)

Video by FIDE Chess

Video by ChessBase India

Critical Links: official site, YouTube, Twitter #FIDEWorldCup2021, Results

Round 3, TIEBREAKS
Tuesday, 20 July 2021

"Big Guns" ousted from World Cup
Assaubayeva gets the upset!

Fabiano Caruana (2820), Shakhriyar Mamedyarov (2770), Anish Giri (2780), Evgeny Tomashevsky (2706), Yangyi Yu (2705), Bassem Amin (2703) and Jorden Van Foreest (2701) were bounced out of the World Cup in Round 3. The random nature of the World Cup and unpredictability is what makes it exciting to follow. Out of the 13 tiebreaks, only one went to Armageddon.

Bassem Amin of Egypt was the lone African representative left in the field and he would face a seasoned veteran. Etienne Bacrot was once deemed a French child prodigy and one who was pegged to challenge Garry Kasparov's reign. While he entered the 2700 ranks in 2004 and got to as high as 7th in the world, he never contested for the World Championship. He remains an active member of the national team.

Bassem Amin in gripping battle against Etienne Bacrot
Photo by IM Eric Rosen

In the first game after 1.e4 c5, Amin trotted out with 3.g3!? and essayed his King's Indian Attack setup. Some commentators noted Amin's style and remarked that it is a bit too predictable. Bacrot sacrificed the exchange to secure the light squares around the white king, but it didn't appear to be enough compensation.

After 33.Bc5 (threatening Bf8!), white was completely winning. After 33…Kh8, Amin could still play Bf8, but opted for a less concrete route. However, Bacrot started drumming up counterplay, and Amin was forced to return the exchange and the game petered out after the Egyptian missed his winning chances.

Amin realizing that the win slipped away.
Photo by IM Eric Rosen

In the second game, Amin had the black pieces and played a Grunfeld with the bishop on f5. This is curious because the latest Benko Gambit theory also has the bishop going to f5 instead of Bxa6. Black fianchetto systems are always evolving. Amin sacrificed the e7-pawn to establish counterplay.

At first glance, black's piece play was impressive. However, in the complications, Amin attempted piece sacrifice in exchange for two connected pawns on the queenside. White ended up with N+N+B against R+B and there was simply no match… the knights trampled black's position and the king ended up being in a mating net.

So the last African player would be eliminated, but the new format certainly gave the continent a great opportunity to play strong competition. The experience and the scene at Sochi will inspire for years to come. Bassem Amin is Africa's top player and his advancement to the third round is a historic building block for African players. There is no way to know where the next generational talent may come from, but it could very well be Africa!

The tournament ended in disappointment, but he inspired an entire continent.
Photo by Anastasiia Korolkova

Some of the big names who were sent home after the tiebreaks were Anish Giri who lost both rapid games to Nodirbek Abdusattorov. Giri was totally outclassed in both of the games and it makes one wonder when the young stars from Central Asia will take the place of some of the players at the top.

GM Rameshbabu Praggnanandhaa (India)
Photo by Anastasia Korolkova

The current professional circuit essentially has the same players playing each other in the tournament after tournament and it does not provide for practice against up and coming players. Fortunately, Maxime Vachier-Lagrave went through against the promising talent David Paravyan, but it took an Armageddon game to clinch the match. Rameshbabu Praggnanandhaa won both rapid games against Michal Krasenkow. Both Vidit Santosh and Adhiban Baskaran of India faced off in the tiebreaks in a thrilling match. Instead of trying to describe it, Vidit gives his impressions.

Video by FIDE Chess

One player who has begun to catch the eye of fans is Iran's Pouya Idani. He has beaten two strong Grandmasters and will face Jan-Krzysztof Duda. He toppled Evgeny Tomashevsky who blundered a pawn on move 12. Some of the commentators mentioned fatigue as being a factor. There will be 16 matches starting tomorrow and there will be some very interesting matchups.

Pairings
GM Carlsen, Magnus 2847 GM Wojtaszek, Radoslaw 2687
GM Dubov, Daniil 2714 GM Esipenko, Andrey 2716
GM Ponkratov, Pavel 2627 GM Bacrot, Etienne 2678
GM Piorun, Kacper 2608 GM Sindarov, Javokhir 2558
GM Grischuk, Alexander 2776 GM Korobov, Anton 2683
GM Idani, Pouya 2614 GM Duda, Jan-Krzysztof 2729
GM Vidit, Santosh Gujrathi 2726 GM Xiong, Jeffery 2709
GM Durarbayli, Vasif 2606 GM Abdusattorov, Nodirbek 2634
GM Kovalev, Vladislav 2637 GM Fedoseev, Vladimir 2696
GM Ivic, Velimir 2581 GM Andreikin, Dmitry 2724
GM Harikrishna, Pentala 2730 GM Tabatabaei, Amin 2613
GM Brkic, Ante 2592 GM Martirosyan, Haik M. 2648
GM Vachier-Lagrave, Maxime 2760 GM Praggnanandhaa R 2608
GM Artemiev, Vladislav 2704 GM Karjakin, Sergey 2757
GM Vitiugov, Nikita 2724 GM Svidler, Peter 2714
GM Shankland, Sam 2709 GM Jumabayev, Rinat 2637

Games (Open)

There were only four tie-break games in the women's section and half of the players were under 20. Carissa Yip was unable to find her rhythm in the rapid and her more experienced opponent, Nana Dzagnidze. In the first rapid she played a rather dubious opening with 6.f4 (against the Caro-Kann) and later missed a tactical shot with 16…Bxc2! White's pieces seemed misplaced and there were simply too many weaknesses. Yip dropped another pawn and then another. She resigned before being mated.

In the second game, she tried an ambitious pawn storm, but that effort was thwarted. To avoid a three-fold repetition, she had to sacrifice the exchange, but there was no hope in this game. She was already two pawns down when she lost a piece. Dzagnidze returned the piece to simplify and started pushing her passed pawns to glory. There were no drawing tricks and the 14-year old American ended her run in Sochi with a hard-fought match. Dzagnidze was gracious in the interview comparing Yip's style to Valentina Guinina.

Video by FIDE Chess

Mariya Muzychuk won the Women's World Championship in 2015. Which of the Muzychuk sisters will make the final this time? Photo by Anastasia Kharlovich.

The longest tiebreak match was between the two Ukrainians Mariya Muzychuk and Anna Ushenina, two former world champions. Ushenina blundered in a drawn rook ending in the first but won the second game convincingly with checkmate on the board.

Ushenina won the first 10+10 game to be countered by Muzychuk win in a wild game. In the first 5+5 game, Muzychuk took advantage of Ushenina's poor handling of the Sicilian and was completely winning after 20 moves. In the last blitz game, Muzychuk equalized despite Ushenina's attempt to complicate the game. Both Muzychuks (Anna & Mariya) will advance to the round of 16. They are also in different brackets, so it is possible for them to meet in the final!

Pairings
GM Goryachkina, Aleksandra 2596 GM Stefanova, Antoaneta 2470
IM Kashlinskaya, Alina 2494 IM Saduakassova, Dinara 2500
GM Dzagnidze, Nana 2524 IM Shuvalova, Polina 2489
IM Paehtz, Elisabeth 2456 GM Muzychuk, Anna 2535
GM Muzychuk, Mariya 2544 GM Kosteniuk, Alexandra 2472
GM Batsiashvili, Nino 2491 GM Gunina, Valentina 2436
GM Tan, Zhongyi 2511 IM Khademalsharieh, Sarasadat 2494
IM Assaubayeva, Bibisara 2389 GM Lagno, Kateryna 2558

Games (Women)

Video by FIDE Chess

Video by ChessBase India

Critical Links: official site, YouTube, Twitter #FIDEWorldCup2021, Results
Leave a Reply!