2019 Florida St. Championship (West Palm Beach, FL)
The 2019 Florida State Championship is back on again!
After Hurricane Dorian wreaked havoc in the Bahamas and was headed toward southern Florida, emergency measures were taken and the Labor Day weekend tournament had to be cancelled. Florida Chess Association (FCA) Board Member and tournament organizer NM Bryan Tillis has announced the rescheduled dates for next month. Following is the announcement…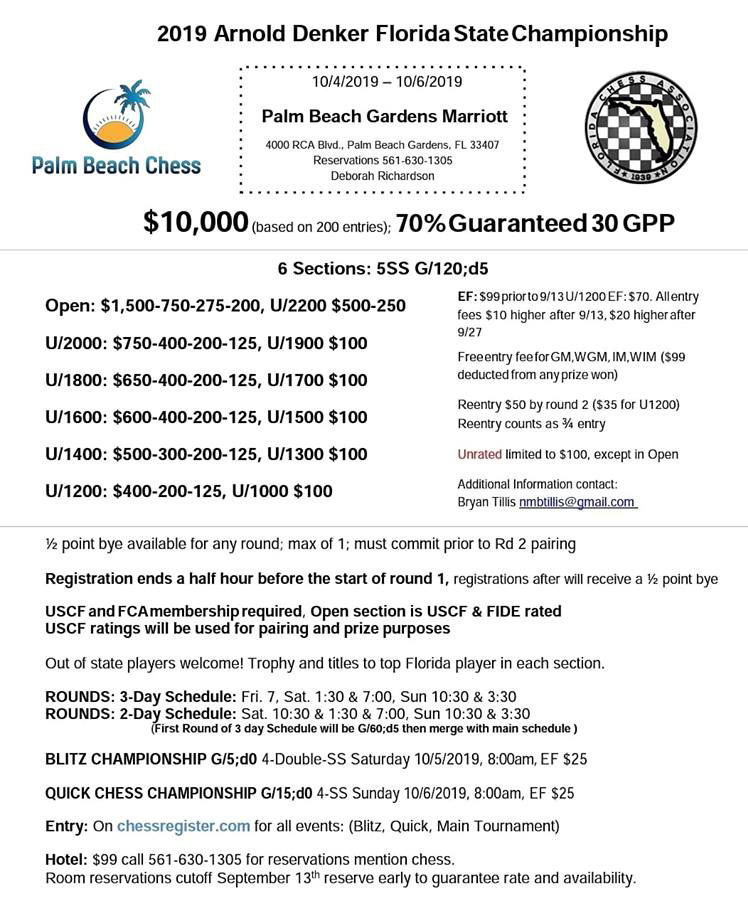 Florida Chess Association
On Sunday morning of September 1st, the Florida Chess Association Board of Directors met via teleconferencing. FCA Membership was up 58% from last year and before the cancellation, there was also an increase in pre-tournament entries from last year's state championship in Jacksonville. We hope to recoup all the entries and see an increase since some may have had other plans for Labor Day.
The Board certified the election of the new Board of Directors for 2019-2020. They are as follows:
FCA Board of Directors
President: Kevin Pryor
Vice President: Bryan Tillis
Secretary: Matthew Kolcz
Treasurer: Scott Cavan
Northeast VP: Steve Lampkin
Northwest VP: Tim Staley
Southern VP: William Bowman
Central VP: Paul Leggett
Western VP: Krista Alton
At Large: Miguel Ararat
At Large: Jon Haskel
At Large: Harvey Lerman
At Large: Daaim Shabazz