12th All-Africa Games: Mixed Rapid-Day 2
Despite upsets, Egypt take gold!
Zimbabweans Rodwell Makoto and Emarald Mushone chat before their first round game against Eritrea. They would win their games, but the were more proud of the wins they got in round six. Photo by Mohamed Bounaji/FIDE
What a finish in the first chess event ending with the Egyptians edging the field and winning the gold. In round six, Egypt were winning their matches comfortably, but had a scare after both Ahmed Adly and Bassem Amin lost in round six! This sent shock waves throughout the hall and the continent. Perhaps the Egyptians were feeling too comfortable and got a rude awakening.
One can see that competition is getting a bit more stiff on the continent as evidenced by the number of upsets during the tournament. Providence Oatlhotse of Botswana beat Bilel Bellahcene while Tunisia's Amir Zaibi also beat Bellahcene and Hicham Hamdouchi.
Nevertheless the Egyptians came back with a vengeance. In fact, it would be the Wafa sisters (Shrook and Shahenda) who piled up huge scores, 8/9 and 8.5/9 respectively. Shrook Wafa's loss was to Lorita Mwango of Zambia who seems to be quite a dangerous player in continental play. The Zim ladies Linda Shaba and Colletta Wakuruwarewa maintained stable play. In fact, Shaba got an upset win over Mwango in the battle of the only "Z" nations on the planet.
Games from Round 6
Malawians were lead by two FIDE Masters FM Joseph Mwale who tallied 6/9 and FM Gerrard Mphungu who compiled a strong 6.5/9. Mwale beat Zambian International Master Stanley Chumfwa in the process. According to online reports, Mwale is based in South Africa and serves as a professional coach there.
Malawi vs. Nigeria
Mali vs. Namibia
Photos by Mohamed Bounaji/FIDE
The rapid portion is filled with twists and turns as we saw during the event. Providence Oatlhotse had a 100-move draw with Hamdouchi (3rd round) during which pieces shuffled behind walls of pawns. It was a bit humorous to see such a game. There was a R+N vs. R than was a draw (Osunfuyi-Silva) and another that was a win (Wafa-Mayar)! Kudos to Phemelo Ketho for saving the rook ending against Mohamed Boudriga two pawns down. It ended with the famous stalemate trick!
What was also amazing was the number of picturesque checkmates delivered over the board. Some of them are obviously embarrassing, yet instructive. With the "Puzzle Rush" craze in the chess world, some of these games may be candidates for inclusion. Below are some of mates seen during the mixed segment (names withheld). Some were mate-in-one slips and others were combinations ending in mate. Mate happens.
Puzzle Rush @ 2019 All-Africa Games!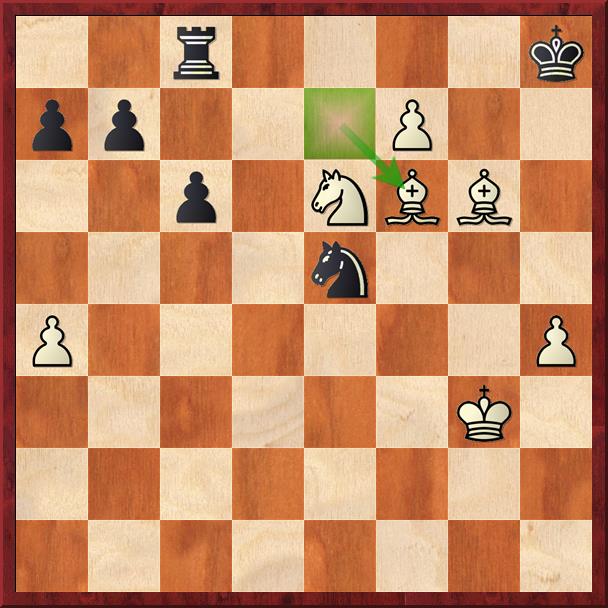 As one would imagine with the accelerated time control, mistakes are more common. However, there were some powerful games played including the above Amin-Mushore where the Zim player held his composure after the Egyptian threw all of his pieces at his king. That was a great moment for the untitled player. Zim's results allowed Algeria to move within a point of the lead, but they never made up any ground. Ethiopia had quietly crept into medal contention.
After the scare, Egypt obliterated Botswana 4-0 on Ahmed Adly's beautiful attacking game against Oatlhotse. The win only took 17 moves and was an impressive display of power. The loss must've motivated the Egyptians. Algeria remained close on match points, but they had already lost to Egypt and were far behind on board points. Zimbabwe kept punching hard, beating Angola as Mushore beat Angola's young IM David Silva.
Games from Round 7
In the penultimate round, Algeria was hoping that Zambia would halt the march of Egypt, but their IMs were no match. Adly even played the "hippopotamus" setup to keep Chumfwa off balance. Ultimately, the Zambian well astray thinking he would have enough compensation for a sacrificed piece. Meanwhile, Amin crushed Kayonde with a barrage of tactics to collect the point. Algeria won again to keep pace, but Egypt had all but clinched the gold.
Games from Round 8
While it is true that Malawi had moved up into 6th place, Egypt was looking to win in style. The two losses in round six may still sting. Since the draw with Zimbabwe in round six, Egypt had three wins on 11/12. Algeria punished Ethiopia 4-0, but they'd have to be satisfied with silver. Before the loss, Ethiopia had moved into 4th place. Bronze will still up for grabs.
Zimbabwe was a mere point ahead of Ethiopia and Tunisia. With both teams losing, Zim only needed a draw to clinch… which they achieved. Nigeria was just out of the medals, but ended strong.
Games from Round 9
Most of the teams struggled with consistency and were unable to gain momentum. If we look at the bottom of the charts, several of the teams had hard times. Cape Verde has relatively young players with little experience. Countries like Central African Republic, Mali and Eritrea will build in this experience before the continental championship and Olympiad next year. It was great to see them in action!
Cape Verde


Honorina Morais, Loedi Gomes, Joel Pires, Luis Moniz
Photo by Mohamed Bounaji/FIDE
As we move on to the rapid individual, there will be more focus since one lives and dies by their own effort. It will be interesting to see the transition from a team event to an individual event. Perhaps bitter fights are ahead of us tomorrow. Stay tuned!
In mixed team chess event at #AfricanGames
Egypt ?? GOLD ?
Algeria ?? SILVER ?
Zimbabwe ?? BRONZE?

Photo: Mohamed Bounaji pic.twitter.com/btCoAv4oLK

— Daaim Shabazz (@thechessdrum) August 25, 2019
Final Standings
Mixed Team (Rapid Chess)
Official Site: (English, French, Arabic)
Drum Coverage: https://www.thechessdrum.net/blog/2019/08/24/12th-all-africa-games-rabat-morocco/
Chess: (Schedule)
Chess-Results: https://chess-results.com/tnr465340.aspx?lan=1&art=2&rd=1
Chess24: https://chess24.com/en/watch/live-tournaments/african-games-team-championship-2019/
Photos (FIDE): https://www.flickr.com/