Reflections on 2019 Abidjan Rapid & Blitz
Going back to Africa!
Before traveling to Francophone (French-speaking) Africa for the first time, I had to brush off my French instruction books from grad school to brush up on vocabulary, cognates, listening, phrases, and passe compose'. I discovered that there were a lot of videos on YouTube and went through a number of them. My colleague from Haiti also offered to help me practice. Nevertheless, my comfort level was not high. J'ai tout oublie'!
Tuesday, 7 May 2019
(Tallahassee to Jacksonville to Atlanta)
After surviving a tense week of grading papers/exams and compiling final grades at Florida A&M University, I prepared to leave Tallahassee the next day. I had to drive 2-3 hours to Jacksonville International Airport. Any delay could cause me to miss my first leg.
While driving, I was listening to French language sites and also to zouk music from the French Caribbean. It's always risky to take a flight in another city, but I made it to catch my 7:59 flight. After dropping my car off at the parking company, I check in. This would be the beginning of my Tallahassee-Jacksonville-Atlanta-Paris-Abidjan journey.
My 42-minute Jacksonville-Atlanta flight was uneventful, but I always like walking in the train tunnel in the Hartsfield-Jackson airport. They have a number of wonderful exhibits including a fascinating work of art by Steve Waldeck called, "Flight Paths," a sensory buffet of colors and nature sounds. Stunning. The exhibit is between Concourses A and B and one of my favorites.
Tuesday, 7 May 2019
(Atlanta to Paris)
My Atlanta-Paris flight was rather smooth although a bit delayed. We took off at around 8:30 and I settled in. Besides wondering about my specially-ordered meal, I'm always intrigued at the entertainment selection. There were a number of choices of course. I started watching "Aquaman," but couldn't get through it so I settled on "Crazy Rich Asians" which I enjoyed.
Fortunately, the meals came and since I special-ordered, I was served first. It was a polenta dish with lentils and carrots, peppers, artichokes and what appeared to be sauteed kale. This was one of the best vegan meals I've had on a flight. Surprisingly well done!
I started watching "Arctic," a movie about a man named Overgård (Mads Mikkelsen) who crashed his plane in the desolate snow plains of Iceland. As a result, he was in a desperate fight for survival. With limited time and resources, he had to figure out how to cope in the bitterly cold conditions while hoping someone would find him.
A rescue helicopter did pick up his beacon but it crashed, killing the Thai pilot. He salvaged valuable equipment from the helicopter, but it left him to care for a severely injured female co-pilot. After days of caring for her and assessing her strength, he decided that she would most likely die of an infection before any help arrived so he packed her in a sled and began a trek across the rugged plains in search of the base he spotted on a map found in the crashed helicopter.
As my flight was about to land in Paris, he and the injured woman were taking refuge in a cave after hours of hiking in blustery weather. While trying to feed his weakened compatriot, a polar bear had sensed their presence and tried to claw his way into the cave. He scared it off with a flare and primal screams. Would the bear return as they attempted to find the base? The thought weighed on me as I exited the plane.
Wednesday, 8 May 2019
(Charles De Gaulle International Airport – Paris, France)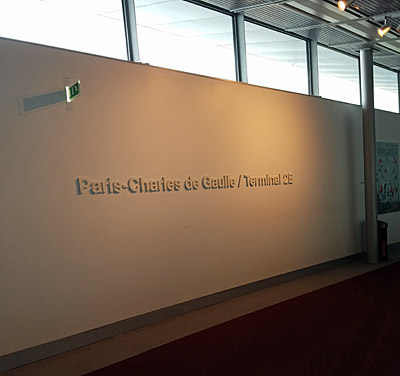 I have never been to Paris proper, but have only had connecting flights. DeGaulle has made quite a few improvements to the airport over the years. In the Air France concourse there were plenty of shops including the usual upscale and duty-free kinds. I had a couple of hours to wander around and began eating snacks I bought in Jacksonville. I also charged my phone and got on the airport's free Wi-Fi.
"Paris will not forget you."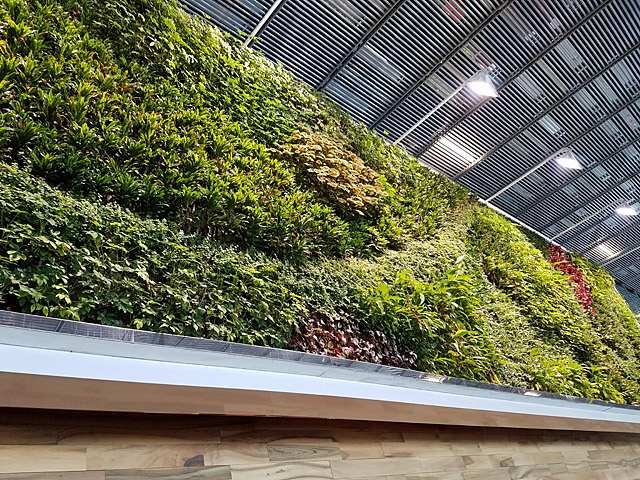 Beautiful wall garden. I had to get a closer look.
I actually met a manicurist from Vietnam who spoke better English than French. After telling her that I visited Vietnam in 2014, she told me she long to return to Hanoi, her hometown. It had been hard for her and French people can be unforgiving about their language.
So I went back to the gate to hear announcements. We then lined up only to be told the flight would be delayed due to a storm. It was raining heavily. In about 15 minutes we lined up again and boarded the plane.
Wednesday, 8 May 2019
(Paris to Félix-Houphouët-Boigny International Airport – Abidjan, Côte d'Ivoire)
Now almost all of my interactions were in French. I couldn't find "Arctic" on the Air France system, but watched an interesting African movie called "Maki'la" about young women living on the unforgiving streets of Kinshasa, Congo. Interesting.
We got to Abidjan and before I could get through customs, I had to stop to get my visa. There was a man directing us. After about 20 minutes, I had gotten my new stamp. I went over to the baggage claim and watched the carousel go around. After about 40 minutes of waiting, I went to the office and discovered my bag was still in Paris! I would have to collect it tomorrow evening. Fortunately, I carried toiletries, another shirt and under garments. I was picked up by Dr. Essoh Essis who had been waiting an hour while I was trying to get my bag. I was also greeted by Private Kouakou who got me a SIM card for my phone.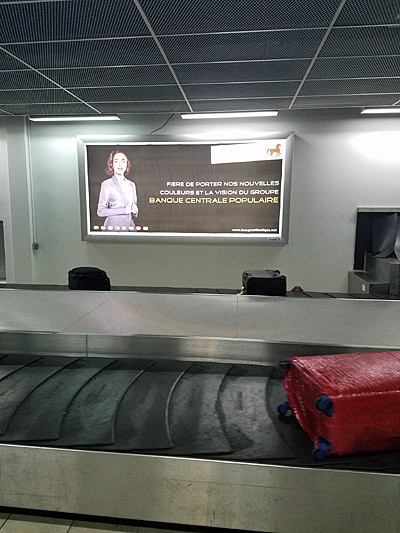 My bag was still in Paris!
Not off to a good start. It was very hot and humid in Abidjan… even at night. Not to mention that there was a change of plans in my accommodation. For the first night, I would be staying with the Nigeria team in the Residence Hotel. After a huge helping of local rice with and a pepper condiment, I checked out the room. It was clean and neat but it probably would be fortunate to get two stars.
Nigeria in the house!
This would be my office for the first night.
There were no toilet seats, but at least I had Internet. Don't sweat the small stuff. Babatunde Ogunsiku of Africa Chess Media helped me get online and let me use his adapter to charge my phone. I stayed up checking chess reports and slept relatively well in the very firm mattress. Tomorrow would be a big day for me.
Thursday, 9 May 2019
(Pullman Hotel – Abidjan, Côte d'Ivoire)
Charles Lorng came by the hotel telling me they were moving me to another place. I had mentally prepared myself to be in the hotel with the Nigerians, but the Résidence Hôtel la Grace was a definite upgrade. I thought it may have been better to stay with the Nigerians, but the hosts picked me up each afternoon. After I got checked into the Residence, we stopped at Delices Restaurant for lunch. After struggling to find a vegan option, I had alloco (plantains) and some spicy tomato stew over rice.
CLICK to see larger images. Hover to get descriptions.
Throughout Abidjan, I took pictures of numerous billboards. Absolutely stunning. No words needed. More billboards later, but one thing that was certain was that this was the home of international soccer star Didier Drogba and you were made aware of it. Billboards of him were everywhere.
Drogba may be king, but Côte d'Ivoire is also a land of queens!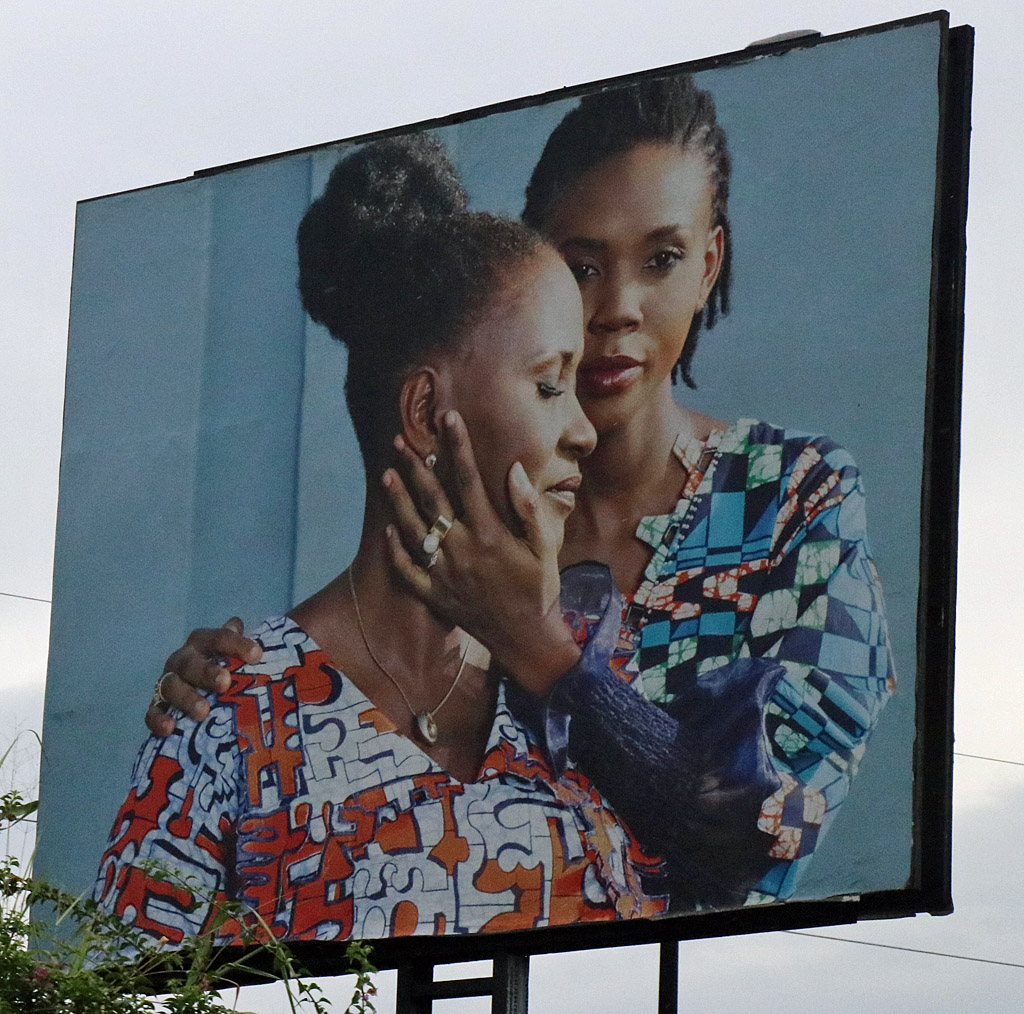 As we were heading to the Pullman Hotel, I told Babatunde about something I saw on chess.com about Maurice Ashley's video playing soccer. Someone had posted a comment asking where Drogba was. Funny. When we got to the hotel, I went down to see the ECOWAS Team event. Besides Nigeria, Ghana and Togo had sent players.
After taking pictures I moved inside the hotel where I saw Babatunde who said, "Drogba's here." Tu plaisantes? I didn't see him laughing or smiling, but he must be joking, right? He motioned over toward the dining area and there was a tall man seated having lunch, baseball cap turned backwards. It certainly looked like Drogba. I inched closer… it WAS him! Imagine that… Drogba in the same hotel as the World Champion Magnus Carlsen, an ardent soccer fan.
Babatunde and I went upstairs by the production room and we saw Essoh Essis. We informed him that Didier Drogba was in the hotel. He had an incredulous look on his face and said, "Here's here NOW?!?" We rushed downstairs and he immediately approached the table. What was said? Essoh, the chief organizer of the Grand Chess Tour event and the President of the Ivorian Chess Federation (FIDEC) wanted Drogba to make the ceremonial move in one of the rounds. What is more interesting was that apparently Drogba told Essoh that he always wanted to learn to play chess. Imagine the boost for chess in country if Drogba was seen playing. Unfortunately, Drogba was unable to participate in the event but it was a very interesting way to begin the day.
Essoh Essis chatting with Didier Drogba
Photo by Daaim Shabazz
As word gets around that Drogba was in the building, I find a spot to work. Initially, there was no media room for the event so we essentially just found a convenient spot near the action. Just outside the production room seem to be the best option. Alessandro Parodi of chess.com held down this location the entire tournament. Later on, Graham Jurgensen made a meeting room available to journalists. It was a tremendous upgrade. Far too often, conditions for journalists are an afterthought. We have to fix this issue.
The round was ready to start. I covered the first Sinquefield Cup in 2013 and remember there being only four players. Now the Grand Chess Tour had expanded to a much larger format and also hosted the tournament for the first time in Africa. Bassem Amin of Egypt was the wildcard representative and I greeted him. He was very gracious despite the 0/3 start. "We finally meet," he said. I had seen Bassem at several Olympiad tournaments and had been covering him since he won his first African Junior Championship in 2004.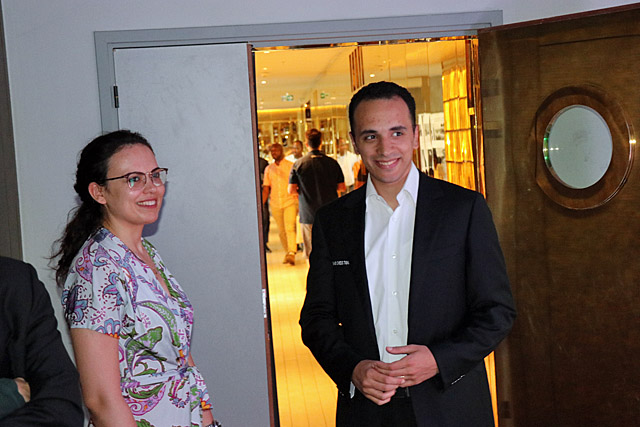 Maria Emelianova speaking with Egypt's GM Bassem Amin
Photo by Daaim Shabazz
Day two was interesting as Carlsen was in fine form. Hikaru Nakamura suffered an improbable loss to Amin and stated that there was pressure in trying to keep pace with the World Champion. Despite this loss, Nakamura was only two points behind Carlsen.
Click on Facebook icon in upper right!
The environment was very positive and upbeat, but the players were not always accessible so it was difficult to gauge their overall mood about the environment. Veselin Topalov was seen earlier in the pool so at least one Grandmaster was enjoying the amenities.
The hotel lobby had a section set up for viewing the action.
Friday, 10 May 2019
(Pullman Hotel – Abidjan, Côte d'Ivoire)
To be honest, I was busy milling about and trying to decide which interviews I was going to do. I was meeting the other players from West Africa including Philip Ameku, the President of the Ghanaian Chess Association. After taking a number of photos, I conducted the following interview of Ameku.
Video by Daaim Shabazz/The Chess Drum
Philip Ameku (Ghana), Angela Ayiku (Ghana), Christiana Naa Merley Ashley (Ghana), Daaim Shabazz (USA) and Ogunsiku Babatunde (Nigeria)
Peace Samson (Nigeria), Onokpite Kennedy (Nigeria), Toritsemuwa Ofowina (Nigeria), Daaim Shabazz (USA)
Carlsen would remain on top of the rapid segment three points infront of Nakamura with Wesley So and Maxime Vachier-Lagrave trailing close behind. That night a group of players, organizers and journalists went to the Bushman Cafe for dinner. I enjoyed my conversation with Veselin Topalov who spoke about a wide range of topics including who should move first in chess. I later interviewed him and he covered the topic in more detail.
Saturday, 11 May 2019
(Pullman Hotel – Abidjan, Côte d'Ivoire)
Blitz!!
An increasing trend has moved toward quicker formats. There is a debate on whether blitz and rapid is more attractive to viewers. I believe it depends. If you are a decent chess player, it can be. If you don't play chess or a low-level player, it will not be any more fascinating other than the fact that the physical emotionalism is easier to understand. You will not know what is happening on the board, but at least you have an inkling of who's winning and losing from the expression. Is this enough? Of course not.
All of us (100%) learned to play chess in the classical form and we became attracted to it. If we consider slower formats "boring," maybe we should recall why we pursued chess. In classical you have time to listen to someone explain the plan, see the tension build, attempt to understand it and see it evolve. You can even guess the moves, see why your choice is good or bad, and interact with others on the ideas. The question remains, what is the best way to tell this story?
Maxime Vachier-Lagrave's surge was impressive
slightly closing the gap on Magnus Carlsen.
Honestly, I didn't get a chance to follow the blitz games very much. From a journalist viewpoint, you cannot do recaps after every round, so you have to settle for tweeting or posting photos of the action. At the end of the first day, Carlsen had lost a half-point as MVL got 6.5/9, 2.5 points back. It probably was too much to think of anyone overtaking the World Champion.
Oh… a group of us went to the Parker Place reggae club where they were commemorating the life of Bob Marley. The reggae ambassador died in Miami May 11, 1981. I was one of the fortunate few of the chess group who stayed long enough to see Essoh Essis perform "No Woman, No Cry." Nuff respeck!
Taking in Ivorian reggae vibe!
Video by Daaim Shabazz/The Chess Drum
Sunday, 12 May 2019
(Pullman Hotel – Abidjan, Côte d'Ivoire)
Last day. The event had been an organizational success and I was glad I made the trip. I managed to interview Veselin Topalov along with Maurice Ashley and Oladapo Adu. Carlsen held onto the lead as expected, but he was none too happy losing both blitz games to Maxime Vachier-Lagrave (MVL).
Nevertheless, neither Hikaru Nakamura nor MVL could gain any ground as they suffered crucial losses. MVL dropped games to Nakamura, Wesley So, and Sergey Karjakin. Nakamura had a good second half, but had a few draws and lost the finale to Carlsen. In the end, Carlsen won by a 3.5 point margin clinching with two rounds remaining.
The winner @MagnusCarlsen with his trophy! pic.twitter.com/o5RLcaDmaZ

— Grand Chess Tour (@GrandChessTour) May 12, 2019
Click on Facebook icon in upper right!
The evening ended with a short closing ceremony and lots of selfies. Carlsen was mobbed for interviews, but I decided to grab Topalov for a session. It was a refreshing interview and he even complimented me on my outfit. It was a very positive environment and my colleague Babatunde Ogunsiku (africachessmedia.com) got the interview with Carlsen.
Monday, 13 May 2019
(Grand Bassam, Côte d'Ivoire)
The tournament was over and Carlsen had won his 5th tournament in a row. While most were catching flights to other destinations, I would get to see my Ivorian friend from graduate school, Dr. Jean Yapi. We attended Clark Atlanta University both for MBA and Ph.D. in International Affairs and Development. Those were very important times in my intellectual development.
I plan to write a book just about these experiences, but suffice it to say, my educational grounding has provided me with the tools to become a successful academic. At this institution, I met dozens of students who were from the African continent seeking to make a difference in their respective countries. Jean was one of them.
Jean Yapi and I are on the left at the graduation of our friend Biram Fall,
an erudite scholar from Senegal. Nearly 30 years ago!
Jean told me who glad he came to Atlanta after spending 10 years (ages 15-25) in Paris. Many times he was the only person of African descent in his class and it was easy to become isolated. After completing his studies in the U.S., he returned to Côte d'Ivoire. For the past 20 years he had been learning about his own country.
When he took me to the old capital, Grand Bassam, I could tell that he enjoyed it as much as I did. It was a very nostalgic town with remnants from the past still standing. We visited the Musee National des Costumes (Grand Bassam), the former administrative and residential location for the French colonial government. It is appropriate that they have replaced it with indigenous traditions.
Click on Facebook icon in upper right!
The costumes of the various ethnic groups had very specific meaning. In fact, in order to wear certain types of clothing you had to show a level of erudition or wisdom. Another exhibit showed the ritual involving a girl coming into womanhood, a practice that seems to disappearing in all but the remote areas. One of the most fascinating was the "Royal Hammock" on which the Akan king would be carried. What was most interesting that the carriage was shaped like a coffin as a reminder that he has to be a just ruler, or else… well, you can imagine.
Final Thoughts
This was an important trip in my career of travels and evolution as a global citizen. One of the things one has to do to become a global citizen is to travel, but also engage in language immersion. This trip helped me to reignite my quest for fluency in another language. During graduate school, I chose French because it is spoken widely in Africa and my Ph.D. research was dealing with the Economic Community of West Africa States (ECOWAS). It is through understanding of different languages do we learn to see the world in a holistic way. I teach my students that we often evolve through five stages…
Global Disconnect
Global Awareness
Global Understanding
Global Competency
Global Fluency
Coming to this event was part of my professional development was of course I came due to its historic importance. My impression was that the event was run well and the production team did a stellar job. I enjoyed the event, but was surprised that I met none of the Ivorian ladies who were in Batumi for the Olympiad. Nevertheless, FIDEC will have some challenges going forward as they will endure the strains of a young federation. It was a great event and we can thank Dr. Essis and his team for making the event a rousing success. Felicitations!
Best Memories of the Abidjan were… (not ranked)
The hospitality of Charles Lorng… he has great passion and he took care me while I was in Abidjan! Thanks for everything! Thanks for tolerating my French!
Essoh's performance at the Parker Place reggae (see video above)

Essoh Essis performing a Marley favorite.

Speaking with Babatunde Ogunsiku about the need for an international journalists organization. He has started a WhatsApp group.
My conversations with former World Champion, Veselin Topalov. He gave very dynamic insights on various topics which were similar to the way he plays chess. He agreed to an interview!
Socializing with the West Africans from Côte d'Ivoire, Nigeria and Ghana.
Riding around with Simplice Degondo, the Ivorian #1 player. He told me an uncle taught him to play initially.
The mangoes!! Best I've ever had… and the largest.
Seeing my classmate Jean Yapi from graduate school (after 20 years) and visiting Grand Bassam, the first capital of the Ivory Coast
Meeting Bassem Amin of Egypt formally
The billboards of Côte d'Ivoire. Initially, it was my impression that Ghana had the most beautiful billboards I had ever seen, but those in Abidjan were also stunning. They conveyed hope, happiness, self-esteem, family values, pride, patriotism and beauty.

Billboards in Côte d'Ivoire
(Click on Facebook icon in upper right!)

The Didier Drogba joke! "Where is Drogba?" We found him! 😀
Finishing the movie "Arctic" on the Paris-Jacksonville flight. Outstanding movie!
Watching Peace Samson and Christina Ashley play blitz
The view from the The Pullman Hotel… very nice!
The waiter with whom I had a conversation in French. He said my French is pretty good. He was either too generous or I had become an expert at using DeepL Translator and a French book I received from a Haitian friend in 1989!
Or course… interviewing Maurice Ashley and leaving Abidjan on the same flight. It's one of the few times that we had time to talk during a tournament.
Video by Daaim Shabazz/The Chess Drum
Worst Memories of Abidjan were…
My bag not arriving in Abidjan when I landed. I waited 40 minutes until I found out it was still in Paris
Missing blitz tournament and not playing a single game
Not getting a chance to visit the Grand Mosque in Abidjan
Interview with Dr. Essoh Essis, President of FIDEC
Video Daaim Shabazz/The Chess Drum