2018 Chess Olympiad: Round #8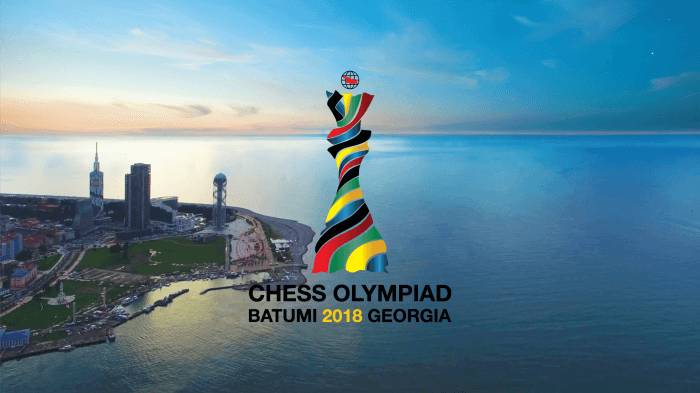 2018 Chess Olympiad: Round #8
Tuesday, 2 October 2018
Open Section
Clutch!! In USA-Azerbaijan, Fabiano Caruana won a thrilling game that appear to be equal, but the trump was that black's king was more exposed than white's. This came to bear when Shakhriyar Mamedyarov's king was being checkmated on move 64. With an unstoppable mate looming, the Azeri offered his resignation. What a performance by the World Challenger!
Chess Olympiad round 8 : Caruana – Mamedyarov : 1 – 0 , USA took the sole lead. https://t.co/xavxI9L7qz #chess #BatumiChess2018 #ChessOlympiad Photo by Llada pic.twitter.com/N8SmxbV6I9

— Chess news (@usefulchess) October 2, 2018
Here was his impressions caught by ChessBase India…
Video ChessBase India
On board two Teimour Radjabov tore in Wesley So's leg like a pit bull terrier and didn't let go. The Azeri player grabbed space, but after 19…b5!? 20.cxb5 Rxd5 the game entered murky waters. White still had a slight edge, but it appeared that black was holding on. Radjabov kept pressing with his extra passed a-pawn. The problem was that black's pieces would remain tied down to watching it.
Ultimately, white got the queens off and got a technically-winning position. It was a rare loss for So who was on 6/7 before the round. In fact, it was only the USA's second loss of the tournament! Hikaru Nakamura drew again for the 6th straight game.
For someone who detests draws, he has taken a team approach and has essentially stabilized the middle of the lineup at the expense of his own Elo rating. However, he has proven his fighting spirit. Sam Shankland won a gold medal in Tromso for his performance on board five and is acquitting himself well in Batumi. The last game to finish, he beat Mamedov in a 96-move game giving the USA the match win.
Sam Shankland seals a 2.5:1.5 victory over Azerbaijan for the USA, who are now sole leaders of #BatumiChess2018 with 3 rounds to go! https://t.co/LFNDWogOx3 #c24live pic.twitter.com/KqKmEH7qyq

— chess24.com (@chess24com) October 2, 2018
Armenia-Poland had four hard-fought draws keeping Poland in 2nd with Azerbaijan and the USA switching places. India beat the Czech Republic on the powerful win of Krishnan Sasikiran. The last time Anand played in 2006, he was criticized because he couldn't get a win, but this time he came up big. India is now in 4th position. Germany and England won over Spain and Israel, respectively.
France topped the Ukraine and China beat the Netherlands. Meanwhile, Russia is trying to get onto the medal stand, but it is too late for the gold. A convincing win over Belarus gets them just outside the top ten, but with only three rounds remaining, they'll have to win out. Can Russia do it?
For round nine, key matchups are:
Poland-United States of America
Azerbaijan-China
India-Armenia
Germany-France
England-Norway

Women Section
Wow! China has pulled into the lead after beating Romania 3½-½. Having only one draw in eight matches (and no board losses), the defending champions finally was able to grab a hold of 1st place. Ukraine, USA and Hungary won by 3-1 counts with the latter resulting in a shocking loss for India. Armenia's loss to the Ukraine jeopardized their chances at their first Olympiad medal.
The USA continued to roll on the strength of Jennifer Yu (7/8) and Irina Krush (6.5/7). Humpy Koneru of India suffered her first loss to Hungary's Hoang Thanh Trang as the tension is ratcheting up. Both Georgia 1 and Georgia 2 lost their matches to Azerbaijan and Kazakhstan, respectively. Kazakhstan is making a breakthrough. Russia smashed the Netherlands 4-0 to creep into the 8th position.
For round 9, we have:
Kazakhstan-China
Azerbaijan-Ukraine
United States of America-Hungary
Armenia-Iran
Russia-Romania
Video by GM Danny King
Behind the Scenes
Video by Batumi Chess