2018 Chess Olympiad: Round #7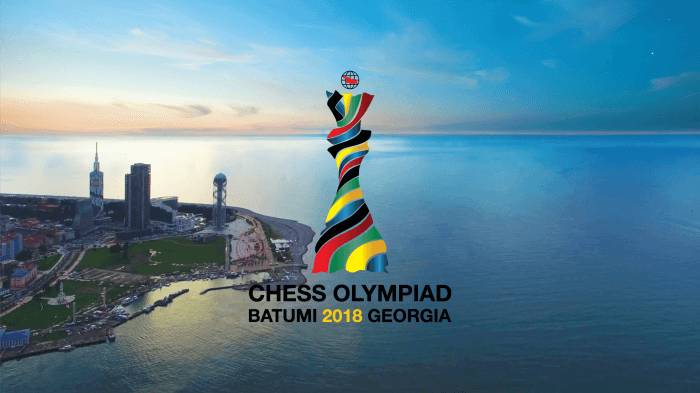 2018 Chess Olympiad: Round #7
Monday, 1 October 2018
Open Section
Key battles in the 7th round. Poland-Azerbaijan was drawn 2-2 while the USA beat Croatia 3-1 moving into a three-way tie for first. The USA benefited from favorable pairings the last two rounds, but will certainly play everyone that they'll need to play. In fact, they will battle Azerbaijan the next round. This could very well shape the medal race. Poland will face a motivated Armenia who won against Moldova and Belarus to take the sting out of the loss to Azerbaijan.
The first result of the India-Egypt match is out. With the black pieces, Egyptian number one, @GMBassemAmin managed to hold the reigning world rapid champion, @vishy64theking to a draw. | Photo: @nikchess Follow live games @ https://t.co/fBq3Sw47lP#BatumiChess2018 #CheckdeIndia pic.twitter.com/iaHTu2cY2X

— ChessBase India (@ChessbaseIndia) October 1, 2018
India is still in the hunt as they beat African Champion, Egypt who had quietly moved within the top 10 boards. Bassem Amin (2800+ TPR) is in medal contention for board one. China drew with the Ukraine and German, the Netherlands shook hands on all four boards and Czech Republic and Israel split the match point. Algeria also eased to board nine only to be dismantled by Spain by a 3½-½ score. Ouch.
Lastly, Russia continues to struggle and had to split the match was a heavily outrated Serbia team. At each board, Serbia was outrated by 200 points by held on boards one and three. Marko Nenezic beat Jakovenko to tie the match after Vladimir Kramnik had dispatched of Milos Roganovic in an interesting Sicilian Sveshnikov.
What's in store with four rounds left? USA-Azerbaijan will be a thriller as will Armenia and Poland. India is looking for a win, but is far behind on tiebreaks and they have only played two contenders. Tough road for the Indian "Tigers."
For round seven, key matchups are:
USA-Azerbaijan
Armenia-Poland
Czech Republic-India
Spain-Germany
Israel-England

Women Section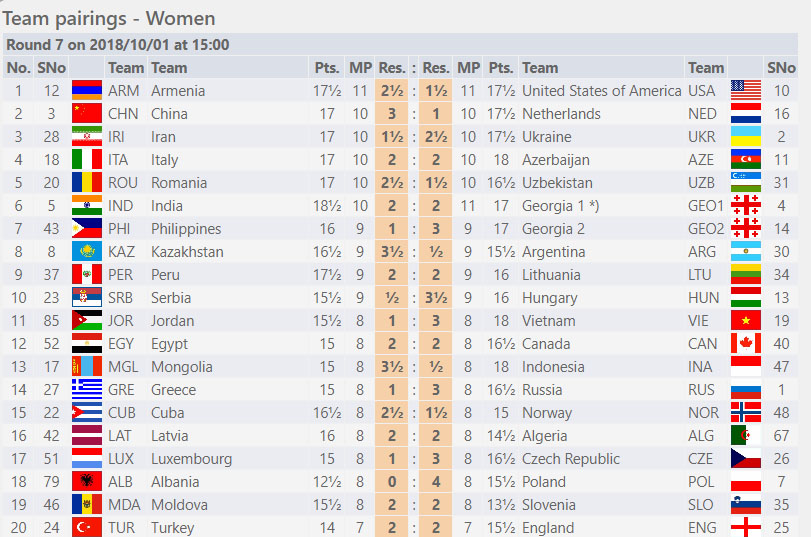 China is back in the mix with another win over Netherlands. They have moved into second position with 12 points. Ukraine has the same number of points fewer board points. They will face Armenia who leads with 13 points. The Ukraine will be favorites, but this tournament has made evident that rating gaps are not always a good predictor of performance.
Jennifer Yu's torrid pace continued as she score another victory, but it was not enough to prevent the Americans' six match winning streak from coming to an end. The one-point match loss dropped the USA all the way down to 11th. Sabina Foisor has not been able to find her form and lost again. She is now on 1/2 point from four games. Yu has neutralized Foisor's poor form with a sterling 6.5/7. Here is her last victory… a king hunt.
The USA India-Georgia failed to keep up and drew 2-2, but continue to be among the contenders. For round 7, we have:
Ukraine-Armenia
China-Romania
United States of America-Italy
Hungary-India
Georgia 2-Azerbaijan
Georgia 1-Kazakhstan
India-Georgia 1
Interview with GM Nana Dzagnidze
Video by Batumi Chess