2018 Chess Olympiad: Round #6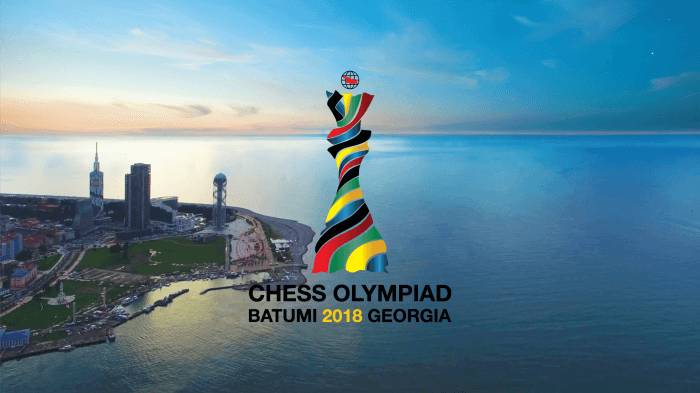 2018 Chess Olympiad: Round #6
Sunday, 30 September 2018
Women Section
First, the women…
The Americans are making a run for medals in both sections after the 6th round proceedings. The story thus far has to be the play of unheralded FM Jennifer Yu who is now on 5.5/6 after winning against India. The team traded wins on the four boards with white winning each encounter. This win pushes the USA into sole possession of 1st place and a date with Armenia in the 7th round.
Jennifer Yu has led the charge for USA.
Photo by Daaim Shabazz
Yu is one of several young girls rising on the American chess landscape. In fact, four school girls (i.e., Annie Wang, Akshita Gorti, Carissa Yip, Maggie Feng) played in the U.S. Championship in recent years. As the women's team relies on the mainstay of Irina Krush and Anna Zatonskih, new players will have to replace them and perhaps we have found the candidates.
China has had problems getting a string of wins together, but they were held by another contender in the Ukraine. Former women's champion Mariya Muzychuk beat Shen Yang while Huang Quan defeated another women champion in Anna Ushenina. In this 144-move game it appeared to be headed for a draw, but Ushenina had a failure in her technique and could not obtain the drawing setup.
Perhaps the biggest news of the day was Russia losing (again) to rival Armenia 3-1. This is a big blow to Russia and it is improbable that they will be able to recover from two losses. Outrated by more than 100 Elo on every board, Armenia was able to get the match win on the strength of victories by Lilit Mkrtchian and Siranush Ghukasyan (2205).
In other action, Azerbaijan, Italy and Georgia 1 won their matches. Gerogia 1 actually played Georgia 2 in a match between colleagues and friends. In fact, the top board for Georgia 2 Salome Melia had been a member of several medal teams including the silver medal team in last year's European Championship.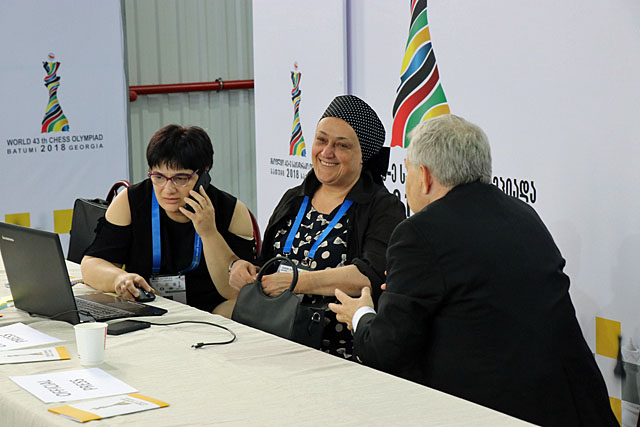 Georgian legend Maia Chiburdanidze has been supporting the national teams and is very visible around the playing hall, press room and exhibit hall. She seems to be enjoying herself very much! Photo by Daaim Shabazz
As we get into the later rounds, all of the top teams will have played each other and there will be some strange pairings in the last round. For now, all of the pairings look normal. For round 7, we have:
Armenia-USA
China-Netherlands
Iran-Ukraine
Italy-Azerbaijan
Romania-Uzbekistan
India-Georgia 1
Open Section
Poland got a key won over the Ukraine today as Jan-Krzysztof Duda got the margin of victory with a win over Vassily Ivanchuk in a highly-complicated battle.
#BatumiChess2018 Poland-Ukraine top board clash: https://t.co/ZtXvadgApS
The Duda abides.

— Daniel King (@DanielKingChess) October 1, 2018
The win puts Poland in joint first position (1/2-point less in board points) the rampaging Azerbaijan and ahead of the defending champions, the USA. Azerbaijan won over the Czech Republic while the USA crushed Bosnia and Herzegovina 3½-½.
The Americans had a good pairings and simply overpowered the Bosnian team with Hikaru Nakamura giving up a 1/2-point to IM Dejan Marjanovic, who may be in line for a GM norm. The Americans have be steady thus far with no real letdowns. The draw with Georgia 3 could be considered a setback, but with five rounds remaining they stand in the third spot with 11 match points. Fabiano Caruana is in top form and the Americans have not lost a single game!
China got back on pace by beating Iran 2½-1½. They are hanging around the top 5-6 positions and hope to make a run toward the end. Perhaps one match attracting attention was Russia-India with two legends suiting up for battle. While Vladimir Kramnik and Viswanathan Anand didn't play each other, there was this iconic photo taken.
Poland and Azerbaijan continue to win: @sagarchess1 about round 6 of the @BatumiChess2018: https://t.co/tMepKgVyk0 pic.twitter.com/VV9wbnYWlB

— ChessBase (@ChessBase) October 1, 2018
There is no telling whether we will see either player playing for the national team in 2020, but such photos are certainly classic and a fine tribute to chess history. That picture will certainly be a topic of conversation for years to come.
For round seven, key matchups are:
Poland-Azerbaijan
Croatia-United States of America
Ukraine-China
Germany-Netherlands
Czech Republic-Israel
Video by Batumi Chess