2018 Chess Olympiad: Round #2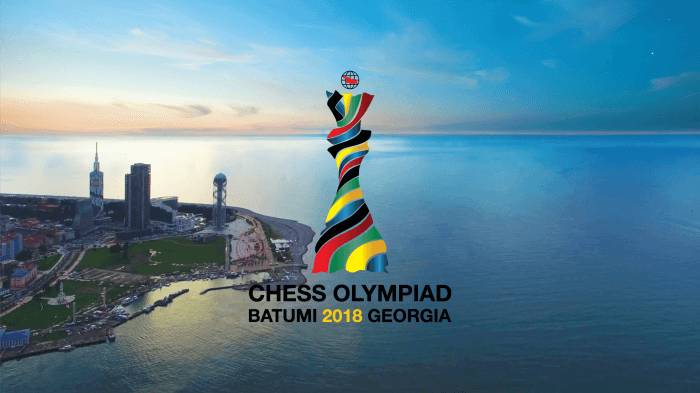 2018 Chess Olympiad: Round #2
Monday, 25 September 2018
Open Section
A couple of surprises in today's games (including the Russian women dropping their match to Uzbekistan), but before we get into today's proceedings, there are a couple of matters to discuss.
The opening ceremonies was splendid by all accounts and it was widely touted as the "best opening performance" at an Olympiad… at least in recent memory. That being said, the organization of the event has seen a few cracks. Firstly, the logistics have gotten off to a poor start with drivers losing their way to the venue in more than one instance. In addition, the security process has been a bit spotty.
According to a chess.com report, the USA team nearly forfeited when their team arrived 2:35pm and waited 50 minutes to get cleared. The round did not officially start until 3:15pm. The "zero tolerance" rule allows 15 minutes before a team forfeits. The Americans arrived at 3:22pm looking smart in their blue blazers, but also very flustered at the experience. They proceeded to win 4-nil.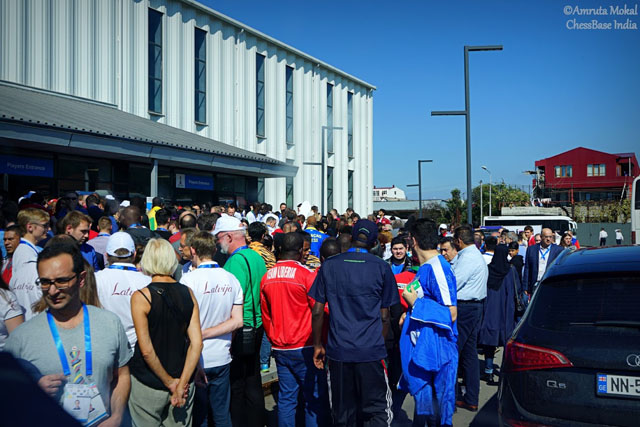 This shows the chaos outside the security area. It was difficult for journalists for figure out where to enter since there was no obvious signage outside. This rush almost resulted in the USA forfeiting the match. Photo by Amruta Mokal.
There was a press conference during which Zurab Azmaiparashvili stated some regret in the problems, but stated that they would be remedied. It is not uncommon that the first couple of days will have some glitches, but these problems are major!
On the other hand, there was some good news. It did not happen in the playing hall, but in the exhibition hall. There was a wedding proposal by India's Niklesh Jain to an unsuspecting Angela Lopez of Colombia. They had met in Spain and one-and-a-half years later, he proposed. Here is the moment!
Video by ChessBase India
Now for chess…
A couple of big stories. In my view, the USA giving up 1-1/2 points to Georgia 3 was big news. The result was unexpected and the impact is that USA will have to pile up board points to ensure they are in a good tie-breaking position. In Baku, tiebreaks were crucial in USA winning their first gold medal in 40 years. In their contest against Georgia 3, Wesley So provided the victory of margin with a nice positional crush over Luka Oboladze (2340).
It's still a long tournament and there will be many opportunities to gain ground in head-to-head battles with contenders.
What is becoming more apparent is that individual rating differences appear to mean less in these board matchups. It appears that lower-rated players are more prepared given the availability of information about the opponents. Speaking with Susan Polgar about the issue, she felt that it may be because the "underdogs" have the opportunity to play stronger players and in beating them online, it provides them with confidence and the aura of superiority of the stronger player is lost in classical matches.
Susan Polgar interviewing India's Vidit Gujrathi after his quick win. Paul Truong and Sagar Shah were recording. Photo by Daaim Shabazz
In round two, the matches were even closer. Russia gave up a point to Ireland with GM Alexander Baburin equalizing his game for the Irish. Baburin publishes the invaluable resource called "Chess Today." Czech Republic's David Navara lost his game to Farrukh Amonatov (2615) of Tajikistan, but his team won on the other boards. Navara did an interesting interview after his win the previous round on the difference between he and Magnus Carlsen. Interesting insights!
Host Georgia 1 stumbled to a 2-2 draw against a weakened Norway with former World Junior Champion Tari Aryan and Ivan Cheparinov scoring for each side. Despite not having Carlsen and Jon Ludwig Hammer, the Norwegians were able to hold the match. So in essence, things are still on track with the favored teams winning the matches, but things will get much tighter as things settle down into a routine.
Women Section
Here Gevorgyan would play 41.Nxf7! Black played 41…Kxf7 and should lose to 42.Ng5+ Kg8? 43.Qxg6 Ne7 44.Qe8+ Bf8 45.Qh5 Bg7 46.Qe8+ and repeated moves for a draw. However, she should play 45.e6! when black suffers heavy losses. Missed opportunity!
The biggest upset thus far is top-seeded Russia losing to Uzbekistan! The "stan" countries are really upsetting the tables and have already created uncertainty. Tajikistan, Kazakhstan, Kyrgyzstan, Uzbekistan and Turkmenistan are the strong "stan" countries with emerging chess traditions. For the Uzbek women, their 1-point victory was huge, but it could've been a wider margin had Irina Gevorgyan found a way to finish the mating attack against Valentina Guinina.
It was the last board on which the match was decided. It appeared that white had a comfortable opening, but misjudged the position and ended up in a bad endgame. The upset of Natalia Pogonina (2469) by Nodira Nadirjanova (2167) to give the margin of victory is given in full here:
Basically all the other top seeds one despite giving up points here and there. The next round will be a real test as some of the stronger teams are not facing. More upsets coming! Stay tuned!
Faces in the Crowd
Aster Melake Bantiwalu (ETHIOPIA)

Photo: @davidllada #BatumiChess2018 pic.twitter.com/H4psSC7nGY

— Batumi Chess Olympiad 2018 (@BatumiChess2018) September 25, 2018