2018 Chess Olympiad: Round #1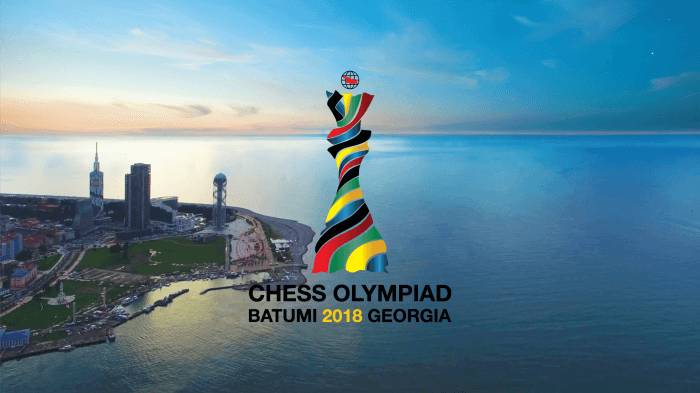 2018 Chess Olympiad: Round #1
Monday, 24 September 2018
Open Section
The first round of every Olympiad is one of intrigue given the disparity of the strength. However, each Olympiad makes it evident that the balance of power is leveling and that smaller federations are able to snatch valuable points from stronger teams.
It used to be a forgone conclusion that the first round would go 4-0 or 0-4, but in Batumi we saw quite a number of 3-1 scores with huge rating upsets on some of the boards. Take these three examples… unrated Biniam Araya Zego of Eritrea win in dominant fashion over ICBA IM Piotr Dukaczewski (2259), Andreina Quevado (1809) of Uruguay winning over Sabina Foisor (2311) of the USA, and the biggest, Morocco's Mohamed-Mehdi Aithmidou (2244) over Li Chao (2708) of China.
Even when there wasn't a decisive result, there were some interesting stories including Sagar Shah's delightful interview of IM Andrew Kayonde of Zambia.
"I know he is Vassily Ivanchuk, but I am also the Zambian Champion!" – Andrew Kayonde: https://t.co/NekYYQJM8A via @YouTube

— ChessBase India (@ChessbaseIndia) September 25, 2018
In essence, the first round went as expected, but the reality is that these board points that were dropped could turn to be very crucial to the top teams. India will be a contender for the top medals and dropping a half-point to El Salvador may not seem to be a big deal but could loom large later on in a tiebreaking situation.
Women Section
Besides the aforementioned upset of Foisor, IM Lela Javakhishvili (2475) of host Georgia also lost against WFM Roza Eynula (2030) of South Korea. Sophie Milliet (2389) of France forced Rozana Gjergji (1924) of Albania to prove her technique in a Q vs. R ending. Silvia Carolina Mazariegos (1922) upset Anna Warakomska of silver medalist Poland. There was a near 600-point upset with Wang Mi (1585) of Taiwan winning over Kathie Goulart Librelato of Brazil (2110).
A few other top players in the women's section dropped 1/2 points including top rated Russia with Aleksandra Goryachkina being held by Maria Rodriguez Arrieta of Costa Rica and Huang Qian of China (2446) being nicked for a draw by Nadezhda Antonova (2038) of Tajikistan. Again, crucial half-points being dropped. Going forward it will be interesting to see how the top teams deal with the leveling of the field.