2017 World Chess Cup (Tblisi, Georgia)
Let the Games Begin!

Tbilisi Mayor Davit Narmania, First Deputy Minister of Sports and Youth Affairs Akaki Lodia, Director of Organizing Committee of the 2018 World Chess Olympiad and President of European Chess Union Zurab Azmaiparashvili, President of Georgian Chess Federation Giorgi Giorgadze and Director of "Socar Georgia Petrolium" Levan Giorgadze spoke at press conference about the importance of the World Cup, the preparation and the participants of the tournament. Photo by Anastasia Kharlovich (fide.com)
All roads lead to Tbilisi in the Republic of Georgia for the 2017 World Cup, a qualifying event involving 128 players from around the world. The world's top 16 will headline a field which include one notable inclusion. One shocking detail is that World Champion Magnus Carlsen is participating in the tournament for the right to challenge himself! What if Carlsen or challenger Sergey Karjakin (who has automatic qualification) make the final? There would be another match to clinch the second qualification spot. So why is Carlsen playing? He gives his answer to chess.com.
Video by chess.com/Peter Doggers
Those seeking to challenge Carlsen must win this spot if they haven't already qualified through the Grand Prix series or by rating. Levon Aronian, who has had a sensational year needs one of the top two spots to qualify as does Hikaru Nakamura and Viswanathan Anand since they probably will not qualify via rating or via Grand Prix. Aronian told The Chess Drum after winning the recent St. Louis Rapid and Blitz that he did not feel any pressure to win, but "likes his chances."
Former women's world champion Hou Yifan is one of two women in the field. Photo by Anastasia Kharlovich (fide.com).
Out of the eight finalists to challenge Carlsen in the Candidates tournament, Fabiano Caruana and Vladimir Kramnik will most likely qualify through rating while Shahkriyar Mamedyarov and Alexander Grischuk will most likely qualify via Grand Prix. If any of these players make the finals, the spot will go to the next player. There is one wildcard nomination that could go to a deserving player.
As far as the rest of the field, there are many interesting figures from around the world. There are two women including three-time women's world champion, Hou Yifan. Reigning women's champion Tan Zhongyi declined her invitation. Each region of the world is represented, but there are some notable omissions such as Veselin Topalov (Bulgaria), Leinier Dominguez (Cuba), and Dmitri Jakovenko (Russia). The youngest player is 16-year old International Master from Australia, Anton Smirnov.
There was of course a drawing of lots resulting in Carlsen starting with the white pieces against Nigeria's Oluwafemi Balogun (2255). Balogun called the pairing an "honor" and a "once in a lifetime chance" to play the World Champion in a tournament. There are brackets with all of the pairings here and there are also sites with "bracketology" contests. The tournament is now in full swing and at this writing round one has been completed.
Other Details
The total prize fund is $1,600,000 (about €1,400,000) and the winner and runner up will qualify to the 2018 Candidates tournament to determine who will compete in the World Cup. Each of the matches will comprise of two game matches, plus tiebreaks, if necessary. The last standing after the previous rounds will enter a seventh round of four games, plus tiebreaks if necessary. Players receive 90 minutes for the first 40 moves followed by 30 minutes for the rest of the game plus 30 seconds per move starting from move one.
Opening Ceremony

Video by Sagar Shah (ChessBase India)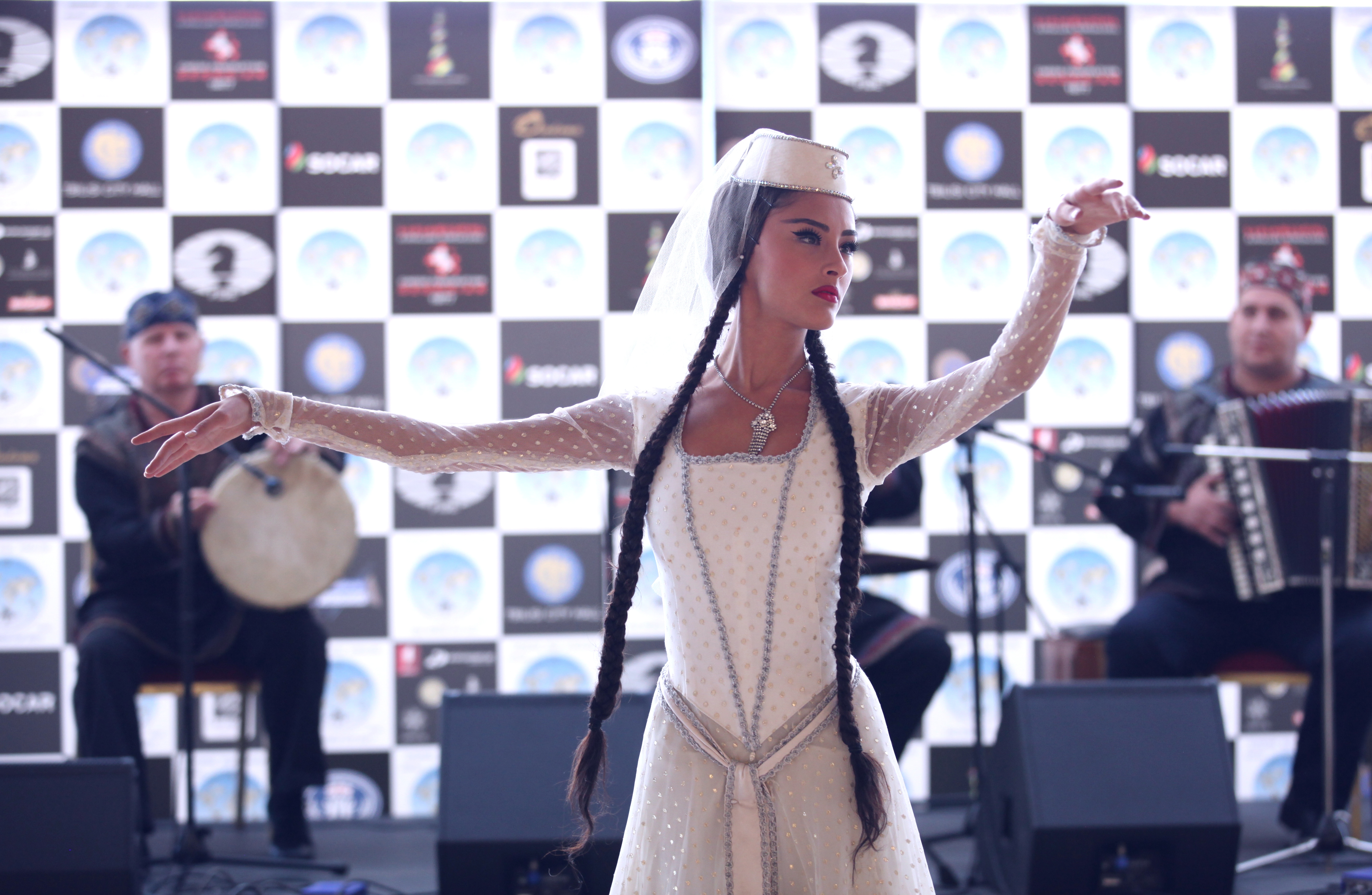 Photos by Anastasia Kharlovich (fide.org).
Official Website: https://tbilisi2017.fide.com/
All PGN Games (TWIC): https://www.theweekinchess.com/
Rules and Regulations: https://tbilisi2017.fide.com/regulations/