Chess is poppin' in the Windy City. Despite the negative media attention surrounding crime in the city, chess is creating positive vibes on the south side. While the Chicago groups frequents the McDonald's on 95th and Halsted, they also host other events at the Lions Paws Martial Arts School. Daniel X Jones, a 2100-rated player and a martial arts instructor, holds periodic blitz tournaments at his dojo and in January 34 area players came out to cross swords. There is a new crew in town, but some old faces from decades past still remain.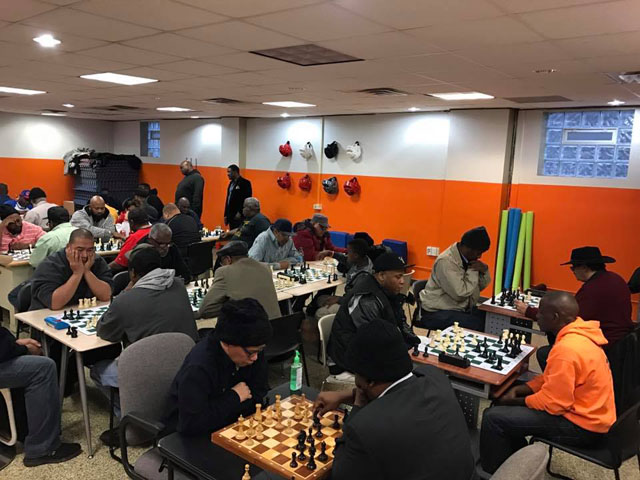 January blitz tourney at Lion's Paw, 7928 S. King Dr., Chicago, IL 60619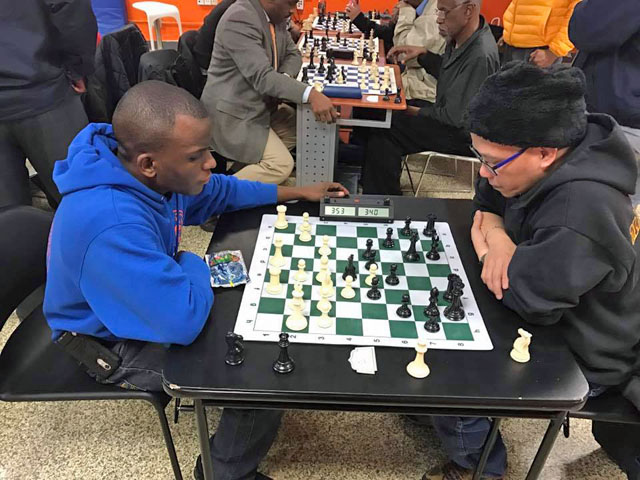 Daniel X Jones vs. IM Angelo Young
One Chicago stalwart is Marvin Dandridge who is still considered the "sheriff" on the south side. Affectionately known as "Uncle Marv," the career social worker has been a motivating force with other hopefuls such as Tom Murphy and veteran Sam Ford. Expert Sedrick Prude also adds to the mix. IM Angelo Young played in and won the January tournament. There will be another 10-round blitz tournament at Lion's Paw April 15th with a three-game 15-minute match between Young and Dandridge.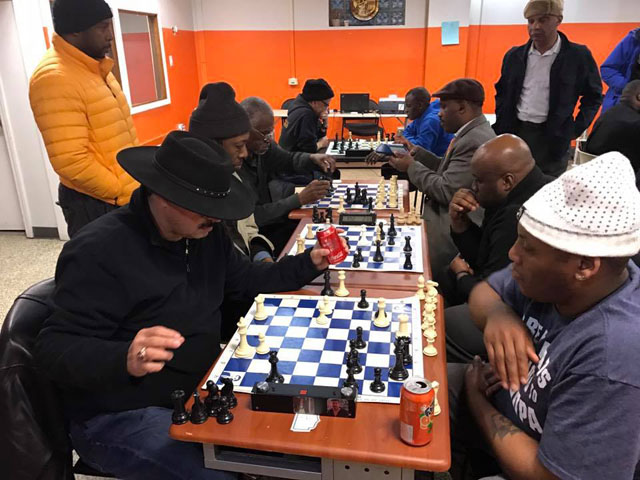 The tournament attracted more than 30 players and was a rousing success!
The next one…
2 Responses to "Blitz Battles at Chicago's Lion's Paw!"
This match will be taking place after our blitz tournament on Saturday 4/15/2017. Bring you're popcorn, this is going be a classic one!

NM Marvin Dandridge is one of Chicago most legendary chess players. Very tactical, solid player and has been battle tested against many many times. At the peak of his powers, he was rated 2386 USCF. Everyone knows Marvin but where we play it, "Uncle Marvvvvvv."

Marvin Dandridge is revered all around Chicago, his name still echoes in the deepest alleys, whispers of his name still lingers around the chess community…

"Uncle Marvvvv is here, put away you're chess set"

IM Angelo Young

Extremely great player, 8x Illinois state champion. When you look at him for the first time, you'll never say to you're self, "He's a chess player?" Little do you know. He's a silent assassin. He fears no one! His tactics are insane. When he first moved to the United States, he would play anyone 5-30seconds and would destroy players like it was nothing!!! Let's see how he does against Uncle Marv…

Starts at 8:00pm

Daniel Jones
Lions Paw Karate & Chess Academy
7928 S. King Drive
Chicago, IL
(right next to the McDonald's)

NM Marvin Dandridge vs. IM Angelo Young

Video by Nathan Kelly
Leave a Reply!