Philly hosts "Triple Exclam" book party
Showing brotherly love for "ET"
by Bruce Cox
The Moon shone bright on a cold night in North Philadelphia. A lonely light cast a long shadow on the corner of 21st and Cambria, as the icy wind cut to the bone. Inside though, it was heated, as battle raged. WAR had been declared, as Philadelphia Chess Players celebrated the life and times of the preeminent Chess Master, IM Emory Tate, in the best way they knew how: in battle!!
The esteemed Dr. Daaim Shabazz, author of "The Chess Drum," amongst many acclaimed accomplishments, "fired the first shots" with his splendid biography of IM Emory Tate, Triple Exclaim, The Life and Games of Emory Tate, Chess Warrior. Dr. Shabazz's book chronicles Tate's exploits from childhood through his eminent chess career, in which Tate toppled "Kings and Grandmasters alike". There is an African proverb which goes: "So long as the hunter tells the tale, the Lion will remain the villain."
Author of The Chess Artist J.C. Hallman, Glenn Umstead, Malik Rogers
and Robert Gist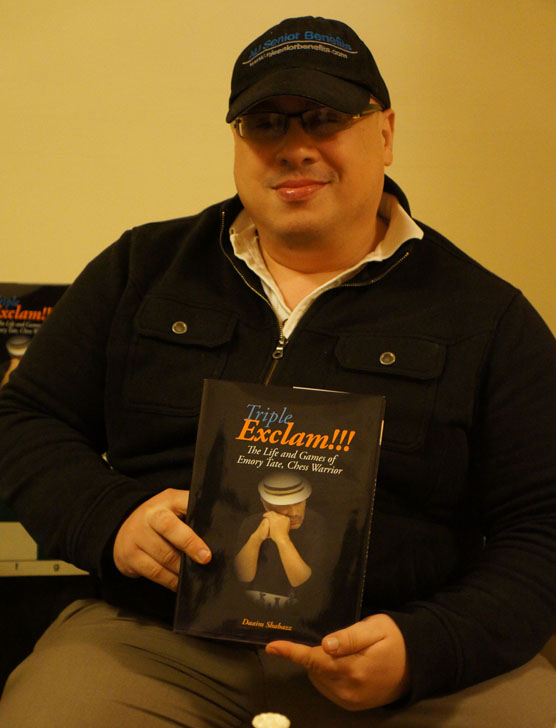 Evan Cortes with copy of Triple Exclam!!!
African people have been making history "since God was a boy." Now, more than ever, we're beginning to write our own history in the struggle for control of our own image. The battles raged inside 21st and Cambria as eminent masters Glenn Bady, Glenn Umstead, Norman "Pete" Rogers, Robert Gist "Superman," and Herb Carswell "The Master of Disaster," along with preeminent chess player and promoter Gordon Houston, struggled for control of squares.
Laughter and beverage flowed like water. The food was plentiful as Bill Tate, Nigel Mitchell, Wayne Heston, Charles Leach the "Woo Mack," and Bruce Cox "Scorpiin." Why 'scorpion' with two 'i's?? The better to see you with! All present were making history in North Philadelphia as they were "writing it on the chessboard," and the spirit of Emory Tate.
FM Pete Rogers was a frequent participant in gladiator battles with Tate.