Deborah Richards-Porter making mark
Shayne Fairman, "Richards-Porter Happy Earning From Chess," Jamaican Gleaner (jamaica-gleaner.com), 24 January 2017.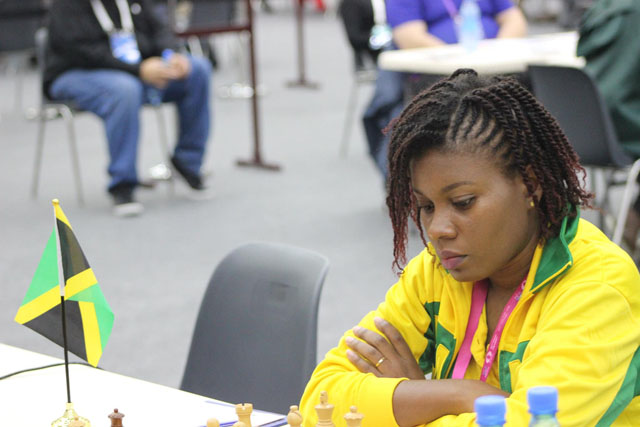 WIM Deborah Richards-Porter
Photo by Ian Wilkinson
While some Jamaicans may not earn a comfortable living from their professional sporting pursuits, Woman International Chess Master Deborah Richards-Porter says that chess has taken her places and has given her a business from which she can live comfortably.
---
"More has to be done from our side in terms of pushing sports that are not track and field and football so that we can get our recognition."
---
Richards-Porter is the first Woman International Chess Master in the English-speaking Caribbean. Besides playing the sport she loves, she operates her own business, teaching chess to over 100 students. It is set up at different schools, while during summer and Christmas holidays, she has specific programmes tailored for her clients.
"I have a chess business; I have chess as a profession, and seasonal programme for students who are interested in learning every day," Richards Porter told The Gleaner.
"You can make a decent living from chess, because I graduated from the University of the West Indies (UWI). I was doing research, and I stopped it to come and teach chess," she outlined.
Richards-Porter presenting trophy
to one of the prize winners at DRP Women's Chess Festival.
Photo by Jamaica Women's Chess Committee
Like most things, however, the flag-bearer says it depends on who you are and how you go about marketing and doing it.
"It (chess) takes up a lot of my time, most of my life is chess right now, and working is more fun than work for me," she reasoned.
NOT ENOUGH RECOGNITION
According to the veteran, Jamaicans need recognise chess as a sport.
"No, I would not say I have gotten adequate recognition as a player. I think most people don't know what is happening in and round chess. More has to be done from our side in terms of pushing sports that are not track and field and football so that we can get our recognition," she underlined.
Jamaica vs. Trinidad (women)
at 2016 Chess Olympiad in Baku, Azerbaijan






The player began her career at 16 and described it as kind of a coincidence" how she started, as she was a former table tennis player.
"Seven months after playing, I became national champion, and about a month after that, I was on my first plane ride going to Slovenia to play the chess Olympiad at the time," she continued.
Richards Porter added, "I found out within the first year that chess could take me places."
She has represented Jamaica at five Chess Olympiads, dating 2006, 2010, 2012, 2014 and 2016. She was named the RJR Sports Foundation Woman Chess Player of the Year.
WIM Deborah Richards-Porter accepting the RJR "Female Chess Player of the Year" from Grammy-winner Orville "Shaggy" Burrell. Photo by Jamaica Observer.
Link: https://jamaica-gleaner.com/article/sports/20170124/richards-porter-happy-earning-chess