2016 Millionaire Chess Open: Day One

MC3 is underway as 400 entrants began the festivities at Harrah's Resort at Atlantic City. This edition of Millionaire Chess Open had all the familiar themes from the previous two editions… the purple accents, beautiful facility and people dressed to impressed. There was one thing missing from the hall … Amy Lee. The Chess Drum received a message from Amy from her hospital bed and she said, "Hospital for 3 hrs now. Ultrasound came back. It's gallstones."
So the indefatigable force behind the Millionaire Chess franchise would not be at the opening of the event. She expressed disappointment, but the next morning she had successful surgery and was resting. We are indebted to Amy for her investment in chess, her tireless energy, her vivacious persona and for sacrificing three years of her life to promote chess. Get well Amy!
Some of the hallmarks of MC tournaments were the efficient registration process, the smiley faces, the omnipresent MC logo and red carpet photo area. David Llada had his studio prepared and his camera ready for those who wanted to take individual photos or group photos. These are clearly special moments and you need the best photographer to capture them. David had risen to be the best chess photographer in the business in a short time.
Great photo of the lovely couple!
Photo by David Llada.
There were some noticeable differences at MC3 including the opening breakfast. Instead of the stuffy banquet-style, sit-down breakfast, the dining area had tall tables so that mingling was much easier and the mood appeared to be much more apparent. The Chess Drum furnished photos below. Not Llada quality, but you get the idea.
Registration
All photo by Daaim Shabazz (unless otherwise stated).
Opening Breakfast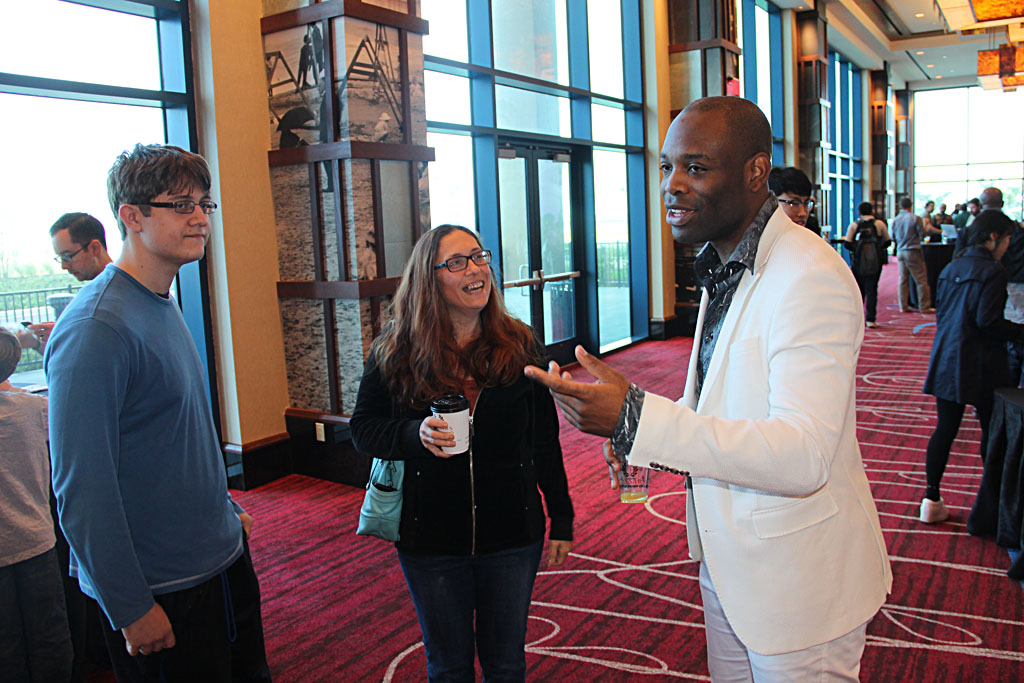 GM Pontus Carlsson (right) chatting with GM Samuel Sevian and his mother.
All the way from Nigeria!!
Given the lower numbers at this year's event, there was a different look, but the conditions of the tournament hall were excellent. The tables were nicely-space, set with boards and clocks, decorated purple MC monogrammed runners and the hall was festooned with portraits of the World Champions. Inspiring indeed!
Taking a cameo shot in the Millionaire Chess #3 playing venue.
Announcements with Maurice "The General" Ashley observing.
This year's event was scaled back in a number of ways. While the prize fund was halved to $500,000 (of which 60% is guaranteed), more than half of the participants stand to win a prize. That is not counting the extra prizes such as the daily "best dressed" prize. The other noticeable differences mentioned were no commentary. In fact, one of the players asked about the "Confession Booth." When told that there was none she exclaimed, "What happened this year??" Other mentioned that there was no advanced pairings notice and that one had to go downstairs to see the pairings. However, these details take a couple of rounds to work out.
The tournament also did not have any of the top 20 players in previous years due to schedule conflicts, but there were definitely some stars shining in the hall. The very personable Adhiban Baskiran flew in from India to take part and was seated on table two behind Sam Shankland.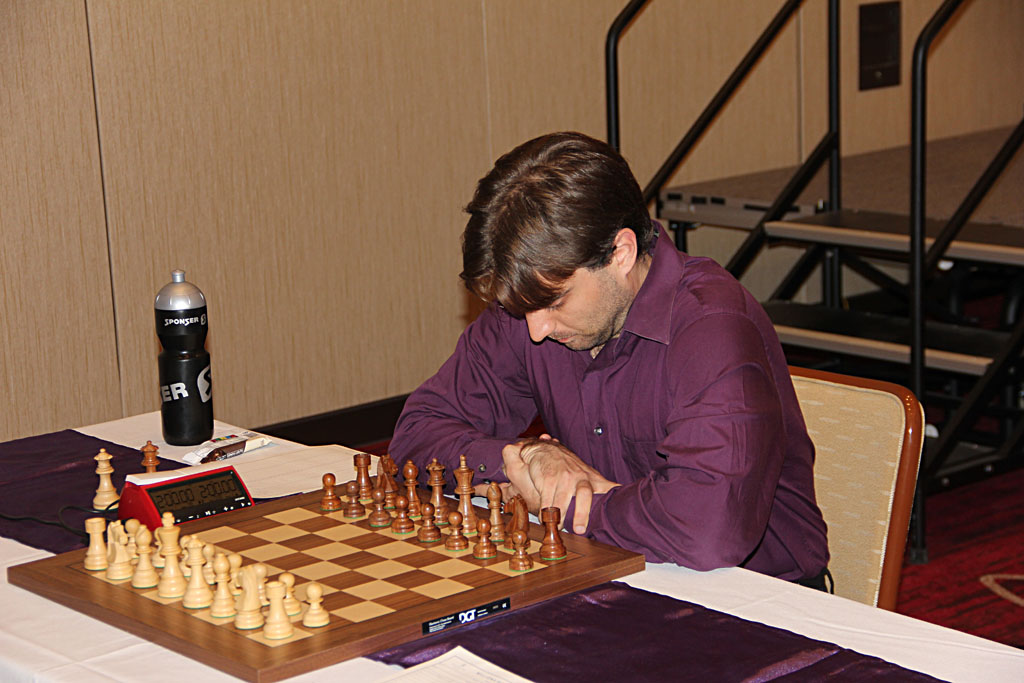 GM Sam Shankland is the top seed.
IM Awonder Liang hopes to make an impact.
All photo by Daaim Shabazz (unless otherwise stated).
GM Maurice Ashley opened the tournament graciously thanking all the attendees for coming and supporting Millionaire Chess events. While the podium lacked Amy's bright aura, Maurice held down with his polished style as usual. He announced the opening of the round and we were ready to rumble. There was only one upset in the first round with FM Rico Salimbagat taking down GM Alejandro Ramirez. GMs Christian Chirila and Magesh Panchanathan were held by FM Lim Zhou Ren and Sanjay Ghatti, respectively. The second round also went mostly by seedings. There are currently 16 players on 2/2 and another 15 on 1½/2. Action will heat up tomorrow with the following pairings:
Round Three (Open Section)

GM Iturrizaga B. (2) 2658 — GM Shabalov, A. (2) 2550
GM Holt, Conrad (2) 2549 — GM Xiong, J. (2) 2647
GM Barbosa, O. (2) 2515 — GM Shimanov, A. (2) 2639
GM Cordova, E. (2) 2637 — GM Paragua, Mark (2) 2503
IM Chandra, A. (2) 2490 — GM Swiercz, D. (2) 2636
IM Liang, A. (2) 2478 — GM Akobian, V. (2) 2625
GM Bruzon L. (2) 2615 — FM Rozman, Levy (2) 2354
Lederer, Yoav (2) 2324 — GM Sevian, S. (2) 2591
GM Fishbein, A. (1½) 2474 — GM Adhiban, B. (1½) 2689
GM Shankland, S. (1½) 2679 — GM Ashwin, J. (1½) 2468
GM Ivanov, A. (1½) 2476 — GM Mamedov, Rauf (1½) 2678
GM Jones, G. (1½) 2647 — GM Boros, Denes (1½) 2447