MC3 May 31st deadline approaching

Four-time U.S. Champion GM Hikaru Nakamura won MC2 in exciting fashion.
Will MC3 bring more spills and thrills?
Photo by Daaim Shabazz.
* * *
ALERT!! The May 31st deadline is fast approaching!
At least 50 people have already signed up for Millionaire Chess 3. Avoid the last-minute rush and sign up before the entry fee increases to $549! Remember that you need to have at least 60 games rated by 31 August 2016 to qualify for the Under Section of MC 3. If you haven't met your 60 game requirement and are not sure about registering now for the tournament, here is some friendly advice. Go for it! Register now and then you have all the motivation to play as much chess as possible before MC 3.
The very first person to register for Millionaire Chess was Jones Murphy. Well done Jones! To follow Jones and many others who have already registered for the tournament, please…
Register now at https://millionairechess.com/register!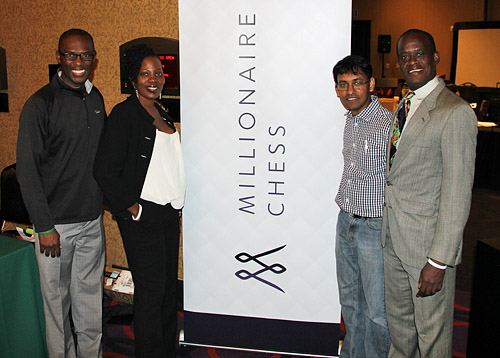 MC supporters Daaim Shabazz, Adia Onyango,
Ashik Uzzaman and Jones Murphy, Jr.
Photo by Daaim Shabazz.
Into History Once Again
April was a very hectic month for Millionaire Chess and also a historic one as our very own Grandmaster Maurice Ashley was inducted into the US Chess Hall of Fame. Maurice gave a moving acceptance speech in which he chronicled his humble beginnings in chess from the tough streets of Kingston, Jamaica to Brooklyn, New York and gave tribute to family, friends and colleagues who have helped him along the way. Maurice was the first African-American to ever be inducted into the hall, 17 years after he became the first Black person in history to become a GM. It's an accomplishment of which we are all proud! You can view the acceptance speech here:
Video by CCSCSL.
Hail to the Chief!
Please join us in welcoming Ken Ballou to the MC family. Ken will be our Chief TD at MC3. It was an arduous and particularly difficult search for a Chief TD following Sevan Muradian's sudden passing in February. Ken has deep experience at a TD in national events. This should hold him in good stead as he leads a new team to Millionaire Chess' third edition. He has hit the ground running, already busy addressing technical queries and questions regarding registration, ratings, staffing and the like. Welcome aboard Ken!
Final Notes
A very big thank to all those who are helping to spread the word about MC's Dream Maker Satellite Series and MC. We appreciate it very much.
If you have any questions regarding MC 3 or the registration process please do not hesitate to contact us at contact@millionairechess.com.
We look forward to seeing you in October!
Best wishes,
Amy and Maurice
Participants Adia Onyango, Stacey Moore and Alisa Melekhina
flanking Maurice Ashley and Amy Lee.
Photo by Daaim Shabazz.