Kenya surges forward in 2016!



2016 Kenya Open
Kenyan chess is seeing an uptick in activity in 2016. After holding a successful Kenya Open last month (won by Ben Nguku) it is in the midst of the Nairobi Open. There are apparently some bright talent sprouting from years of nourishment. The frequent trips around Kenya seem to be bearing some fruit.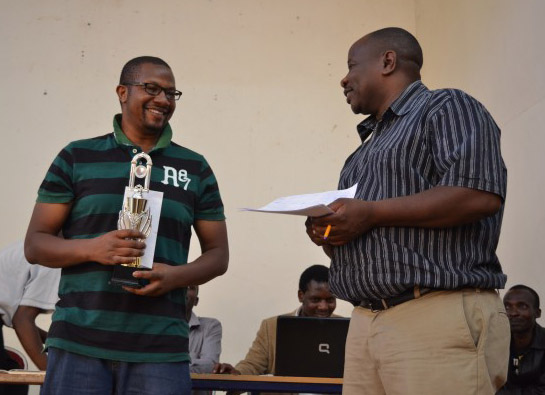 Ben Nguku (left) receives his trophy from CEO
of Terrian Chess Academy Brian Kidula.
Happy winners from left…
Timothy Milton, Ben Nguku, Jane Wambugu and Mehul Gohil.
Ben Nguku ended up with 7/8 the same as Mehul Gohil but he emerged as a winner on tie break. Both shared equally the first and second prize KES 30,000 (USD 300) & KES 20,000 (USD 200). Peter Gilruth & James Panchol ended up in fourth position with 6.5/8 to each earn KES 7,500 (USD 75).
Timothy Mwabu
Link: https://www.kenyachessmasala.com/2016/03/ben-nguku-is-the-2016-kenya-open-winner.html
* * *

Visit to Mukuru Kwa Njenga
Githinji Hinga and officials from Chess Kenya went to the infamous slum of Mukuru Kwa Njenga to provide the children a respite from the deprivation of necessities. It is a testament that Chess Kenya was not afraid to enter the rounds of this precarious area. The area is not paved and danger was always lurking.
"Usisahau huku ni ghetto, Battery na tenje zitaenda"
(Do not forget this is the ghetto, your car battery and radio will definitely go).
These are the type of stories that are missed in the chess world as there is a focus on the top players and the latest results in a big tournament. In fact, these stories may carry a larger social importance given the role that chess has played in upliftment in impoverished areas around the world. Chess players will perhaps know the story of Phiona Mutesi of Uganda.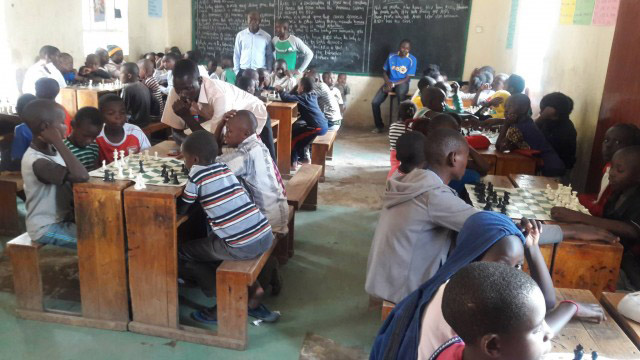 It is interesting that this visit was sponsored by Sports Outreach Ministries (SOP), a non-profit faith based organisation that seeks to mentor children in impoverished areas through sports and a feeding program. It is the organization that made Phiona's story possible. Pastor Francis Juma who is a director of SOP Kenya, started a chess program in October 2015. Robert Katende of SOP Uganda, who served as Phiona's mentor, conducted a week-long training workshop at Mukuru teaching a dozen teachers from surrounding schools.
By this training, teachers were able to introduce chess to their respective schools and thus introduce them to Chess Kenya. This story would not normally see the light of day if not for niche websites and blogs.
Link: https://www.kenyachessmasala.com/2016/02/chess-deep-down-in-africa-a-report-by-githinji-hinga.html