2015 U.S. Chess Championships (Round #9)
2015 U.S. Chess Championship

St. Louis, Missouri, USA
Round #9 (Friday, 10 April 2015)

Overall

Table
White
Score
Rating
Black
Score
Rating
Result
1
GM Kamsky, Gata
4.5
2683
GM Troff, Kayden W
4.0
2532
½-½
2
GM So, Wesley
4.5
2788
GM Akobian, Varuzhan
3.0
2622
0F-1F
3
GM Naroditsky, Daniel
1.5
2633
GM Holt, Conrad
3.5
2530
1-0
4
GM Shankland, Samuel L
4.0
2661
GM Onischuk, Alexander
4.5
2665
½-½
5
GM Sevian, Samuel
4.0
2531
GM Robson, Ray
5.5
2656
½-½
6
GM Nakamura, Hikaru
6.0
2798
GM Gareev, Timur
3.0
2604
½-½

Women

Table
White
Score
Rating
Black
Score
Rating
Result
1
WGM Foisor, Sabina-Francesca
4.0
2235
WCM Virkud, Apurva
3.0
2132
1-0
2
WIM Ni, Viktorija
4.5
2188
WGM Nemcova, Katerina
6.5
2279
½-½
3
IM Paikidze, Nazi
5.0
2333
WFM Yu, Jennifer R
2.0
2180
1-0
4
GM Krush, Irina
6.0
2477
WGM Abrahamyan, Tatev
4.5
2322
1-0
5
IM Goletiani, Rusudan
5.0
2311
FM Melekhina, Alisa
2.0
2235
½-½
6
WGM Sharevich, Anna
4.0
2267
WIM Wang, Annie
1.5
1901
½-½

Games (Men, Women)
Round #9: World stunned by So forfeit… fierce debate ensues.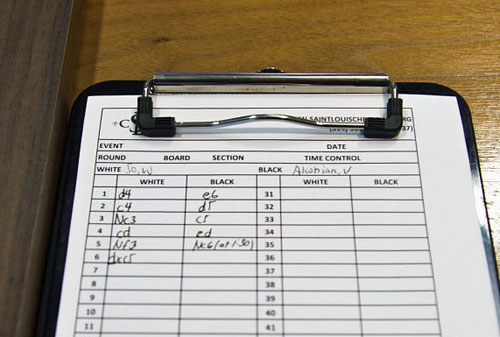 The long and short of it (pun intended).
Photo by Lennart Ootes.

Round nine will go down in history as a memorable lesson in chess etiquette and rules. The shock of Wesley So's forfeiture reverberated around the world and the view were pointed and in many cases diametrically opposed. Some wished for sympathy and further warning before a irreversible punishment was meted out. Others agreed with the ruling citing earlier warnings and complaints. The conversation will continue long after the event is over. Read story here!
The tournament didn't see any significant changes in the open section. Hikaru Nakamura maintains the lead and it appears that only Ray Robson will have a reasonable chance of catching him. Both drew and none of the other games had any bearing on the upper half. Naroditsky-Holt was a sigh of relief as Naroditsky won his first game after dropping five. The last two rounds will feature epic matchups including today's Robson-Nakamura bout.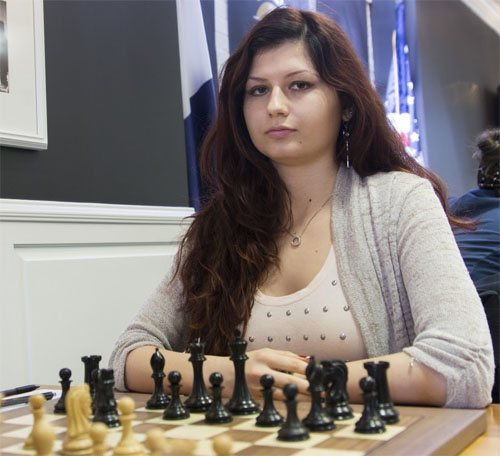 FM Alisa Melekhina probably knocked IM Rusudan Goletiani out of contention. Photo by Lennart Ootes.
In the women's section, Irina Krush has pulled into a virtual tie for 1st with Katerina Nemcova winning yet again. Krush a dodged a couple of bullets and was hit by another, but has steadied the ship winning an impressive six games. Krush plays Nemcova in the final round and Nemcova also has to play Nazi Paikidze who is only a point behind. However, Rusudan Goletiani had to scramble to draw her game against Alisa Melekhina and is practically out of contention for 1st. Nevertheless, it will certainly be a thrilling weekend.
Official Site: https://www.uschesschamps.com/
Livestream: https://new.livestream.com/ccscsl/USChessChampionships
Chess24.com: https://chess24.com/en/watch/live-tournaments/us-championship-2015#live
Drum Coverage! https://www.thechessdrum.net/
OVERALL
WOMEN