Drum Interviews @ '14 Olympiad

The Olympiad is the biennial chess festival attracting players, delegates and enthusiasts far and wide. Its beauty lies in the fact that all of the chess federations have arrived at the venue in many different ways… and in some cases for the first time. The 2014 Olympiad broke a record for entrants with 174 federations represented and was hosted in Tromso, a city of 71,000 inhabitants. While the city appeared completely overwhelmed, the staging ground became an arena of hard-fought competition.
Ian Wilkinson was on stage during this Olympiad… literally and figuratively!
All photos by Daaim Shabazz.
In addition, to the competition was the business of Fédération internationale des échecs (FIDE) or World Chess Federation. One thousand delegates assembled to elect a new FIDE President after what had been a contentious campaign. Nations were divided into two camps… the incumbent Kirsan Ilyumzhinov (FIDE First) and for Garry Kasparov (Kasparov2014).
In previous Olympiad, The Chess Drum has conducted interviews of many participants and have made them available. These are personalities that perhaps the chess world would not normally encounter. In the Tromso Olympiad, we were able to secure interviews with a number of delegate, officials and players. These ten interviews represented nearly a dozen countries and as many viewpoints. A couple of prized interviews are a 17-year old girl from Palestine and a young Indian GM from the bronze medal-winning team. Please sit back and enjoy these interviews and feel free to give your feedback!
The Chess Drum was able to conduct some very interesting interviews during the tournament. These interviews always capture the diverse backgrounds and reveal what makes people so passionate about the game. This year the interviews ranged from up-and-coming players to mid-level masters to retired legends to world-class Grandmasters! Please sit back and enjoy these interviews and feel free to give your feedback!
Gabon's Barthelemy Bongo speaking amicably with
"FIDE First" supporter, Konate Ibrahima of Mali.
Barthelemy Ndjila Akanga Bongo (Gabon) – This interview was a supplement to the case of Gabon which dominated the FIDE General Assembly proceedings. Back in July, Gabon's Association pour le Developpement Des Echecs au Gabon (ADEG) was fighting for reinstatement as the nation's sole delegate to FIDE.
Bongo had alleged that ADEG was summarily replaced by Association Gabonaise des Echecs (AGE) because ADEG supported the candidacy of Kasparov. Despite furnishing all the documentation, the FIDE Electoral Commision upheld AGE as the sole delegate. Interestingly enough, Gabon did not have a voting delegate since AGE did not show up in Tromso to vote. 15:52 minutes
Jean-Claude Essoh of Cote d'Ivoire makes case during General Assembly.
Dr. Jean-Claude Essis Essoh (Cote d'Ivoire) – the Ivorian chess federation President certain made an impact at this Olympiad. A vocal force in the African Continental Assembly and the FIDE General Assembly he went head-to-head with Georgios Makropolous for the right to raise a question about FIDE's record in Africa. In this short interview, he gives his ultimate reason for being so adamant. 3:40 minutes
Afrika Msimang (South Africa) – Running on Kasparov's ticket, this bold woman uses many parallels in explaining her fight for African chess including the legacy of Nelson Mandela. However, she also discusses the FIDE election, her reasoning for supporting Kasparov, and lays full responsibility for Africa's advancement on the shoulders of its leadership. In response to the rift that occurred at the Olympiad, she stated, "We have become the authors of our own misery." She wants to continue the passionate fight in order to give the gift of chess to future generations. 14:52 minutes
Sonja Johnson (Trinidad & Tobago) – Another "Chess Mom" who has turned into an activist for chess advancement. Johnson is the mother of Joshua Johnson who made his debut on the national team. In this interview, she talks about chess on the islands, its development, future initiatives, and impressions of the city of Tromso and the Olympiad in general. This well-spoken and passionate woman may be tapped for leadership positions on FIDE Commissions. Very refreshing!9:41 minutes
Githinji Hinga (Kenya) and Sonja Johnson (Trinidad & Tobago)
discuss issues of the campaign.

Ian Wilkinson along side Garry Kasparov after his defeat.
Ian Wilkinson (Jamaica) – The charismatic 'chess don' of Jamaica speaks about the atmosphere of the Olympiad, the performance of the Jamaican team, the Kasparov campaign, and chess in the African Diaspora and other developing regions. Very enlightening! 12:00 minutes
Lewis Ncube (Zambia) – The new Continental President for Africa speaks about a number of issues concerning African performance at the Olympiad, the FIDE election, and his vision for chess development in Africa. As FIDE Vice President, Ncube was part of Ilymzhinov's inner circle and is now charged with healing the wounds suffered from a fractured continent after the election. Asked of how he would remedy this, he gave an interesting answer. 23:03 minutes
Lewis Ncube of Zambia (center) is the new FIDE Continental President for Africa. This was amidst a contentious election in which there was tremendous damage done as a result of divided loyalties. Ncube discusses the impact of the election, his idea of an "African Grand Prix" and his vision for advancement in sponsorship.

Francis Anquandah & Eddie Thompson (Ghana) – Two players from Ghana express their views concerning Ghanaian chess and their difficult experience in Tromso, Norway. Both players gave very candid testimony to the difficulties of chess development in a smaller federation like Ghana, but then impressed upon the leadership of Africa to move forward and not rely on FIDE for leadership. 10:04 minutes
Aseel Faheeq (Palestine) – During very tumultuous times for the Palestinian people in Israel, two teams were sent to Tromso, Norway to represent the honor of the entire Palestinian Diaspora. Faheeq, a soft-spoken 17-year old, was one of three sisters playing for Palestine and all were seen with beautiful traditional outfits. Faheeq talks about chess in Palestine, her family and urges peace for Palestine. 10:54 minutes
Palestine made quite a strong statement in this Olympiad in appearance and in their words. Yara Faqih, Rahaf Jehad Mohamed with Aseel Faheeq pictured on the right. One Palestinian teammate Anwar Al-Bzoor (not pictured) scored 8.5/9 on board five.
WIM Regina Riberio (right) shown here with other players from Kenya and Jamaica.
WIM Regina Riberio (Brazil) – A legendary figure in Brazilian women's chess who is making a comeback after eight years away from Olympiad play while teaching schoolchildren. Originally from Rio de Janeiro, she is an eight-time women's champion who has played in ten Olympiad tournaments. She has a storied history and mentioned to me the scarcity of Black women on the chess scene in Brazil. 11:40 minutes
GM Adibhan Baskiran (India) – This personable young star who enamored fans at the 2013 World Cup in Tromso, was an integral part of the bronze medal winners in the 2014 Olympiad. Scoring 7/11, he represents a result of the "Anand Boom" with a number of Grandmasters produced from Chennai, Adibhan's home along with Anand's. He gives his impression on the Olympiad, his endeavors, and Asian Chess. 4:51 minutes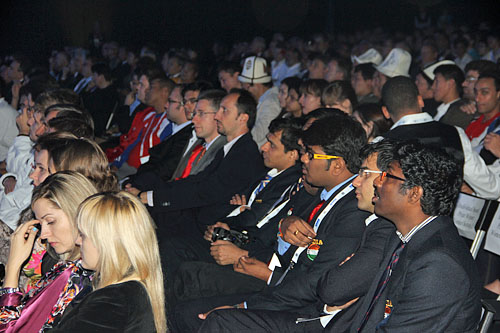 India at the closing ceremonies. Adibhan is at near right.
All photos on this page by Daaim Shabazz.