Ghana's 1st FIDE-rated tourney!
The 4th President's Cup Chess Championships lived up to expectation when it attracted top players in the sub-region as well as the Indian Grandmaster Sriram Jha who won the FIDE rated section with 7½ points out of 9. The Championships were made up of three tournaments; the FIDE rated section, the Open section and the Blitz section.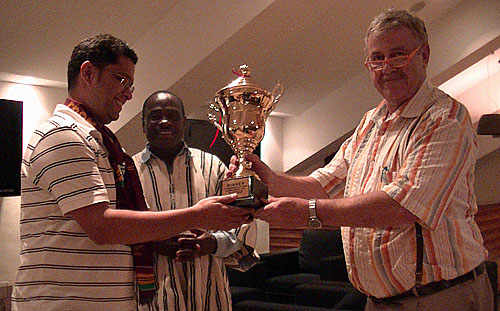 GM Sriram Jha receives winner's trophy.
The FIDE section, the first to be organised in the history of Ghana chess, saw chess players from five different countries participating. The tournament was sponsored by the Kasparov Chess Foundation Africa together with two local sponsors, namely; Reiss & Co, a Dutch Company in Ghana, and UT Bank, a locally owned bank in Ghana. The KCFA ensured the participation of invited players that included Grandmaster Sriram Jha from India, International Masters Olape Bunmi of Nigeria and Johannes Manyedi Mabusela of South Africa. Additionally, Candidate Master John Oyeyemi Fawole, Degondo Simplice Armel and John Kojo Hasford who are respectively the current Nigerian, Ivorian and Ghanaian national champions added to the field of strong players who took part in the tournament. Thirty-six players took part in the rated section which was won by GM Sriram Jha with FM Ajibowo Olamide Patrick and IM Olape Bunmi following with 6½ points each. The best placed Ghanaian was Bonsu Kwadwo Owusu Bempa who finished 10th with 5½ points.
The Open section attracted 22 players from Ghana, Nigeria and La Cote d'Ivoire. This was won by Manan Herman of La Cote d'Ivoire with 10½ points out of 11 while Kwaku Asamoah and Lionel Adu of Ghana came up second and third with 9½ and 8 points respectively. The podium for the Blitz tournament was taken by FM Ajibowo with 8½ out of 9 followed by IM Bunmi and Degondo with 8 and 6½ respectively.
The President of the Ghana Chess Association, Group Captain George Arko-Dadzie, was thankful to the KCFA, Reiss & Co and the UT Bank for sponsoring the tournament. He further expressed his appreciation to the former World Champion Garry Kasparov for honouring his promise of helping organise international FIDE rated tournaments in Ghana. Since his visit to the country in January this year, Ghana Chess has benefited tremendously from KCFA sponsored programs. The President assured participants of an improved standard of organisation in the next international tournament to be organised by the Ghana Chess Association using this first experience as a basis.
~ George Arko-Dadzie, President, Ghana Chess Association