2014 U.S. Junior Closed (Round #9)
2014 U.S. Junior Chess Championship
St. Louis, Missouri, USA
Round #9 (Sunday, 29 June 2014)

Overall

Table
White
Score
Rating
Black
Score
Rating
Result
1
IM Sevian, Samuel
4.5
2442
IM Ostrovskiy, Aleksandr A
4.0
2423
1-0
2
FM Williams, Justus D
3.5
2278
FM Shen, Arthur
2.5
2331
0-1
3
GM Troff, Kayden W
6.0
2494
NM Larson, Matthew W
3.5
2160
1-0
4
FM Bodek, Michael H
5.5
2389
NM Colas, Joshua
2.0
2247
0-1
5
IM Harmon-Vellotti, Luke
4.0
2412
IM Xiong, Jeffrey
4.5
2437
½-½

Games
The 2014 U.S. Junior Closed has come to an end and Grandmaster Kayden Troff is the winner. With only one loss in his +5 score, Troff automatically qualifies for the 2015 U.S. Championship.
In the press conference, he mentioned that this tournament was stronger than previous editions and that there was a fighting spirit present. While many will look at the cross chart it may appear to be a convincing victory, but it was not so easy… especially in the beginning. Troff got help from Josh Colas who beat Michael Bodek.
In Troff-Larson, the St. Louis native was playing with a lot of confidence, but perhaps got carried away against the Grandmaster from Utah. Larson's opening was a risky one as he ceded the two bishops and had a questionable pawn structure. The move that came into question by the commentators was 16…Qd6?! Larson was trying to create threats on the king, but this simply lost two pawns for nothing. After 17. Bxc6+ Kf8 18. Bxb7 Qh2+ 19. Kf1 there was no follow up. Ultimately, black got the queen on h2 trapped.
Troff had already won which meant there was no way for Michael Bodek to catch him. However, this game between two familiar opponents was bitter-sweet for Josh Colas who had lost four in a row. Bodek-Colas was an intense game out of a Guioco Piano. Colas admitted that he had not prepared deeply. Thus, white got a comfortable position with a lot more space. However, Colas felt that his knight would be better than the bishop.
In Bodek-Colas, white has several choices. Fortunately for Colas, he chose 35.Kh3? The move doesn't instantly lose, but all but gave up the advantage and resulted in an embarrassing loss.
White poised for a queenside break-though doubled rooks along the a-file setting up deadly invasion. On 29. axb5 cxb5 (29…axb5?? loses to 30.Rxa8 Rxa8 31.Rxa8 Nxa8 32.Qd6! with Qf6+ looming) 30. Qd6. White repeated moves and played 34.Bf3 after which black gave a spite check with 34…Rc2+ (what else). White has four moves… 35.Kh3, 35.Kf1, 35.Kg1 and 35.Kh1. Bodek played 35.Kh3 which looks the safest, but there was danger lurking after 35…Rf8. In fact, Houdini says the position is now equal after 36.Qg5.
Bodek replied 36.Qe6+ and after 36…Kh8 had not answer to the looming 37…Qg7. Bodek stated that the didn't see the idea until after it was played. This means that he probably forgot about his king. So after 37.Rxa6 Qg7! white was in a type of "Luhzin Defense" mating net. Black threatens 38…Qh6# and so after 38.Bh5 gxh5 mate still could not be averted. Very fortuitous for Colas to end the tournament with a win after losing four in a row. He started with a win and ended with a win and the middle… he said with a laugh, "We won't talk about that."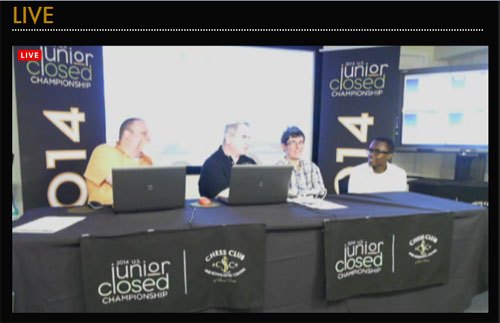 Colas ended on a happy note after losing four in a row.
Photos from uschesschamps.com.
Luke Harmon-Vellotti and Jeffery Xiong are the two player closest in strength, a mere two points separating the IMs. This game was also very equal and neither player took any risks in the Grunfeld and they shook hands after three-fold repetition on move 22. Sevian-Ostrovskiy was an interesting theoretical battle out of the King's Indian Attack (French). Black gave up two pieces for a rook to destroy white's pawn center, but got nothing for it. In fact, after black sacrificed an exchange, his central pawns were easily blockaded and white was poised to take control.
Lastly, Justus Williams had come off of a tough loss and was looking to score against a struggling Arthur Shen. In this game were was nothing after a middlegame skirmish. The game appeared to be headed for a draw after 22…Rac8 since 23.Rb1 would hold the balance.
Williams was still "playing for tricks" as Ben Finegold called it, but there was nothing to do but grab the draw. Black seized on the chance after 30…Bxg3! 31. Bg2 Bxh2 32. Qh4 Be5 33. c6 Rxa2 and in a matter of moves, black is three pawns up. After a few more moves, Williams gave up the ghost and resigned. In the press conference, a somewhat dejected Williams admitted that he had lost two of his games by pressing too hard.
Justus will certainly be back!
Photos from uschesschamps.com.
Great tournament!
Official Site: https://www.uschesschamps.com/