Sargissian takes 2014 Chicago Open
Armenia's Gabriel Sargissian also won in 2012.
Photo by Daaim Shabazz
GM Gabriel Sargissian won the 2014 Chicago Open after winning a tiebreak over IM Priyadarshan Kannappan. Both scored 7/9 just ahead of a sextet of players a 6.5/9. Sargissian was in the US helping Varuzhan Akobian prepare for the U.S. Championship helping him tie for first and making it to the final tiebreak. Kamsky won, but Sargissian's help was key.
Sargissian's performance was so strong that he drew his last three games and still managed to top the field. He had a key win over GM Bartlomiej Macieja of Poland before drawing IM Kayden Troff, Canadian GM Anton Kovalyov and GM Yury Shulman. As a Lindenwood University student, Kannappan's result was one of his most successful to date. He won his last five games beating Grandmasters Alexander Shabalov and Julio Sadorra in the process.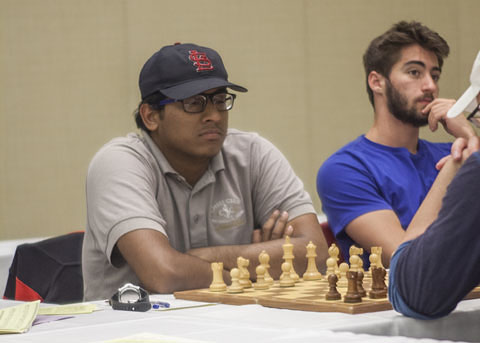 Priyadarshan Kanappan
Photo by Eric Rosen
In other action, Qibiao Wang won the under-2300 section with 6/7; under-2100 section had a three-way tie, FM Alex Bian, Sedrick Prude, Boyan Angelov; under-1900, Nikhil Kalghatgi 6.5/7; under-1700, Andy Caen 7/7; under-1500 had a three-way tie, Shafieen Ibrahim, Dusty Myers, Max Haugh-Ewald, 6/7; under-1300, Andrew Cook, 6/7; under-1000, Oleksii Brorovikov, 6.5/7.
Standings: https://chicagoopen.net/