2014 Olympiad prep progressing
With controversy surrounding the shortfall of funds needs to host the 2014 Olympiad, FIDE officials were scrambling to ally fears that the biennial event may be cancelled. Such fears were accented by comments made in press releases. ChessBase ran a very prominent story detailing the funding issues which amounted to NOK15 million ($2.5 million).
Hans Olav Karde of the Olympiad's organizing committee stated that "Unless we get the 15 million it will be extremely difficult to implement this." There have followed many online meetings and recently FIDE officials have done a site visit. FIDE released a statement expressing its "great concern".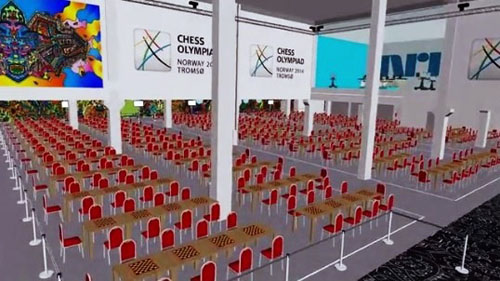 The crux of the matter was that Norway Olympiad organizing committee did not initially figure into the budget that they would also be responsible for holding the World Cup tournament as sort of a "dry run" to the Olympiad. Of course, the Olympiad is a massive event, but it became apparent that there was insufficient funds to hold both.Chess.com got the scoop from Børge Robertsen, CEO for the Olympiad. According to the report, the Norwegians didn't know that they also needed to stage the 2013 World Cup.
"We first asked the government for support for the Olympiad as early as May 2009. But only later FIDE made the World Cup an obligatory part of the bidding procedure."
Meanwhile World Champion Magnus Carlsen is set to lead the Norwegian team, but is apparently not serving as a host, ceremonial or otherwise. Ceremonial hosts are often used to raise the profile of the event and provide more public attraction for its initiatives. At this point there is no indication on the fundraising efforts for the NOK15 million.
A record 181 teams have registered totaling 2000 players. Perhaps, this does not account for all the journalists, coaches, delegates, dignitaries due to set on the city of Tromso. It is said that conditions will be at maximum capacity. It would be very embarrassing if Norway had to hold anything other than a first-class event. The talks of cancelling are rather presumptuous, but of course the matter is very serious. National federations are finalizing their arrangements and meeting the June 1st deadlines for registration and accommodation.
Tour the Olympiad Arena!