Cuba's Dominguez breaks through in Greece!
Cuba's rich chess tradition is known. The chess reputation that José Raúl Capablanca helped to define on the beautiful island can be seen throughout the capital of Havana in painted murals, sculptures, arts exhibits and the frequent games played on the street. Havana's Capablanca Chess Club is also buzzing with activity. In this environment, it is easy to catch the chess bug and perhaps this is a formula that has bred the hunger seen in Cuban players.
One such player bearing the hunger is Leinier Domínguez who has been Cuba's ace for the past several years. He along with Lázaro Bruzón have pushed Cuba to a top-20 chess nation. Now among the world elite, Dominguez has been playing a lot in Europe, but got his biggest win of his career in winning the recent FIDE Grand Prix in Thessaloniki, Greece. The tournament had twelve 2700-standard players and Dominguez was seeded 11th. Thus, this result came as a surprise.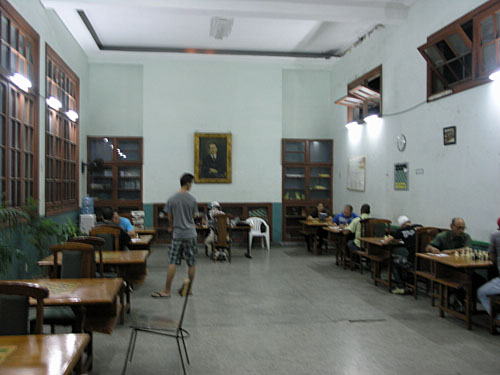 The famous Capablanca Chess Club in Havana. A place where Cuban talent is harnessed. Photo by Daaim Shabazz.
Of course all of the players understand Dominguez' strength, but were unprepared for the Cuban's energetic play. Ironically, Dominguez lost his first round against Gata Kamsky, but then put together a 10-game unbeaten streak for a +6 score. In the end Dominguez got help from Fabiano Caruana who beat leader Kamsky in the last round. Meanwhile the Cuban got a big win over Veselin Topalov to win the overall title.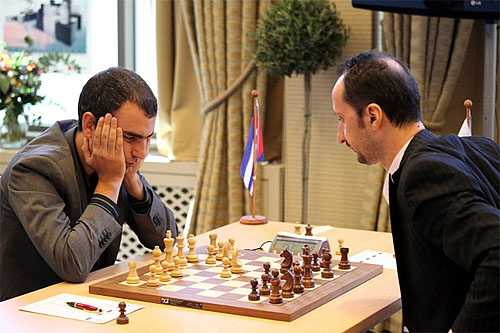 Leinier Dominguez enroute to beating Veselin Topalov to win the FIDE Grand Prix in Thessaloniki, Greece. Photo by Anastasiya Karlovich.
With his 8/11 score and 2926 performance rating, Dominguez moves up to #11 on the live rating list and will probably eclipse his career high of 2734. This is a momental win for Dominguez, the country of Cuba, Latin America and the Caribbean. The fact that such a player can come from a region where chess is still rather undeveloped shows the will and determination that it has taken Dominguez to get to the elite level.
While on blogs there were many congratulatory remarks for Caruana and Kamsky for great results, Dominguez result was met with shock and indifference. There were many who were glad to see a new face as the Super-GM tournaments seem to be the same permutation of players. Even other players chimed in. Here's a nice congratulatory tweet by GM Pavel Eljanov:
Very glad to see that Leinier took clear 1st in Thessaloniki! Always thought that he is underrated player in our very strong generation!

— Pavel Eljanov (@Eljanov) June 3, 2013
With chess improving rapidly in Asia, one wonders which region will show signs of emerging. With the American resurgence occurring and the success of players in Latin America (Cuba's Lázaro Bruzón, Venezuela's GM Eduardo Iturrizaga and Peru's GM Julio Granda Zúñiga), perhaps it will occur in the western hemisphere. Dominguez victory maybe the breakthrough needed as his rating continues to climb. Perhaps he may get an invitation to 2014 Tata Steel "A". Time will tell.
GM Leinier Dominguez holding his well-deserved trophy.
Photo by Anastasiya Karlovich.