World Candidates 2013-9: Carlsen in 1st
Round #9
Monday, 25 March 2013
2013 World Championship Candidates
March 15th-April 4th, 2013 (London, England)

Round #9

#

Name

Flag

Rating

Result

Name

Flag

Rating

9.1
Kramnik

2810

½-½

Carlsen

2872
9.2
Svidler

2747

½-½

Grischuk

2764
9.3
Ivanchuk

2757

1-0

Radjabov

2793
9.4
Gelfand

2740

1-0

Aronian

2809
Overview: While the Kramnik-Carlsen was a moral victory of the Norwegian who held off the "Killer Catalan". Carlsen fell head first into Kramnik's preparation and quickly got into deep trouble. At one point, Carlsen was a full pawn down, but he played very actively to avoid being tied up by the passed a-pawn. He was able to accomplish some material liquidation and while a pawn down, the draw became theoretical. Carlsen is quickly gaining a reputation as being a tenacious defender, but how many lives does the Norwegian have left?
Grischuk-Svidler was the wildest game of the tournament!
Photo by Ray Morris-Hill.
In this position after 19…h3!?!? pieces flying everywhere!
The Svidler-Grischuk drawn game of the round was the wildest! Grischuk sacrificed a piece on move 12, then two more for the white queen. In the diagram white has to cope with an exposed king while black has to figure out a way to prevent white from coordinating his pieces and getting a lock on the position.
The game kept getting more bizarre, but white was unable to prevent the harassment of the black queen. The white pieces huddled around the king, but white had nothing more than to build a fortress draw. What would occur is that black queen would always gain checks on the open board especially with the black king far from danger. Svidler gained ground on the leaders.
Video by Macauley Peterson.
Levon Aronian was attempting to keep pace with Carlsen and was facing a tough hombre in Boris Gelfand. The Israeli was coming off of a good win and with the white pieces he was motivated. The game evolved into a relatively balanced struggle with equal chances. The tension started to build when Aronian started with 24…dxc4 25. Bxc4 Rxd4 26. Bxe6 Bf7 27. Bxf5 but blundered with 27…Bf7? After 27. Bxf5 Bc4 28. e6! the board was cut in half and black forces became disorganized. After seizing the advantage, Gelfand played precisely and ground down Aronian's forces for the full point. Aronian is still only half-point back with five rounds left. Meanwhile Gelfand is on an even score.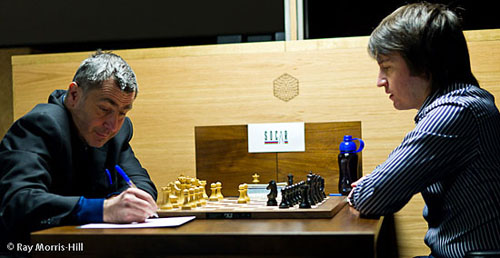 Both players have had a tough tournament… each on the end of three losses.
Photo by Ray Morris-Hill.
In Ivanchuk-Radjabov this was the battle between two hard luck competitors. Ivanchuk had lost three games on time and Radjabov failed to convert against Carlsen and also lost three games. In this 76-move game, it was a relatively even affair throughout, but in an equal rook ending, Radjabov allowed the thread of the position to unravel. After trading a pair of rook, Ivanchuk was able to gain active play and establish an armada of health pawns on the kingside. In the final position 76.f6 wins due to 76…Kxe6 Re8+ and 76…Rxe6 77.Rd8+! winning.
Official Site: https://london2013.fide.com/
Photos by Ray Morris-Hill: https://raymorris-hill.smugmug.com/
Drum Coverage: https://www.thechessdrum.net/blog/2013/03/15/2013-world-championship-candidates-london/
Standings
Magnus Carlsen, 6/9 (+3 -0 =6), Levon Aronian, 5.5/9 (+3 -1 =5), Vladimir Kramnik, 5/9 (+1 -0 =8), Alexander Grischuk, 4.5/9 (+1 -1 =7), Boris Gelfand 4.5/9 (+2 -2 =5), Peter Svidler, 4/9 (+1 -2 =6), Vassily Ivanchuk, 3.5/9 (+1 -3 =5), Teimour Radjabov, 3/9 (+1 -4 =4)