"Brooklyn Castle" showing October 19th!!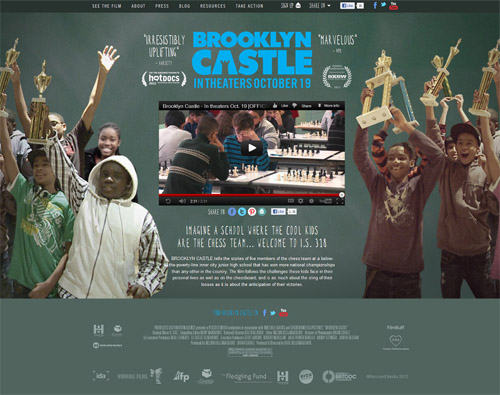 If you have followed the "Brooklyn Castle" story here, it was a two-year project in the making by a wife-and-husband team of Katie and Nelson Dellamaggiore. Here was their inspiration…
WHY THIS STORY?

In 2007, we came across an article in the New York Times about a super-talented chess player from Edward R. Murrow high school in Midwood, Brooklyn — the neighborhood where we grew up. For obvious reasons, we were immediately intrigued by the story. A little research revealed that the article was inspired by The Kings of New York, a fascinating book by Michael Weinreb that follows the Murrow chess team for one year. We contacted Michael to find out more, and over coffee, he spoke highly of I.S. 318, a feeder junior high school to Murrow (which he also covers in a chapter of his book). He encouraged us to get in touch with coaches John Galvin and Elizabeth Vicary, who had left a lasting impression on him.

Since I.S. 318 was just minutes from our apartment, we headed there one morning before work to meet the team and take some Polaroids . What we found was a school full of genuinely happy kids and a staff that was immensely proud of their students. It was written, literally, all over their walls. That was May 2007 and now here we are — with something very special, we believe.
After that was a widely-successful fundraising campaign where they raised more than twice the $4,000 minimum production costs they were seeking. After more fundraising efforts they began shooting and released a teaser. Momentum continued to build and the the film premiered March 11th at the Alamo Ritz in Austin, Texas. There were immediately rave reviews about the films as the buzz had begun.
While all of the characters have moved onto highschool, the movie documents the stories of five unique individuals faced with their own set of challenges. The challenging problems involved both personal and family issues along with funding limitations of the chess program at IS-318.
The school has won 35 national championship over the past decades and has produced a number of strong players including Alex Paredes, Darrian Robinson, Rochelle Ballantyne, Justus Williams and James Black. Each are featured in the movie along with other team members. The movie is 101 minutes long.