2012 Chess Olympiad: Round #7
Top Boards (Open)
Azerbaijan 1½-2½ Russia
China 2½-1½ Armenia
Philippines 2-2 Hungary
Ukraine 2½-1½ Spain
Moldova 1½-2½ Germany
With only four rounds remaining, the favorites are rising to the top. Russia, China, the Ukraine, Armenia and the USA have the top five spots after seven rounds. Armenia lost ground with a loss to China as Wang Yue beat back Sergei Movesesian's attack in a double-edged slugfest.
Did we forget about Veselin Topalov?
The other three games were drawn. Russia and Azerbaijan was a fiercely-contested match with all the games having an edge before settling down. Grischuk was able to use his pawn advantage and better bishop to gain a decisive advantage and allowed Russia to wrest the lead over the field. Russia remains one of five undefeated teams left along with the USA, Germany, England and India.
Philippines keep marching on with national hero Eugenio Torre scoring a big win over 216-point rating favorite Ferenc Berkes to draw Hungary at 2-2. This puts the Filipinos at 10th position and is probably the highest they have ever reached since Torre's earlier days. This is his 21st Olympiad. The Ukraine beat Spain with Vassily Ivanchuk scoring the margin of victory over Francisco "Paco" Vallejo-Pons. The defending Olympic champions are now on 3rd position and back in the hunt for a gold medal.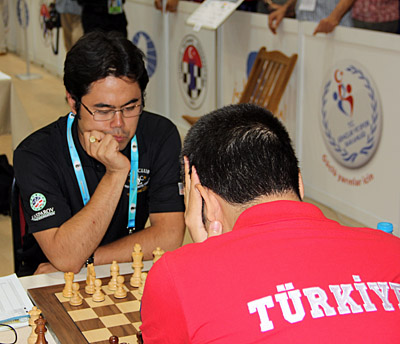 Hikaru Nakamura stopped Dragan Solak when the latter fell under pressure and finally overlooked mate in one. Photos by Daaim Shabazz.
The USA crushed host Turkey 3½-½ on the strength of Hikaru Nakamura's snap win. It appears that Dragan Solak was under considerable pressure and somehow overlooked mate in one with 30…Qb4?? 31.Qe6#! Onischuk smashed Baris Esen and Kamsky ground down World Junior Champion Alexander Iptov. The USA has only lost one game and no matches.
Top Boards (Women)
Russia 2-2 Poland
Georgia 1½-2½ China
Ukraine 2-2 France
Serbia 2-2 Vietnam
Hungary 2½-1½ Montenegro
In Serbia-Vietnam, Stojanovic ended nicely with 26.Rxc8+ Rxc8 27.Kg3+! Kg8 28.Qb3+ Qf7 29.Ne7#. (see game)
In the women's field, China, Russia and Poland are in a virtual heat with identical records. China moved on top beating contending Georgia and now has the tiebreak advantage. Poland-Russia was a 2-2 draw with wins traded on the bottom boards.
The Ukraine drew 2-2 with France as did Serbia with Vietnam. The USA blasted Belgium 4-0 as they attempt to climb back into contention. India, another pre-tournament hopeful got past Estonia 3-1. Here is a nice combination coming from the Serbia-Vietnam match.