2012 Chess Olympiad: Round #8
Top Boards (Open)
Russia 2½-1½ Ukraine
China 2-2 Azerbaijan
Armenia 3-1 Uzbekistan
Macedonia 1-3 United States
Germany 2½-1½ Hungary
Wow! What a tragedy for Vassily Ivanchuk who sat at the board after his draw with Kramnik with his head in his hands. Ivanchuk had to win to save the Russia-Ukraine match and may have had a bit of a chance in his rook ending. Once the position showed a draw Ivanchuk was said to have screamed out in anguish. As a result Russia, moved a full match up on six other teams.
Prodigies… past and present. Bu Xianghzi was witness to Ding Liren's spectacular win over Rauf Mamedov. Photo by Daaim Shabazz.
China won against on Ding Liren sparkling win over Rauf Mamedov of Azerbaijan (see below). China does not have good tiebreaks because they lost to Russia already. Armenia beat Uzbekistan 3-1 as the bottom boards carried the day. The USA beat Macedonia by the same 3-1 score with Hikaru Nakamura resting.
Good matches tomorrow with USA-Russia, Philippines-China and Armenia-Germany.
Top Boards (Woman)
Poland 1-3 China
Russia 2-2 Ukraine
France 3-1 Spain
Uzbekistan 2½-1½ Hungary
Vietnam 1½-2½ India
China finally overtook Russia in the race for the gold with a nice win over Poland. Russia was held by the Ukraine and moves to second just ahead of surging India who won against Vietnam. France beat Spain and Uzbekistan upset Hungary.
USA-Philippines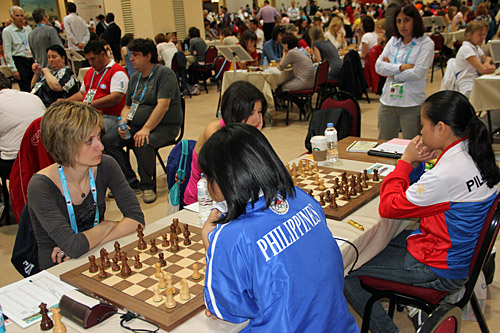 The USA women trying to get back into medal contention with a win over the Philippines. Photos by Daaim Shabazz.
The USA crushed the Philippines and is easing back into contention. They play the Ukraine tomorrow. China gets France and India is paired with Russia. We will see if India can make up for the loss of their top player Koneru Humpy. This is an important round because the pairings tend to be a bit funny since the top teams have already played each other.