Nakamura, U.S. Champion… World next?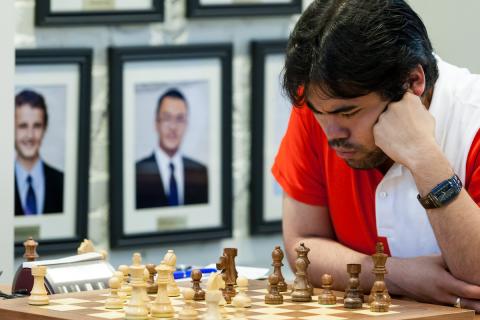 How can GM Hikaru Nakamura reach the next level?
Photo by CCSCSL.
After having won his third U.S. Championship (2005, 2009, 2012) and moving to 5th-6th on the Live Rating List, there is no doubt that Hikaru Nakamura is a championship contender. To all the naysayers in years past, they must be busy trying to think of new reasons why he will not contend, but they are running out of reasons. Here was the list:
Nakamura would never make 2600.
Nakamura is only a bullet/blitz player.
Nakamura didn't have proper "chess education".
Nakamura's arrogance is not commensurate with his accomplishments.
Nakamura would never break the top 20.
Nakamura would never beat a top-ten player.
Nakamura would not win an elite tournament.
Nakamura would never break 2700.
Nakamura would never break 2750.
Nakamura will never break 2800.
These (and others) were part of the arguments being made about Nakamura on chess servers, websites and blogs. There has been no other player in recent memory whose skills have been more questioned that Nakamura's.
Those who followed his progress closely (particularly those in the U.S.) knew better than to doubt his ability. Of course, he has destroyed the above arguments and is now at 2782 "live" rating list nipping on the World Champion's heels.
The only pertinent question remaining is whether he will become World Champion. The Chess Drum asked GM Maurice Ashley his opinion of Nakamura's chances and he had this to say:
Anybody in the top ten and who's under 30 can make a push in some way and suddenly be right there. You look at Gelfand is fighting for the title right now… and he's 40. If you are Nakamura or Caruana, you gotta think, "What do I need to do to take my game to the next level to catch the two favorites who are Magnus and Aronian." Right? I can't discount the effect of dramatic improvement. Even Aronian himself has improved dramatically in the last couple of years.
This seems to be the increasing sentiment, but the question remains, "What is it that Nakamura has to do to vie for the championship?" There was an earlier essay on these pages titled, "Is Nakamura the 'Real Deal'?" which covered some of these issues. Unfortunately, he will not compete in the Candidates tournament in March 2013, but should be able to get into the next on rating qualification.
Nakamura has shown that his chess skills are not questioned, but there are areas of improvement that he admits to. The motivation for his famous alliance with Garry Kasparov was to improve his opening repertoire and he still talks about improvement in this area.
There is talk about his lack of a world-class team. Most of the top players carry a trainer and/or a team of analysts to provide support. Nakamura works primarily by himself with the assistance of his trusty friend, Kris Littlejohn. It will become increasingly challenging to carry such a sparse support system when he begins to compete in qualifiers, candidate's tournaments and hopefully the championship.
It is the contention of some that Nakamura's last mile will entail help in non-chess areas. Perhaps he will need to enlist the advice of a sports consultant or an experienced chess player who may be able to give him some valuable insight on psychological preparation and how to navigate the treacherous waters of championship chess. This may include handling of the mass media.
In addition, he still needs a sponsor to make a credible push. Nakamura realizes this. With his current U.S. crown, he should also get a publicist who can schedule interviews and appearances, so he can tell his story and perhaps market himself to potential sponsors. He may also need an image coach who may help him craft his brand image to the public.
Although Nakamura is a household name in the world of chess, the general public has little knowledge of his sensation. That will have to improve going forward. Regardless of his "bad boy" image, Nakamura is certainly good for chess. A consummate fighter and sometimes provocateur, perhaps he is one of the few up and coming players who can ignite excitement to make sponsors and the general public pay attention.