Will Hou Yifan become the greatest?
Hou Yifan during her successful title defense last year.
Photo by Anastasiya Karlovich for FIDE.
Hou Yifan has been the topic of discussion ever since she burst onto the chess scene as a promising phenom. Hou is now 18 and has already trod a progressive path to make her mark in chess history. She successfully defended her world title against Koneru Humpy in 2011 and has now begun to venture out into more competitive tournaments.
Her stunning performance in Gibraltar (2872 performance) created a buzz that has not been seen in the women's world since a young trio of sisters were taking the chess world by storm in what was deemed an experiment. The Polgar sisters, Zsuzsa, Zsophia and Judit, all developed into powerful examples of gender equality in chess. In a world where women are mostly competing in much weaker segregated tournaments, the Polgar sisters created the idea that they could compete on equal terms.

Judit Polgar has proven herself in a sport dominated by men.
Photos from https://chess.ugrasport.com/.
There were famous episodes of Judit Polgar bringing her teddy bear to the board. While the older men were enchanted by this sight, they were soon dismayed when they ended up on the receiving end of a brutal checkmate. She would become famous for her remark, "I kerrushed him." Thus, Polgar emerged as a "wunderkind" after her string of devastating wins.
At age twelve, she was already 2555 and already into the top 100 players. She then rose rapidly largely eschewing women's tournaments for the more competitive open tournaments. Polgar rose to the 2700 class in 2003 and peaked at 2735 ELO two years later (#8 in the world). She is now #29 at 2709. Polgar is widely considered the strongest woman to ever play chess and has compiled a stellar resume.
Hou Yifan has created some distance between her and the players like Koneru Humpy the only other woman to make 2600. Photo by Anastasiya Karlovich for FIDE.
With Hou's recent success, there have been some comparisons made with Polgar. Of course Hou's improvement trajectory was different in that she has subsisted primarily on women's tournaments. Over time, she began to distance herself from her 2400-2500 ELO opponents and finally broached the 2600 barrier. In the last year, she broke the 2600 barrier, defended her women's crown, tumbled almost 40 ELO points, rebounded and began to make more appearances in the strongest tournaments she could find.
Her breakthrough came when she attended the Tradewise Gibraltar Masters and scored 8/10 (+7 -1 =2; TPR 2872) beating along the way: Zoltan Almasi (2717), Judit Polgar (2710), Le Quang Liem (2714) and Alexei Shirov (2710). Her win against Polgar was a highly-anticipated battle and started rumours about a potential unofficial match. There was actually a match announced, but that notion was refuted by Polgar herself.
Women's World Champion Hou Yifan looks ravishing here with the admiring Nona Gaprindashvili, Women's World Champion 1962-1978. The two players representing the the best of different eras.
The discussions buzzing on chess blogs and Facebook pages pertain to whether Hou Yifan will one day eclipse Judit Polgar as the "strongest women ever". Many references were made of Vera Menchik and Nona Gaprindashvili and Maia Chiburdanidze, but none of these women made the stand that Polgar has made against the strongest competition.
However, Hou's performance in Gibraltar and following performance in Reykjavik are signs that she has closed the strength gap with Polgar. Hou pending rise has chess fans and pundits anticipating what could be a rivalry, but with Polgar in the sunset of her career and balancing motherhood, it is unclear on how long she will continue her international career.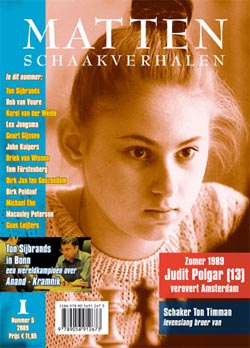 In the final analysis, Polgar's rise as a child prodigy and her early and sustained success against the strongest competition has given her a status that not even Hou Yifan will be able to claim. It is however inevitable that the Chinese sensation stands to eclipse 2700 and threaten Polgar's record of 2735. Surpassing Polgar's stellar history would require a sustained effort.
Looking at Chinese women's champions (Xie Jun, Zhu Chen and Xu Yuhua), they all aborted chess careers to raise families and pursue additional education in their late twenties and early 30s. It is too early to tell whether this will become a factor. China may make an attempt to provide their champion with all the help she needs in achieving her goal of becoming an elite player.
If there is an Polgar-Hou "strongest argument" made at some point in the future, it would most likely take into account the improvement trajectory, rating peak (accounting for inflation), ranking peak, longevity, head-to-head score, quality of games, overall record in strong tournaments and perhaps other variables.
Hou may be at quite a disadvantage since she started her foray into elite chess several years later than Polgar. As of today, Hou is just outside of the top 100 at 2639. To give a perspective, Brazil's Henrique Mecking was #3 in the world at 2635 in 1977. It will be important for her to draw from the deep pool of strong players today. If she continues to play the bulk of her chess in women's tournaments, her rating will stagnate since even draws will hurt her attempts to rise up the ELO list.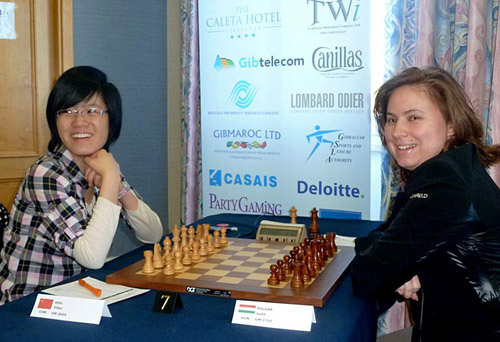 Hou Yifan Hou Yifan facing Judit Polgar in a historic battle at the 2012 Tradewise Gibraltar Masters. Photo by Zeljka Malobabic © Tradewise Insurance Ltd.
There have been no statements made of her intentions, but Hou's developments will be followed with great interest. While Polgar refuted claims of a pending match, she did not seem adverse to the idea. Perhaps it would be dubbed "The Match of the Century". There would presumably be numerous options for sponsorship. In the meantime, it may simply be best for Hou to follow Polgar's path and prove herself as one of the world's strongest, regardless of gender. Polgar has proven it can be done. All other accolades will fall into place thereafter.