E. St. Louis recounts Chess History
High school chess lore is always replete with stories of legendary coaches, legendary players and legendary tournament battles. East St. Louis Senior High School, a migrant town in southern Illinois, had a good run of successful scholastic events in the 70s and 80s. Perhaps it was a discussion recounting the glory days that lead to a radio segment by James Graham, on staff at the St. Louis American newspaper. In a town mostly known for Josephine Baker, Miles Davis, Tina Turner, Jackie Joyner-Kersee, it has a storied history in scholastic chess.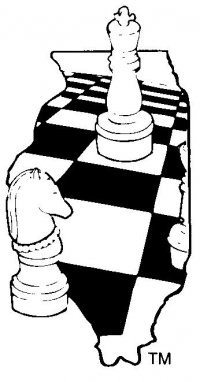 Graham, a member of the 1978 state championship team, hosted a radio show on WGNU 920AM that brought together some of the architects of those years. "Senior" was a known sports powerhouse in Illinois producing world-class athletes in track and field, basketball and football. However, this Black high school added chess to their tradition of success. The Chess Drum ran an earlier story which was mentioned on the show.
On the show was host Ingram (alumni player), William Grosball (coach for 26 years), Greg Jones (alumni player) and Ameer Ali (alumni player). The show began with Ingram talking about the misperception often held in popular society that Blacks excel in the athletic domain but not in mental exploits. This is been a long-held theme and has continues to have a following in the scholarly community.
Coach Grosball came to E. St. Louis in 1970 and took on the role of sponsoring a chess club under the urging of Assistant Principal William Ray, who was moving on to a private business venture. Coach went through the chronology of teams including names of original players such as the Galloway brothers (Eric and Richard), Terry O'Neal, Ramon Williams, Wayne Hurling, Alonzo Collins and Robert Macklin. Henry Blackwell, John Brown, Charles Smith and Henry Sandford were also mentioned. Hall of Fame football player Kellen Winslow was also on the team back in 1975 and went undefeated that year. He mentioned a key point being 1975 when the Illinois High School Association (IHSA) included chess as a sport.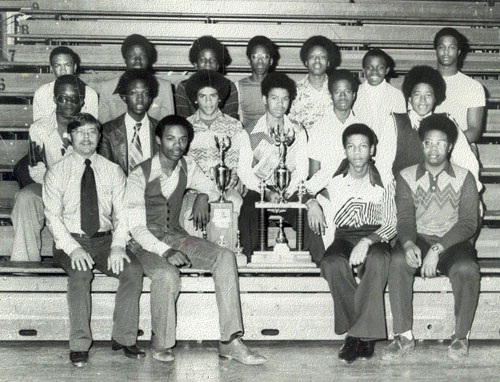 1978 East St. Louis Senior "Flyers" chess team
Guest Greg Jones gave some stories of beginnings of "street chess" with Adonis Scott. Stories followed about going to well-funded white schools and beating them mercilessly. Of course being well-funded does not equal automatic success. In fact is a popular misnomer, but the point was clear. This phenomenon was common across the country when inner-city school kids would beat the odds.
There is the misperception that well-funded, suburban schools are superior. Philadelphia's Roberts Vaux is probably the best example of national success from the inner-city with seven national championships. However, there are others and E. St. Louis Senior is one of them.
Ameer Ali came onto the show and talked about the role chess played in helping him to focus more on serious academics. This seems to be a ongoing theme in scholastic chess and its role in help shaping students academic performance. James Ingram later mentioned that he attended Boston University and teammate Craig Preston attended MIT. Coach talked about winning the St. Louis high school chess league three years in a row amongst 24 teams.
One of the other important stories told was importance of preparation in the early days of the team. In 1976, Ingram and Jones noticed that the players were not focused during the matches and did not maximize their performance. They were trash-talking, playing basketball in between rounds, staying up late, eating too heavily and overall lack of focus. The two players got together, read the rulebook and decided to dedicate themselves to the matches ahead. That dedication paid off and Senior became one of the most consistent programs in the state.
According to the IHSA website, Senior had a sterling record in the Illinois High School Association tournament and finished in the top ten for many years.
1974-1975, 7th; 1975-1976, 6th; 1976-1977, 5th; 1977-1978, 2nd; 1980-1981, 3rd; 1981-1982, 10th; 1984-1985, 10th; 1985-1986, 10th; 1986-1987, 2nd; 1987-1988, 4th; 1988-1989, 8th; 1989-1990, 9th (see IHSA website)
The hour-long radio segment was very enjoyable and will uncover some of the forgotten history of scholastic chess.
Listen to full segment here!