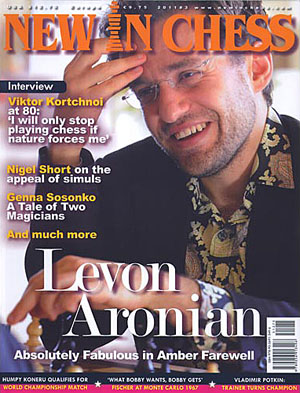 GM Levon Aronian's win at the 20th Amber Blindfold and Rapid tournament is the lead story in the current New In Chess. This is his second consecutive win, but unfortunately the tournament sponsors have decided to end the tournament. Held at the Monte-Carlo Bay Hotel & Resort, Dutchman Maecenas Joop van Oosterom closed in fine style.
Very exciting tournament won by Aronian and followed by world's number two Magnus Carlsen and World Champion Viswanathan Anand. The article has many annotated games including Anand's demolition of Carlsen's Grand Prix Attack. There was also the excellent writing by the multifaceted John Nunn who has gone from Grandmaster to chess problemist and now to chess photographer and journalist!
One of my favorite features in the new issue is the interview with Viktor Korchnoi. The 80-year old legend is known to ruffle feathers with his sometimes abrasive demeanor and blunt comments. He weighs in on the current crop of talent and admitted, "At their age, I played worse than they do." He did have some mean words for Maxim Vachier-Lagrave who his says he doesn't like. However this interview wasn't all chess. He discussed literature, wife wife Petra, his religion, his defection and his future. Very candid interview!
Other interesting articles were on the Reykjavik Open, Bronstein and Tal's friendship, Humpy Koneru winning the Doha Grand Prix. She would end up second in the overall Grand Prix standing and earned the right to meet Hou Yifan in the Women's World Championship. This will be the third time Humpy will play Hou Yifan and the first time they will meet for the world championship title. The two have played two previous matches in knockout formats with Hou Yifan winning both. Humpy annotates a couple of her wins and seems very excited at the opportunity.
There was an interesting story on Bobby Fischer (not the typical bashing) written by Jimmy Adams. It covered Fischer's tournament participation in a 1967 tournament in Monte Carlo where he vividly described the tournament atmosphere, the players and Fischer's demands. I mostly remember Adams writing a popular book on the Najdorf variation back in the late 70s. On cue, Adams presents the famous Fischer-Geller game which was a theoretical Poisoned Pawn.
CONTENTS
End of an Era
Interview: Viktor Kortchnoi
Trainer Turns Champion
'But Where Have All Your Pieces Gone?'
Chess in Iceland
A Tale of Two Magicians
Through the Luking Glass
Koneru to Play World ­Title Match
'What Bobby Wants, Bobby Gets'
A Well-Lived Life
Aix-les-Bains Cont'd
Preview: https://www.newinchess.com/Shop/ProductDetails.aspx?ProductID=472