Asher wins Jamaican Junior!
FOR IMMEDIATE RELEASE:
April 12, 2011
Zachary Ramsay, The Jamaica Chess Federation
Asher Wins Burger King National Junior Chess Champs
Miguel Asher (right) of Wolmer's Boys High School is the 2011 National Junior Chess Champion.
Wolmer's Boys High School's Miguel Asher was crowned the 2011 National Junior Chess Champion this weekend, after he dominated the event with a commanding six out of a possible seven points. The championship was a closed, single round-robin, that took place between April 2 and 10, and featured the best eight junior chess players from across the island, including National Under 18 Champion Hakim Buchanan, Under 16 Champion Shreyas Smith of Calabar High School, and Woman Candidate Master (WCM) Margoe Williams. Asher's only loss came in the first round to Williams in a long, unclear rook endgame.
In the exciting second round of play, the well-prepared Shreyas Smith rebounded from a crushing first round loss to upset the pre-tournament favourite Hakim Buchanan, after the latter blundered an entire piece in a perplexing McCutcheon variation of the French Defence. Meanwhile, Asher also quickly regained his composure, strategically defeating table-leader Andrew Ellis of Glenmuir High School by establishing an overbearing center on the basis of the inherently weakened dark squares in Ellis' Trompowsky Attack.
Photo Finish!
More decisive action continued in the third round of play when Asher defeated the experienced Glenmuir student Laurence Davey; and Smith and Ellis tackled Ardenne High School students Jonathon Orgill and Damani Reid respectively. This left three players, Asher, Smith and Ellis on top of the table at the brink of the fourth round. However, only Asher and Ellis consistently made all the right moves, delivering decisive blows to all successive opponents, including victories over Smith in the sixth and seventh rounds respectively. As a result, both ended on six out of a possible seven points. The calm, confident Asher, having proved to be the better opponent in the earlier regulation game, easily took home the title after claiming two wins and a draw in the rapid chess tie-breaks.
Miguel Asher, a final year sixth-former and aspiring lawyer, is the first student of Wolmer's High School to hold the title. President of the Jamaica Chess Federation, Ian Wilkinson congratulated, "…the young champion and the Wolmer's community. He loves chess, takes it seriously, puts in the effort and, therefore, his victory is not a surprise to me."
Andrew Ellis was awarded the silver medal, while third place was shared between Davey, Williams and Reid who all finished on three and a half points.
Burger King National Junior Chess Gala
The 2011 Burger King National Junior Chess Gala was held concurrently as an event open to all junior chess players. After six rounds of play, Kareem Wright of St. Jago High claimed first place with an undefeated 5.5 points, while Andrew Folkes of Campion College and Roderick Clifford followed closely behind with 5 and 4 points respectively. National Under 12 Champion Rachel Miller was adjudged the best female player.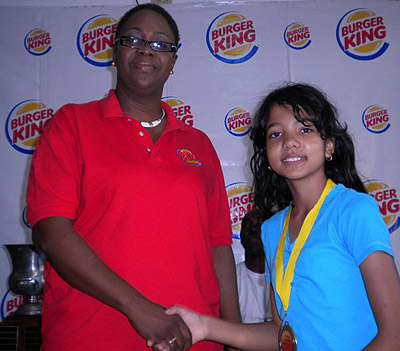 National Under 12 Champion Rachel Miller (right) was adjudged the 'Best Female Player' in the 2011 Burger King National Junior Chess Gala.
The tournament was made possible thanks to sponsorship from Burger King, who is clearly looking towards building a brighter, smarter Jamaica. Asher hopes to follow this performance by successfully representing Jamaica at the various international events in the summer.
# # #