WCC 2010-12: Anand wins… defends title!
There was speculation on whether the match finale would show Topalov going for the juglar. Yet it was Anand who bolted out of the opening with the dynamism that he had been reserving with the black pieces.
Anand played with the energy, speed and precision that made him one of the most dangerous players at the elite level. He chose to defend with a different system to keep Topalov off balance since his preparation with black had run its course.
Topalov opened with 1.d4 for the 6th time and Anand replied with 1…d5. Anand played the Queen Gambit Declined and got a sharp position where he "played around" the c5-pawn. The pawn turned out to be a thorn the entire game, but the action was on the kingside. Anand's pieces were actively placed and were poised for action.
Topalov panicked at a critical moment and Anand's battering ram came crashing through the door. On f5! 31.exf5?! and 31…e4! black pried open a route to the king highlighted by a raking bishop screaming down the diagonal. After Anand found the stunning 34…Qe8! forcing the white king to make a dash for safety on the h4-square. However, viewers noted that Topalov had a grim expression and probably knew the end was near.
In the press conference, he stated, "I just took a risk and I was punished." Topalov did complicate matters to the extent that Anand could have blundered away his advantage. However, the Champion waded through the complications smoothly and defended his title in fine style. (See Game #12)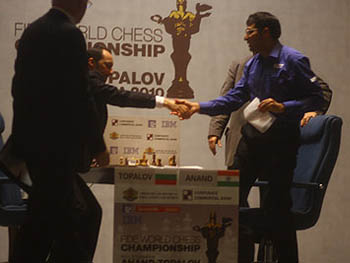 Veselin Topalov gives a congratulatory handshake to Viswanathan Anand who defended his title by winning the final game of the match in fine style. Photo © Chessdom.
What one can say about the match was that it was certainly an exciting one. In addition, it was a sporting match although some took issue with Topalov's self-imposed "Sofia Rule". There were also comments made about the delicate handshake. However, there were no "toiletgate" incidents and apart from the power failure, the event proceeded without a hitch.
This is a great day for chess! A great match was played and certainly there will be increased interest in the sporting spectacle. Let us hope that the next cycle will go smoothly and that Anand will be in good form to defend. He has proven to be a worthy and fitting champion.
Congratulations!!!
Video © Chessvibes.com