2009 World Cup: Quarterfinals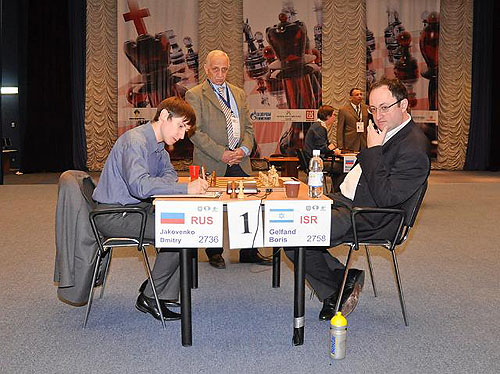 Dmitri Jakovenko vs. Boris Gelfand… will the veteran hold off the young lion?
The 2009 FIDE World Cup gets serious. Eight 2700-rated players will vie for a chance at qualifying for the World Championship cycle. The balance of power lies in the former Soviet-bloc players with Boris Gelfand, originally of Belarus, playing for Israel. These match-ups will be competitive, but in such a short match anything is liable to happen. One thing is for sure… the upsets seen will give way to evenly-paired matches.
Boris Gelfand (ISR, 2758) – Dmitri Jakovenko (RUS, 2736)
Shakhriyar Mamedyarov (AZE, 2719) – Sergei Karjakin (UKR, 2723)
Vugar Gashimov (AZE, 2758) – Ruslan Ponomariov (UKR, 2739)
Peter Svidler (RUS, 2754) – Vladimir Malakhov (RUS, 2706)
Gelfand has been playing solidly, but Dmitri Jakovenko has been played with a lot of energy and may have enough momentum to get him to the semi-finals. Sergey Karjakin is in form and could be the darkhouse to win the entire tournament. Ruslan Ponomariov is another player who may be sneaking under the radar. He faces a motivated, but shaky Vugar Gashimov. The Azeri player has dodged several bullets this tournament. Svidler-Malakhov is and interesting battle, but Vladimir Malakhov (left) seems in some of the best form of his life.
Good matches in store!
Photos by Galina Popova courtesy of FIDE. Gallery link, ugra-chess.ru.
Results: https://cup2009.fide.com/results.php
Games (PGN): (all)