2008 Chess Olympiad: Round #2
Top nations holding… USA nicked for draw by Greece
Top Boards
Poland 1½-2½ Russia
Ukraine 2½-1½ Serbia
Belarus 1-3 China
Azerbaijan 3-1 Slovakia
Moldova 1-3 Armenia

Pregame Analysis: Due to some problems in the team pairing the round started late, but the matches are beginning to heat up. While the top boards may not see an upset, but the Ukraine had better be careful with Serbia. Vladimir Kramnik will play his first game for Russia against a determined Polish team. Hikaru Nakamura will play his first game for the USA as the defending bronze medalists will face Greece. Sweden-India should be interesting as well. South Africa gets Germany 3 and they could very well win that match. Mauritius-Seychelles will be for "bragging rights" of African islands in the Indian Ocean. Perhaps Madagascar will have a say in this!
Round #2 Analysis: Poland-Russia got off to an interesting start in another wild anti-Meran variation. Kamil Miton no doubt watched Kramnik's games with Viswanathan Anand and may have felt the Russia would be well-prepared. He was right. Kramnik built some attacking chances on the kingside, but a heavy exchange of pieces ensued and a draw was agreed. Alexander Grischuk held a 114-move draw against Radoslaw Wojtaszek. Dmitry Jakovenko carried the day with a nice win in the Lopez over Bartel Mateusz… 25.Bxh6! was cute.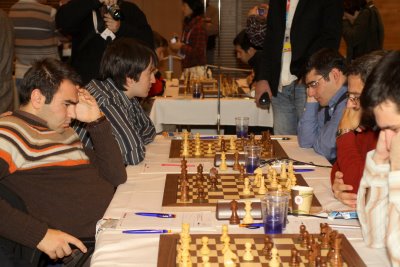 Shakhriyar Mamadyarov and Teimour Radjabov (Azerbaijan)
Photo by Susan Polgar.
The Germans were not very hospitable to the Slovenians who hosted the 2002 Olympiad. The addition of Latvian Daniel Fridman probably puts Germany near medal contention. The Ukraine had a tight battle with the ever-dangerous Serbia. Sergey Karjakin gave up a full point, but the 2004 Olympiad champions prevailed. India beat Sweden which featured a queen sacrifice (for three pieces) on move 11 by Tiger Hillarp-Person. It went horribly wrong and Geetha Gopal converted the point.
Li Chao watching the opening of Wang Hao's game against Belarus. These two players are the latest crop of stars. Wang Hao (2696) is the one to watch and is probably the most talented Chinese player right now. Photo by Susan Polgar.
The Chinese won big again… 3-1 against Belarus. One thing that is apparent of the Chinese is they are well-prepared and play the sharpest and latest theory. Li Chao showed his skills off in a Rauzer Attack brutally crushing Andrey Zhigalko. Azerbaijan won convincingly, but the matchup will begin to get tougher as they will face their first all-GM team in the Netherlands. There will be quite a number of mismatches however. Japan's surprise 2½-1½ win over Qatar gets them a date with Romania tomorrow. Qatar's Al-Modiahki tossed a piece in the middlegame, ended a rook down and was brutually mated.
IM Watu Kobese (South Africa)
African Diaspora: The African and Caribbean teams took a lot of casualties today. One bright spot was South Africa's draw with Germany 3. That puts them on the top boards facing the USA. The Americans were nicked for half-point by a solid Greek team. Kobese has played in the U.S. before so the Americans will be prepared. It will be interesting to see whether Kobese will get Kamsky or Nakamura. Kobese has beaten Judit Polgar and Peter Leko in classical chess, so the Americans will take note.
Egypt did rebound from their opening round loss to beat Syria 3-1 despite Ahmed Adly's loss on board #1. One upset is Ethiopia win over Barbados despite another brutal win by Philip Corbin. He trotted out the same gambit against the French Defense and won in resounding fashion. Mauritius conviningly won the battle of the African islands over Seychelles, 4-nil.
African-Caribbean scores (by board #): Cuba 2½-1½ Uzbekistan; Tajikistan 3½-½ Malawi; Bulgaria 3-1 Dominican Republic; Philippines 2½-1½ Algeria; South Africa 2-2 Germany 3; Syria 1-3 Egypt; Turkey 3-1 Tunisia; Puerto Rico 1½-2½ Paraguay; Ecuador 2½-1½ Jamaica; Indonesia 3-1 Botswana; British V.I. 2-2 Zambia; Namibia 1½-2½ Andorra; Fiji ½-3½ Nigeria; Uganda 2-1 San Marino; Libya 3-1 Honduras; Mozambique 2½-1½ Cyprus; Barbados 1½-2½ Ethiopia; Taiwan 0-4 Suriname; Mauritius 4-0 Seychelles; Rwanda 0-4 Albania; Liechtenstein 4-0 Kenya; Netherlands Antilles 1½-2½ South Korea; Gabon 1-3 Nepal; Ghana 2½-1½ Aruba; Angola 4-0 Madagascar; USVI 0-4 Hong Kong
WIM Oleiny
Linares-Napoles
(Cuba)
In women's play, Russia continues to cruise with a 3-1 thrashing over Slovenia. The other top nations won (China, Georgia, Armenia), but both France and USA were upset by the Netherlands and Israel respectively. India kept pace with a smooth 3-1 win over Latvia and will get a date with Russia in round #3. The Ukraine will struggle to catch the field after dropping a ½-point in the first round to Argentina. They will play Mongolia and that will be a tough matchup.
The Chess Drum was notified by Philadelphia's Glenn Bady of an interesting player from Cuba who is currently on 2-0 as board #4 player. Oleiny Linares-Napoles has a famous surname and hopes to win her own fame by continuing her streak. The 25-year old is rated 2261 and won her last game over Irina Chelushkina of Serbia in a Rauzer Attack.
Selected Games
GM Alexiei Fedorov (BLR) – GM Wang Hao (CHN), ½ – ½
IM Enrique Paciencia (SIN) – GM Nguyen Ngoc Truong Son (VIE), 0-1
FM Philip Corbin (BAR) – Brehan Gebregziabher (ETH), 1-0
IM Eva Repkova (SVK) – WGM Hou Yifan (CHN), 0-1
WFM Tatev Abrahamyan (USA) – WIM Olga Vasiliev (ISR), 0-1
WIM Oleiny Linares-Napoles (CUB) – WGM Irina Chelushkina, 1-0