WCC 2008: Kramnik crushes Anand, closes gap
Vladimir Kramnik came roaring back with a convincing victory over Viswanathan Anand in an interesting Nimzo-Indian. All pundits were speculating that Anand could close the deal with a draw, but the game entered a sharp middlegame where Anand went astray and his position collapsed in only a few moves.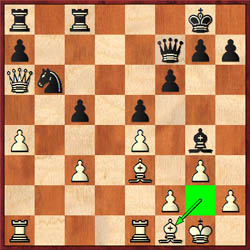 It appeared that Anand had a comfortable opening in this well-tested line, but his position begin to unravel after 22…Bg4. The idea was on 23.Bxc5? Nc4 with idea of …Nd2 and …Nf3+ (or Bf3). Kramnik's 23.Qa6! had a subtle quality… stifle the queenside and dislodge the knight after a4-a5. At this point, Chess.FM commentator GM Gregory Kaidanov had begun giving Kramnik's position a positive assessment.
Anand hunkered down with 23…f6, but was hit with the Karpovian 24.Bf1! The idea was that a5 and Bc4 and strong play in the light squares. Kramnik increased the pressure with 26.Rab1 and came crashing through after 26…c4?! 27.a5 Na4 28.Rb7 Qe8 29.Qd6 and Anand resigned.
This was said to be a good win for Kramnik, good for sponsorship, good for marketing and even good for Anand! However, if this game is indicative of a pattern of deteriorating play by Anand, then it is certainly not a good trend. Anand will have two chances to get a draw to clinch the crown.
One wonders if anything less than a win would not be a convincing win since many will say in a longer match Kramnik would have won. Perhaps he will go out with a dashing win. If he loses the next game, it will raise a lot of questions.
Game: https://www.thechessdrum.net/blog/2008/10/11/2008-wcc-anand-kramnik/#comment-10067
Drum Coverage:
https://www.thechessdrum.net/blog/2008/10/11/2008-wcc-anand-kramnik/
Kramnik in a good mood after win. Photo by Frederic Friedel (Chessbase).
Will Anand avert a total collapse? Photo by Frederic Friedel (ChessBase).