Who is this player?
For those who have visited this site, you can no doubt name the player in the photo above. It's very interesting to surf the net and to see the reactions of players when they see pictures of this player. Of course her unique style is seen in chess circles as a welcome change from the usual assemblage of men who are high on self-importance and low on style.
Many chess players come to tournaments not concerned about what they are wearing (or smelling in some cases), but only to reach the ultimate goal… beating the opponent! This is not to say that women do not have the same goal in mind, but obviously the motivation is different. Of course, the chess world has changed a bit and women have added much to chess tournaments… both in their play and in their charm.
Looking at the picture above, you see a determined expression, but you also see her personality in her appearance. She appears to be expressive, laughs a lot and is conversational and extremely bright. You haven't figured out her name yet? I talked to Gilles Suez-Panama of Martinique and he confirmed the information I received that she also has roots in Martinique, French Caribbean. Below is another shot of her playing in what appears to by a Woman's Championship of France. Any player that has the guts to play 1.d4 f5 2.g4!? deserves some praise. 🙂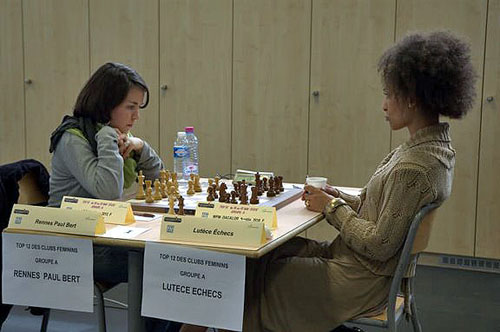 This striking woman is WFM Aurélie Dacalor!
2 Responses to "Drum Classics #5"
Here is an old article about women in chess. It centered around a controversy of the emphasis on the appearance of a female chess player. There was a beauty contest that ignited a fierce debate about women in chess.

https://www.digitas.harvard.edu/~perspy/issues/2002/oct/patrick.html

on 22 Jun 2008 at 3:59 pm

2

black knight

The Yes I Play Chess Events, Founder Cherly Y. Richardson is on the highways bringing Super chess stars IM Emory (Mate) Tate 💡 GM Maurice Ashley and a host of supporters to learn the Art of Chess
Leave a Reply!