'Tireless Tate' on the beaten path!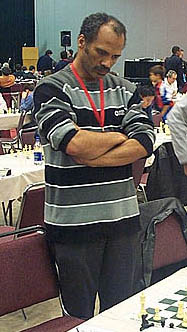 IM Emory Tate has made clear that his goal is to make the title of Grandmaster. He has traveled through Europe; he has played in large opens; he has played in closed invitationals; he has played in weekend swisses. Currently he is playing at the Gem City Open in Dayton, USA. He no doubt will be present at the World Open in a couple of weeks.
What is interesting about Tate's activity is that he has continued to maintain his energy over the past couple of years. Of course, it would be much better if there were more opportunity for GM norms within geographical reach… quality vs. quantity. Tate may be headed to Dubai to play in an invitational and hopefully sponsors will continue to realize his value to tournaments.

Following is a drawn game he sent in with Alexander Goldin played in Dayton, Ohio.
Tate,E – Goldin,A
Gem City Open, 2008
1.e4 c5 2.Nc3 e6 3.f4 Nc6 4.Nf3 Nge7 5.d4 cxd4 6.Nxd4 Nxd4 7.Qxd4 Nc6 8.Qf2 Bb4 9.Bd2 Qe7 10.0-0-0 0-0 11.g4 a6 12.h4 b5 13.h5 Bb7 14.Bd3 Rac8 15.Kb1 f6 16.Qe1 d6 17.Rg1 Bc5 18.Rg3 Nb4 19.Ne2 d5 20.exd5 Nxd3 21.cxd3 Bxd5 22.g5 fxg5 23.Rxg5 b4 24.Qg3 Rf5 25.Be3 Rxg5 26.fxg5 Bd6 27.Qg4 Qe8 28.b3 e5 29.Ng3 Qe6 30.Qxe6+ Bxe6 31.h6 Be7 32.Bc1 gxh6 33.gxh6 Rf8 34.Bb2 Rf3 35.Ne4 Bf5 36.Kc2 Kf7 37.Bxe5 Ke6 38.Bd6 Rh3 39.Bxe7 Kxe7 40.Re1 Rh2+ 41.Kb1 Kd7 42.Rf1 Bxe4 43.dxe4 Rxh6 44.Kc2 Rh2+ 45.Kd3 Ke6 46.Rf5 ½-½ (See Game)