Black History Month (2008)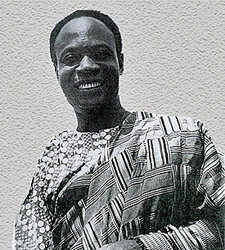 Dr. Kwame Nkrumah (Ghana)
February is "Black History Month" and although we should celebrate history all year around February is the month that we pay special tribute to Black pioneers in the U.S. Over the years, my standing issue is that we are often presented with histories only of U.S. figures to the exclusion of Blacks in the other parts of the world.
In Black history, to speak of Dr. Martin Luther King, Jr. (USA) and not to speak of revolutionary forerunners like Marcus Mosiah Garvey (Jamaica) or Dr. Kwame Nkrumah (Ghana) is misguided. As it relates to chess, if one speaks of GM Maurice Ashley (USA), then we must not only speak of IM Emory Tate (USA), but GM Pontus Carlsson (Sweden) and GM-elect Amon Simutowe (Zambia). Contributions have been made to chess by a number of unheralded and unforgotten players. Perhaps one of the most important figures in Black History has to be Rogelio Ortega, two-time national champion of Cuba. He is perhaps one of the first professional chess players of African descent.
Let us reflect on the greatness of our ancestors and build upon their examples to continue thriving. There are still many mountains to climb and rivers to cross.
(Note: Incidentally, just found out (here) that I received Honorable Mention in the "Best of Chess Life Online 2007" for an article I did last year for Black History Month. It was titled, "The Rising of the Black Star.")