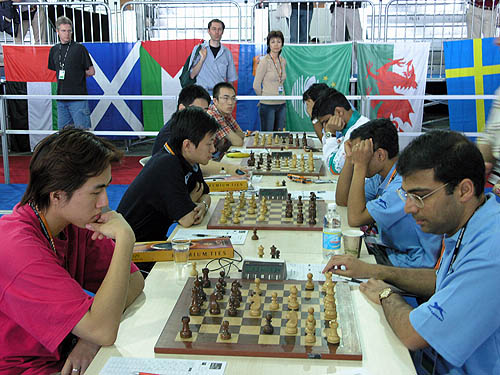 China (left) vs. regional rival India. Bu Xiangzhi battles Viswanathan Anand on Board One at the 2006 Chess Olympiad in Turin, Italy.
Photo by Daaim Shabazz.
A contingent of Chinese are competing at the Gibtelecom Chess Festival and after eight rounds, they dominate the upper portion of the standings. It appears that the Dragons have quelled the naysayers about playing at an elite level. I have written many articles on Chinese and the eventuality of producing elite players. One of them was titled, "Why China will Soon Dominate Chess" and another was blogged as "China: The Dragons are Coming!"
Bu Xiangzhi has been a Grandmaster since the age of 13 and while people questioned his results, no one is surprised at his success. He has been flirting with 2700 for the past year and allowed Wang Yue to win the honor of the first Chinese to make the "super GM" status. However, his showing at Gibtel is proof that he is in top form and may break 2700 after the tournament.
China has been rising for a long time and has been able to dominate women's chess with five Olympiad medals in a row! Now with 13-year old Hóu Yìfán (pictured right) and several other young players, China may be dominating for a long time. I remember Nigel Short being very critical of Liu Wenzhe's methods pointed out in the book, "The Chinese School of Chess."
Liu is famous for his win at the 1978 Olympiad win over Jan Hein Donner with a devastating queen sacrifice. (see game) What Short underestimated with the passion conveyed in the book. One cannot merely discount methods because they do not confirm to a familiar model. It is also necessary to look at the passion in which they are executed.
I have been on blogs debating the rise of China and it is amazing the ignorance people have of the talent they are producing. China has a good formula: government support, a large talent pool, strong discipline and focus, sparring with strong federations and and incredible bond between the players and coaches. They have produced three women's World Champions (Xie Jun, Zhu Chen, Xu Yuhua) and five consecutive Olympiad gold medals. Zhao Xue played top board on the 2006 Olympiad team and has been one of China's brightest stars in recent years.
The men took the silver medal in Turin and will be more experienced and seasoned in Dresden. With the rise of Wang Hao, China will be even stronger than in 2006. While there seems to be no new male star on the horizon, a nation of 1.3 billion people is most likely to find them!
(Note: I will be traveling to China in March and I hope to meet some of the national players there.)