The Caribbean Tigers of Chess?
Back in the 70s several Asian nations took on an aggressive path to economic growth. The level of growth was unprecedented as foreign direct investment poured into the region. The nations comprising of this region would see double-digit growth rates for nearly a decade and would eventually become known as the "Asian Tigers" or "Asian Dragons." They set a benchmark for how developing nations can chart a course of growth. Of course, these nations suffered in the 1997 crash due to unsustainable methods and other irregularities, but the example is indeed instructive.
The Rise of the 'Asian Tigers'

This example can be applied to other matters and chess is certainly one of them. As we look around the globe, several regions are making marked progress in the production of chess talent and are growing as chess nations. China is using strong government support, generous subsidies and a regimented system to entice their players to strive for excellence. India is using the corporate sector and the leadership of national hero, Viswanathan Anand, to sponsor growth and spur interest in the royal game. These two countries provide an example of how developing countries can evolve while using factors that are specific to their conditions.
Both China and India have created a groundswell of talent due to emerge in the next few years and have dotted the chess landscape in top tournaments. If we look around the world other developing regions have yet to fully blossom. The question we want to raise is why specific regions have struggled to develop talent in an organic fashion. Is it due to lack of resources? Is it due to lack of external and internal support? Lack of chess culture? In this short essay, we will examine a couple factors that may spur growth in a developing region more known for its sunshine and sandy beaches than for its chess: the Caribbean.
A Region of Promise

In my interactions with Caribbean players, there is a definite passion for chess and the "yardies" appear to have dreams of excellence on the 64 squares. This activity (apart from dominoes and draff) has a home on a number of islands and has drawn strong players to the region for international tournaments. Cuba, Bermuda, Curaçao, Aruba, Barbados and other islands have hosted tournaments featuring strong foreign competition. Bermuda, though technically north of the Caribbean, draws one of the most popular tournaments in the hemisphere… the Bermuda Open. The strongest Caribbean island is Cuba with its tradition of Jose Raul Capablanca and the support of President Fidel Castro. It regularly manages a flow of top-flight players.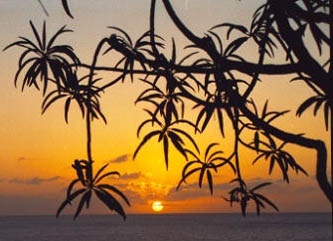 Cuba had benefited from a close relationship with the Soviet Union and there were many collaborative efforts to develop talent on the island. Decades later, the results have been apparent as Cuba is among the top 20 nations in the world with 191 titled players. What about the other islands? The next Caribbean nation is the Dominican Republic with 15 titled players followed by Barbados with five, Trinidad and Tobago with four and Jamaica with two. What is the path toward chess excellence?
Perhaps there is too much diversity in the Caribbean (English, French, Dutch, Spanish legacies) to make a general prescription, but here are a few issues that may be worth reconsidering. In my countless interactions with Caribbean players, it is apparent that small island federations may suffer from any one or a combination of factors: problems establishing widespread appeal for chess, scarcity of chess resources, problems building a self-sustaining chess culture, and one of the most vexing issues… talent stagnation from playing the same players year after year. Here are two possible avenues:
Maurice Broomes, former national champion of Guyana and Caribbean Open champion
Regional Collaboration – In economics, nations around the globe seek regional integration to pool their scarce resources and gain leverage against the large and more powerful regions. Perhaps additional efforts can be made to increase the collaborative efforts within the Caribbean region through tournaments and even Internet matches.
The Caribbean Open was once a highly-anticipated event attracting players throughout the region. When talking to veteran players from the Caribbean, they will invariably mention past rising players who competed in this tournament. Andy Walker of Guyana mentioned a number of players from Caribbean tournaments from decades ago. Unfortunately, many of these players are no longer active.
While there are open tournaments hosted in the region, they appear to be attended by locals and only sparingly from players across the region. Regional participation appears to be at its peak when there is a zonal tournament or a junior-level competition. Is it possible that the Caribbean Open can be rejuvenated as a marquee regional tournament? Perhaps it can be marketed to draw players from Latin America, the U.S. and Europe as well. With a chess powerhouse like Cuba leading the way, the Caribbean could become a magnet for the strongest of players. I was told by John Tobisch that Cuba visited Jamaica for goodwill and chess diplomacy during the 1970s. More of these efforts are needed, but of course there are always political considerations.
Invitational Tournaments – The Caribbean has a definite competitive advantage in terms of drawing foreigners. Who would not want to spend a week or two in the Caribbean to play chess while walking on scenic beaches in balmy weather? Chess tournaments in the Caribbean are nothing new, but conducting the strongest tournaments will bring a new spirit to the region. Inviting strong players to an island not only adds excitement and anticipation, but also challenges island players to come out of their respective comfort zones in terms of preparation. Local rivalries will become less important than protecting the honor of the island. (Note: I saw this when traveling to Jamaica with Amon Simutowe)
How much would a federation benefit if it attracted strong players to its warm climes to partake in an international chess tournament? For years, Bermuda has run one of the most successful international tournaments in the region. Cuba, touting the strongest players in the Caribbean, is a natural magnet for strong competition. The Dutch Antilles currently organizes very strong tournaments. However, the most famous would have been the 1962 Candidates tournamentin Curaçao which featured Tigran Petrosian, Bobby Fischer, Viktor Korchnoi, Mikhail Tal, Yefim Geller, Paul Keres and a couple of others. In lands that focus on tourism and leisure, perhaps chess is seen as a casual game, but to have professional players would provide a needed boost to spur interest and may attract sponsors.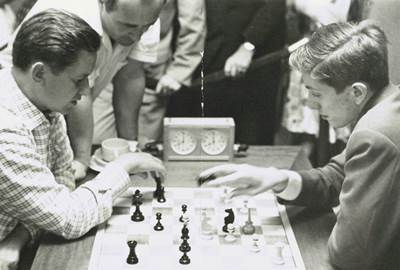 Paul Keres analyzing with Bobby Fischer in their game at the 1962 Curacao Candidates Tournament. Keres won in a Ruy Lopez.
When will the Caribbean Shine?
Throughout the Caribbean, there are shining examples of talent and chess among the youth is booming. However, many of the Caribbean players never reach their potential. This is not because they are not sincere, but it may be because the chess community is not able to garner the support needed to boost their efforts. Players are then relegated to playing in local tournaments and playing the same players year after year without the intense motivation to improve. It appears that the only time players from these countries face the strongest opposition is the first round of the biennial Olympiad tournament.
The combination of regional cooperation with tournament organization could create a sustainable growth of chess interest in the region. I have discussed possibilities with many persons in the region and there are a plethora of ideas. If one looks at Asia's rise in chess, it has come from a number of different stimuli: government and/or corporate support, training of international arbiters and national coaches, sending contingents abroad and the organization of international tournaments on home soil. These efforts appear to have happened in stages.
Currently, Asian players dot the chess landscape across the globe and tout some of the world's most promising players. However, they have only started to emerge within the last 10-15 years. Of course it is difficult to draw neat comparisons between Asia and the Caribbean, but one lesson we can learn is that both China and India had plans in place. With the "Chinese School of Chess," China has hopes to dominate the chess circuit and is producing young stars at a rapid rate. India, still very much a developing nation, wants to produce 100 Grandmasters by 2012. These ambitions are indeed inspirational and even the strongest of federations will take note.
The Caribbean federations may have the challenge of convincing their governments that chess is a serious undertaking. The problem of marketing chess is of course a worldwide issue given its unique characteristics. One way to create the attention for chess is to invite world-class players who can lend the highest of credibility to chess (as a sport). Once governments begin to see the widespread appeal of chess, they may come to understand its scope and influence and hopefully lend support. Of course, it is quite a complicated task. Football (soccer) and cricket still command most of the attention in the Caribbean and rightfully so. However, if chess is to experience a "take-off" in the region, more collaboration will be needed. This may be what can make the Caribbean region the next "hotbed" of chess activity in the developing world. Of course, you may say that there is no such thing as a Caribbean Tiger. No… not yet!
Caribbean Chess Federations
Bahamas Chess Federation
Barbados Chess Federation
Bermuda Chess Federation
Cuban Chess Federation (Spanish)
Jamaican Chess Federation
Martinique Chess Federation (French)
Trinidad and Tobago Chess Association
(if you know of other Caribbean Federation sites, send them)