2022 Chess Olympiad: Round #8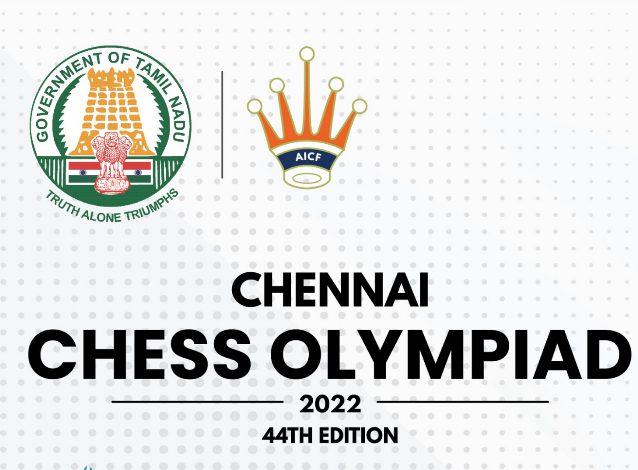 2022 Chess Olympiad: Round #8
Saturday, 6 August 2022
The plot thickened in round #8. Armenia toppled India 1 on the strength of Gabriel "Mr. Olympus" Sargissian. His win over Pentala Harikrishna continued a surprising run at this Olympiad. Perhaps few outside of Armenia would have picked the team vying for a gold medal without their national hero, Levon Aronian. However, the team has exceeded expectations and now sits on 7.5/8 with 199 board points.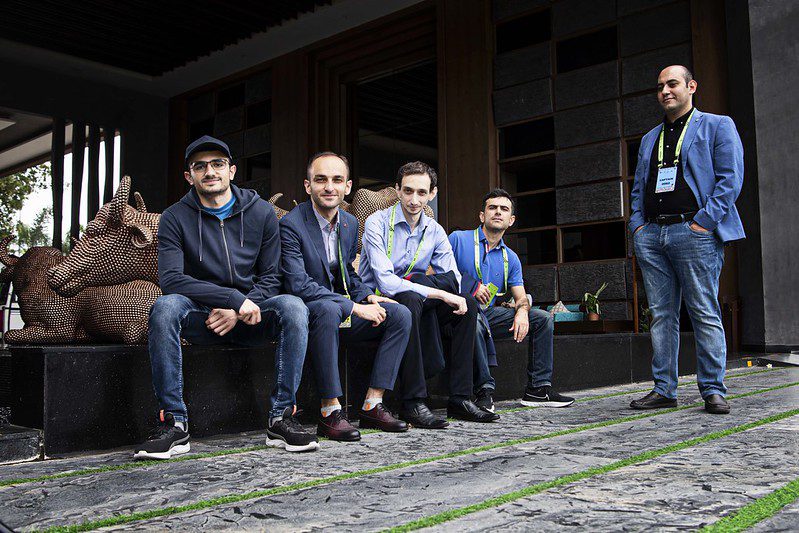 Armenia has a Cinderella story and it may end up golden.
Photo by Stev Bonhage
The India teams had a mixed day with India 2 getting back on track with Dommarju Gukesh's 8th win in a row. While the world has been watching R. Praggnanandhaa and Nihal Sarin, Gukesh has vaulted past them both and is sitting on a 2729 Elo. During this tournament, he has surpassed Harikrishna and Vidit Gujrathi on the live list.
It's time to find a nickname for Dommaraju Gukesh. If he goes 11-0,
the name will be decided for him.
Photo by Stev Bonhage
India 2 crushed the U.S. team as Gukesh handed Caruana his second consecutive loss and as result, the American tumbles out of the world's top ten. After a poor second half of the Candidates and a lackluster performance in Chennai, has Caruana lost his spark?
Uzbekistan is another surprise, but they did not simply sneak up on the opposition. They were contenders from the very beginning and have only given up two individual losses. Thus, they have piled up 231 board points behind stellar performances of their top boards Nodirbek Abdusattarov and Nodirbek Yakubboev, both on 6.5/8. They play leader Armenia tomorrow in a very even matchup.
Perhaps the most beautiful win on the top boards was in the Netherlands-Hungary match. Giri is now on +4, but he has some help. Although commentator Judit Polgar is Hungarian, she clearly admired Warmerdam's attacking finish, stating, "Ohhhhh… he did us dirty!" Watch this beautiful finish after 23.Qd1-f3
The Chess Drum picked the Netherlands for the bronze, but it seems as if they can contend for a higher medal. They play a young Iran team who toppled France. Pouya Idani is on +5. It appears that several teams have performed better with the loss of top players. India without Viswanathan Anand; Iran losing Alirezi Firouzja; Armenia losing Levon Aronian, Cuba losing Leinier Dominguez. We are experiencing a changing of the guard.
The last note… Jamaica blanked Nigeria 4-nil in a battle between two Commonwealth rivals. Jamaica is the top Caribbean nation behind Cuba. FM Shreyas Smith gets a miniature against FM Bomo Kigigha.
Round #9 Pairings
India 2-Azerbaijan
Uzbekistan-Armenia
Netherlands-Iran
Greece-USA
India 1-Brazil
Women's Section
Lilit Mkrtchian (Armenia) and Nino Batsiashvili (Georgia)
shake hands before another encounter.
Photo: Lennart Ootes
India 1 is still holding on to a slim lead over Georgia. India was slowed by drawing with Ukraine 2-2 while Georgia blasted Armenia +3. Poland stayed in medal contention after beating India 3 by a 3-1 score. Oliwia Kiolbasa has been the star for Poland.
Oliwia Kiolbasa of Poland is also on 8/8! ?? @chennaichess22 #FIDEChessOlympiad2022 @thechessdrum pic.twitter.com/S5lK5rLsaA

— Daaim Shabazz (@thechessdrum) August 6, 2022
Poland-India will be an interesting battle. All eyes will be on Kiolbasa to see if she can extend her win streak. Ukraine-Georgia is a classic matchup between two traditional powers. Kazakhstan is looking to position itself for a medal after winning +3 over Slovakia.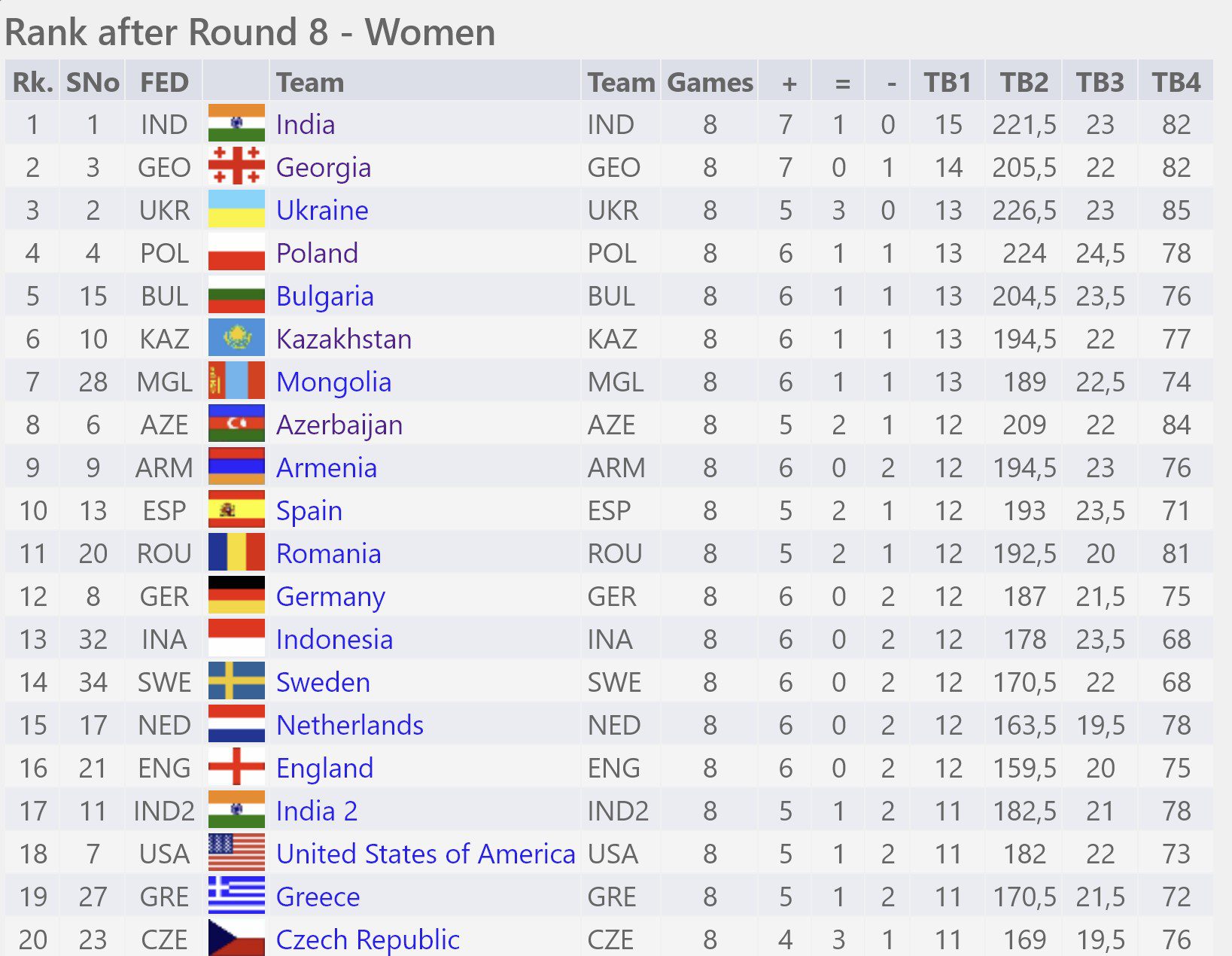 Round #9 Pairings
Poland-India 1
Ukraine-Georgia
Bulgaria-Kazakhstan
Azerbaijan-Mongolia
Germany-England
Faces in the Crowd
Bakoly Razafindrabe (Madagascar)
Photo by Madalene Belinki
Nuha Rilwan (Maldives)
Photo by Madalene Belinki
Tapiwa Banda (Malawi)
Photo by Madalene Belinki
Alinasab Mobina (Iran)
Photo by Lennart Ootes
Erdene Mungunzul (Mongolia)
Photo by Lennart Ootes