The RZA featured in Chess Life
Bishop Chronicles Podcast 2021
Exclusive with RZA from Wu-Tang Clan
RZA Poses with a 13k Purling London Chessboard
on Cover of Chess Life Magazine!
January 2, 2021 San Francisco, CA (HHCF) – Bishop Chronicles Podcast hosted by Hip-Hop author and journalist Adisa the Bishop is proud to announce Saturday, Jan 2, 2021 on YouTube, Spotify, and iTunes. It will debut on www.PharcydeTV.com at 12 noon PST.
The exclusive video is being released in tandem with RZA on the January 2021 cover story Chess Life Magazine (@uschess on Instagram). It celebrates the impact of the Wu-Tang Clan on chess in America and around the world. RZA shares his love for chess, the impact of Black American chess icon Emory Tate, and his reason for creating a creative retreat for young professionals with Tazo Tea called "Camp Tazo" (done pre-corona). RZA even shares one of his favorite vegan recipes that he cooks for his family!
"The RZA delivers like never before on his passion for chess and the impact it has had on his life and those around him," says Adisa the Bishop. "It is an honor beyond words to be chosen to do a story on RZA for Chess Life Magazine. As soon as I got the opportunity, I called the CEO of Purling London in the UK and they flew it out to LA just so Mike Relm (@mikerelm) could do the shoot with RZA. To call this cover story historic, for the world of chess and Hip-hop, is an understatement."
The chessboard RZA sits in front of is a $13,000.00 chessboard provided by Purling London (@purlinglondon on IG) based in the UK. Art Chess sets by Purling London are individually hand-painted by specially commissioned British and international artists and no two sets are the same. This otherworldly Art Chess set by Bristol-based street artist, Cheba, has a galactic theme inspired by the Hubble Telescope photographs. In order to simulate the concept of planets, stars and swirling nebulae, the semi-translucent chess board features glitter and spray paint set within 8 hand-poured layers of resin. This one-of-a-kind chess board is highly polished and complemented by sparkling hand-spray painted chess pieces.
People can read the full RZA cover story online at www.uschess.org
To watch the entire RZA interview on Bishop Chronicles episode, subscribe on:
# # #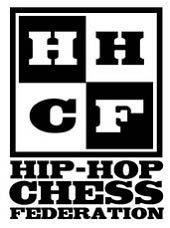 About HHCF: The Hip-Hop Chess Federation is the world's first nonprofit (501c3) to fuse music, chess and martial arts to promote unity, strategy and nonviolence. They host lectures, panels, and celebrity chess events to help at-risk, gang-impacted and gang intentional youth make better decisions in life. The HHCF has been featured on Good Morning America, Forbes, Chess Life, VIBE and Rolling Stone.
Visit www.BishopChronicles.com today and LISTEN to some of the coolest interviews in entertainment, business strategy and technology on the net.
For more information visit www.bishopchronicles.com or follow @bishopchronicles on Instagram!