Lawyer Times, 2017 Massachussetts Champion
Lawyer Times has been a mainstay in the New England area for the past four decades and now he can lay claim to being the 2017 Massachusetts state champion. Times toppled past champions IM Dave Vigorito and GM Alexander Ivanov to take the title with 5/6. In 2nd-3rd were Farzad Abdi and Carissa Yip with 4.5/6.
National Master Lawyer Times
2017 Massachussetts State Champion
Times appears on these pages of The Chess Drum and years ago was the subject of an interview after winning the under-2200 section at the 2005 Chicago Open. Since then he was stayed in the steady 2300 range and continues to look for new challenges. On his website, Times described his beginnings in chess.
I began learning chess at the age of 6 by observing my older brother teaching my older sister. Ironically, I picked it up while she did not. My brother began teaching me the basics and from there I continued teaching myself. In a short time I was able to beat my brother, the dream of every younger sibling. Afterward, as others began to see my potential I received coaching from the best Chess Masters.
Times later became part of the famed Boston Latin team that won the National High School Championship in 1981. That team had a young prodigy name Sandeep Joshi who rose quickly to become an FIDE Master, then fell into obscurity. Times kept playing on and in 1994 became a Master.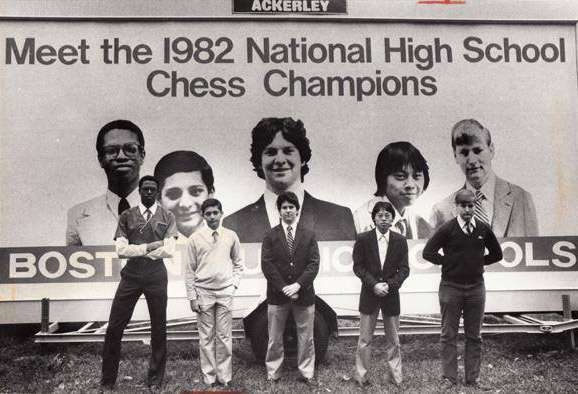 Boston Latin-1982 National High School Champions
Lawyer Times, Sandeep Joshi, Michael Diener, Edward Lung, and Bill Frye.
Photo by Joe Runci (The Boston Globe)
Times is the founder of the Future Masters Chess Academy which provides children with many programs to improve their understanding of the game. Times told The Chess Drum,
The fundamentals and practices I've honed throughout my career I've taught to students privately and at various schools and institutions throughout Massachusetts. As I began to see the tremendous impact it had on them both in game play and in life I founded the Future Masters Chess Academy. Now we assist kids in using chess principles to master chess and life.
Times conducting a class at Future Masters Chess Academy
Photos courtesy of futurechessmasters.com
Certainly a role model to many, the affable Times will be competing at the World Open in Philadelphia, Pennsylvania next week.