Carlsen vs. Nakamura Showdown on 10-27!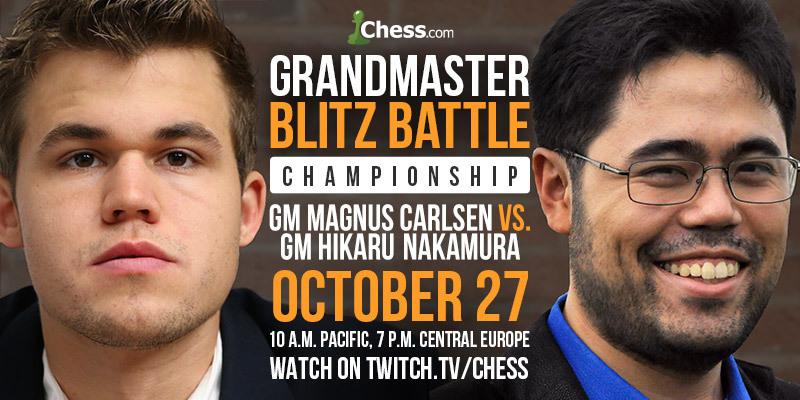 There is a heavyweight blitz battle taking place in a couple of hours at chess.com between World Champion Magnus Carlsen and blitz phenom Hikaru Nakamura. Yes… it's a big deal. This serves as a warm-up match before Carlsen's title defense against Sergey Karjakin and the champion could not have asked for a better tune-up. This match will break all types of records for viewership and can be watched in a number of different venues. Grandmaster Robert Hess and International Danny Rensch will be giving live commentary.
The following viewing options will be available at 10 a.m. Pacific time Thursday (1 p.m. Eastern, 5 p.m. GMT, 6 p.m. London, 7 p.m. Oslo):
Chess.com/TV official broadcast with GM Robert Hess and IM Daniel Rensch (English) — watch here to see the ChessTV chat.
Twitch.tv/Chess official broadcast

with GM Hess and IM Rensch

(English) — watch here to see the Twitch chat.
Russian broadcast.
French broadcast.
Portuguese broadcast.
Video by chess.com