Hudson's Besomeone.org with Disney and TJMS!
Orrin Hudson attended the premiers for "Queen of Katwe" in Chicago and Hollywood and told The Chess Drum that he felt the movie company was onto something. He was able to have a one-on-one with Lupita Nyong'o during a workshop in Los Angeles, California. Disney brought Hudson on to conduct the class with Nyong'o and movie characters Robert Katende and Phiona Mutesi.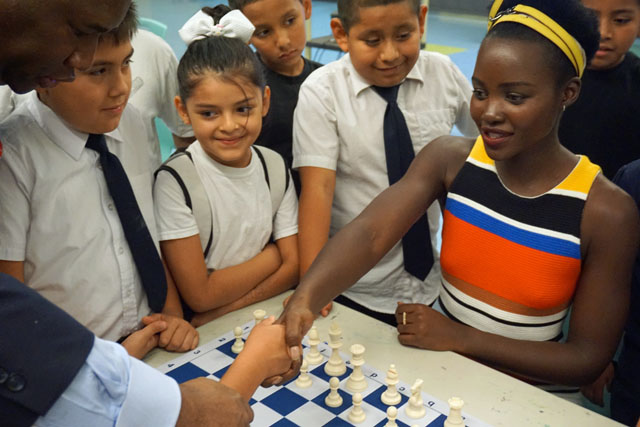 Hudson arbitrating game between student and
Academy award winner Lupita Nyong'o.
Group shot after workshop at Challengers Boys & Girls Club in Los Angeles, California. The event was sponsored by Disney, the producer of "Queen of Katwe".
"Queen of Katwe" was released to the public on September 30th and has been accepted with rave reviews. The story is a refreshing look at how chess played an integral role in shaping the life of an impoverished 10-year old girl, Phiona Mutesi. It is the subject of many heart-wrenching stories dealing with how hope triumphs over hopelessness.
---
"I teach children how to have a game plan. Chess teaches delayed gratification, it teaches you not to do the first thing that pops in your head, its usually a trap. Chess is about using what you have to get what you want."
~Orrin Hudson
---
Hudson was recently on the Tom Joyner Morning Show to talk about his experiences in teaching over 50,000 students lessons such as "Think it out, don't shoot it out!" and "Push pawns, not drugs!" He has been pushing this message from his base in Atlanta, Georgia since 2001.
The radio show is the nation's #1 syndicated urban morning show, broadcast in 105 markets, reaching more than eight million people, primarily targeting Black America. "Appearing on The Tom Joyner Morning Show was one of the most rewarding interviews in my career," said Hudson. "Tom Joyner is an all-time legend in radio broadcasting, so be able to talk to him about my background, Be Someone, and goals is something I will never forget." The five-minute segment discussed his background and his vision on using chess as a metaphor to make better decisions. Also discussed "Queen of Katwe" and some of his current initiatives including his quest to teach one million students.
You can listen to the segment at https://blackamericaweb.com/2016/10/18/orrin-checkmate-hudson-teams-up-with-disneys-queen-of-katwe/


Be Someone, Inc.
Orrin Checkmate Hudson
Speaker, Master Strategist & Motivator
949 Stephenson Road
Stone Mountain, GA 30087

Telephone: 770-465-6445
E-mail: Orrin@besomeone.org
Website: www.besomeone.org
"Responsibility, consequences for every action,
think, think, and think some more."
###