2016 Chess Olympiad: Round #6

2016 Chess Olympiad: Round #6
Thursday, 8 September 2016
Open Section
India 2½-1½ Russia
USA 2½-1½ Ukraine
Czech Republic 2-2 Georgia
Greece 2-2 Azerbaijan 1
Canada 2½-1½ Belarus

India and the USA win… head for another showdown tomorrow!
The rest day worked out well for the Indians. They became Internet sensation with the team showing athletic feats in the park. There was Pentala Harikrishna doing pull-ups, a plank contest between Soumya Swaminathan and S.P. Sethuraman and Santosh Vidit's mimicking of a gymnast on the "monkey bars". Maybe this was simply a way for the team to have fun and exercise at the same time. Check out RB Ramesh's YouTube channel for some good laughs!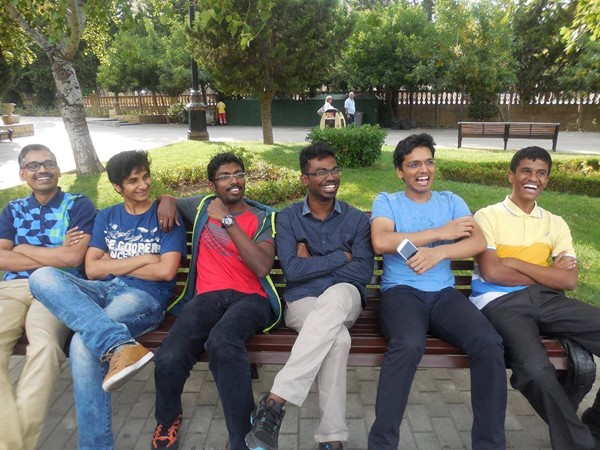 Coach R.B. Ramesh, Vidit Gujrathi, B. Adhiban, S.P. Sethuraman,
Pentala Harikrishna, Murali Karthikeyan
Padmini Rout, Soumya Swaminathan, Tania Sachdev,
Harika Dronavalli, Pratyusha Bodda
Photos by RB Ramesh.
On the serious note, chemistry has been the key to Olympiad success in the last decade. There is a sense of trust that goes into have teammates whom you enjoy. It is apparent that India is undergoing a rebuilding process with Krishnan Sasikiran and Surya Ganguly making way for younger talent. Baskiran Adhiban, Santosh Vidit and Karthikeyan Murali represent the future of Indian chess. Today they got by the Netherlands with Ervwin L'Ami trying desperately to hold a difficult ending. He sacrificed an exchange, but it had little effect is drawing the game and match.
GM Jeffrey Xiong is not yet in the USA Olympiad team, but along with GM Samuel Sevian, he is but one of several talented juniors waiting for a shot. Photo by Daaim Shabazz.
The USA is another team with a lot of upside. While they have a lot of varying parts, all of the players except for Wesley So were products of USCF tournaments. In fact, you would have to go back a few decades to find so many homegrown talents on the Olympiad team.
The running joke had been, "Have you seen the Russian team?" The other person replies, "Which one?" This is in reference to the composition of the USA team being all players from the old Soviet Union. The joke worked with Israel as well. Nevertheless, it is refreshing to see this change, but the USA women's team cannot say as much as none were born in the USA. Krush developed her talents solely in America after coming from the Ukraine. Things are changing.
Read more about the latest news on the @bakuchessol2016. Will the U.S. team medal? #chess https://t.co/mXPtgwsCfm pic.twitter.com/hJOA2cFSUH

— SaintLouis ChessClub (@CCSCSL) September 9, 2016
The beauty of the USA having three top 10 players on your team, is that you worry less and have more confidence at the board. After there were three draws in the match against Ukraine, Caruana-Eljanov went down to the wire. As Nakamura left his game, he took a look and nodding his head in affirmation that Caruana's position was winning. Sure enough, 15 minutes later, Eljanov resigned and the Ukraine could not take down it's third giant in a row.
GM Sam Shankland, one of the bright homegrown talents. So it is USA-India on tomorrow for an interesting matchup. Will the 2014 medalist get the call? Photo by Eteri Kublashvili.
Women's Section
Ukraine 2-2 Russia
Romania 2-2 China
Kazakhstan 2-2 Hungary
Georgia 2-2 Azerbaijan 1
Poland 3-1 Vietnam
The race heats up… 4/5 top matches drawn, India gains!
Olga Girya (Russia)

Photo: @davidllada #bakuchess pic.twitter.com/3hGhkk702o

— Baku Chess Olympiad (@bakuchessol2016) September 8, 2016
Olga Girya may have won the most important game of the tournament for Russia. With the Ukraine holding a lead, Girya-Ushenina went down to whether the former women's champion could hold her position together. Her king was dangerously exposed and the Russian was pressing. In the end, Girya had too much initiative and took the point… to the relief of Moscow. If Russia loses, it changes the complexion of the tournament.
As it were all the top countries held their positions while Poland and India gained in the standing. Poland crushed Vietnam while India (the new Internet stars) won against Latvia and beat their Finance Minister. The world shook at Danan Reizniece-Ozola beat reigning world champion Hou Yifan, but in this match Dronavali Harika took her down.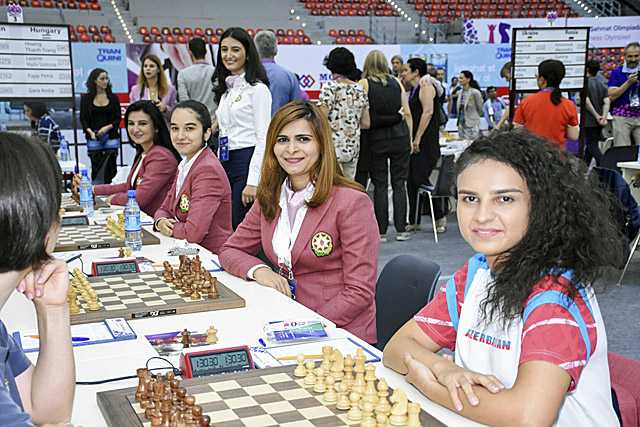 Azerbaijan 1… (starting near right) Narmin Kazimova, Nino Batsiashvili,
Lela Dzagnidze, Zeinab Mamedjarova.
Photo by Lana Afandiyeva.